Looking to bulk up and build up your muscle mass? Protein supplements that guarantee gains may be something you're considering. 
You may remember we did a little analysis on Six Star Testosterone Booster a while back. It is now time for us to look at another supplement: The Body Fortress Super Advanced Mass Gainer.
But before that, let's have a little tour of what muscle building supplements are and how they affect your bodies.
Body Fortress Mass Gainer: What Is It? 
Simply put, this type of muscle building supplement provides protein, carbohydrates, and fats (possibly) to help you gain, well, mass. 
Most of us are taught at the gym to gain weight, we need to be in a calorie surplus. And so, mass gainers are made to increase your daily calorie intake.
Now, this supplement's main goal is to provide calories. They give you protein, but not as much as protein shakes do. Instead, they utilize a high level of carbs and fats to achieve their goal. 
Muscle Mass Gainers vs. Whey Protein
This part is thrown in to help you with the confusion. Yes, mass gainer and whey protein are two different things.
Remember, whey protein is a form of fast-absorbed protein that aims to fuel muscles and increase stamina and endurance. It also helps with losing weight and burning fat.
On the other hand, muscle gainers are used for their sole purpose of gaining weight. They include a high proportion of carbs and fats to offer a high level of calorie intake.
One serving of this supplement should provide 10 to 15 times the calorie volume of a typical protein shake's meal. (2)
Does The Body Fortress Advanced Mass Gainer Work?
As mentioned, a good muscle building supplement can give you up to 1200 calories. 
However, your personal gains depend significantly on the type of workout you do, aka the amount of physical effort you put in. (1)
Now we are pretty much set, so let's dive right in to know more about the Body Fortress Super Advanced Mass Gainer.
TL; DR: Body Fortress Mass Gainer Review 
Product Description
Body Fortress understands the demand for calorie surplus that stimulates growth. 
Therefore, they promise that their Super Advanced Mass Gainer's formula will deliver more than 1000 calories per serving.
You can get a 4-pound bottle of Body Fortress Super Advanced Mass Gainer on Amazon.
You also get to choose between two flavors: Chocolate and Vanilla.
PS: Here's a link to where you can find it the cheapest! 
Pros
Good taste

High level of carbs to enforce weight gain

Packed with easy-to-consume calories

Caloric dense

A mixture of fast and slow-acting proteins

Free of wheat and yeast
Cons
Lower in protein

Causes stomach pains for some

Poor ingredients

High in added sugar

High in artificial flavors

Contains soy ingredients and milk
Should You Try It?
You should if you suffer from eating disorders like Anorexia, Bulimia, or are just too busy to eat. The Body Fortress Mass Gainer should give you the number of calories you lack.
And of course, for gym freaks, athletes, or anyone looking to gain weight, we say go for it.
In-Depth Review of the Body Fortress Super Advanced Mass Gainer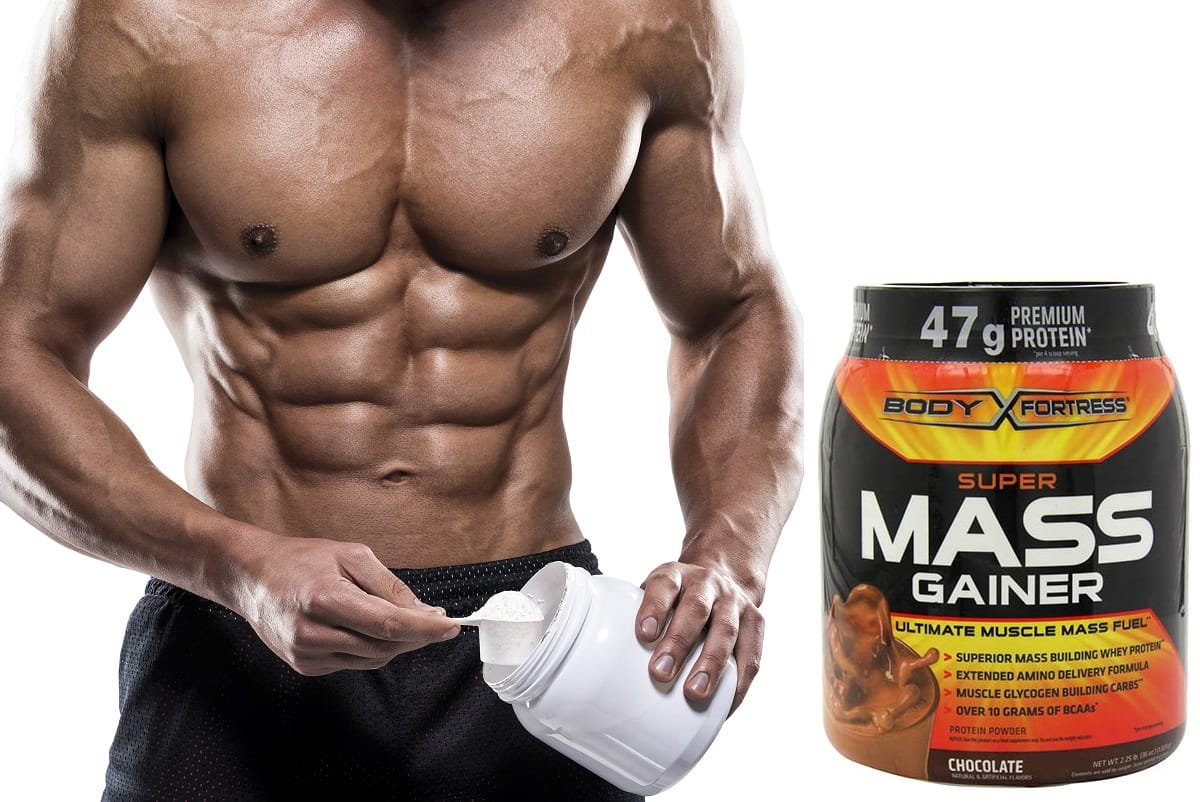 Ingredients and Effects
We have hand-picked some ingredients that should scientifically benefit users.
Maltodextrin
Maltodextrin is added to the formula as a non-dairy creamer. It's not necessarily wrong given how it can be made from any starchy food like corn, potato, tapioca, wheat, and rice (after processing, of course).
Maltodextrin is added to edible products primarily to thicken foods/liquids to bind ingredients better. This also helps improve the texture, and in some cases, the flavor.
Furthermore, Maltodextrin can replace sugar or fat and act as an easy-to-digest carbohydrate to provide energy rapidly. As a result, you will find it a lot in sports drinks and power snacks. (3)
Whey Protein, both Isolate and Concentrate
Whether isolated or concentrated, whey premium protein has been scientifically proven to help with strength, ultimate muscle mass, and body fat loss. (4)
Cocoa
Researchers have found that consuming cocoa can lower the chance of heart diseases by reducing blood pressure and improving blood flow. (5)
Sunflower Oil
Using sunflower oil in your diet can help with heart diseases and high cholesterol. Rubbing sunflower oil can also help to cure athlete's foot condition aka tinea pedis, a fungal infection beginning between the toes. (6)
Xanthan Gum
Xanthan Gum has been used to (7)
Act as a bulk-forming laxative to treat constipation.

Lower blood sugar and cholesterol level for the diabetic

Act as a saliva substitute for dry mouth.
Calcium Caseinate
Calcium Caseinate has been used to replace Sodium Caseinate in stabilizing processed foods. Manufacturers can increase calcium and decrease sodium this way. (8)
How to Use Body Fortress Mass Gainer?
The regular adult use is 1 serving (3 scoops) mixed with 12 ounces of water.
For maximum results, you can double it to 6 scoops (2 servings) mixed with 20 to 24 ounces of water. The amount of water depends on your preferred level of consistency.
It can be taken both before and after a workout.
Benefits
Vital nutrients to build:

Size

Strength

Lean Muscle Mass Building 

Carbs to:

Replenish Muscles

Boost Post-Workout Recovery

A high concentration of naturally occurring BCAAS

Contains:

No aspartame

Non-Gluten

Zero gimmicks
Disadvantages
The Body Fortress Mass Gainer is right for you to gain muscle and weight. That said, some people can become overweight. Therefore, you should have a proper training plan to couple with the gain.
The high level of cholesterol might also be a problem for some. You can consider taking fewer scoops per serving, though.
What do people say about it?
The Body Fortress Mass Gainer receives an above average rating.
Users like this supplement for its packaging, flavor, value for money, and ingredient quality.
"Helped my 98-year-old grandma consume extra calories! Thank you!"

"Taste great. I love this stuff. This is my 3 or 4th, and I also used HEMP GAINER tablets. They give me an appetite. And with this, I went from 118 to 134 in 4 months."

"I am Gluten intolerant, and it is hard to get my Carbs up! I do just 1 of these 3 scoop Servings a day, and it boosts my carb intake right to where it needs to be for the goals that I'm looking to achieve!"

"It provides what it's meant to provide. Unfortunately, needing 6 scoops to get the 1000 calories and 40g of protein is nearly impossible to mix well with a blender bottle, so it isn't weirdly chunky. You have to use a blender unless you're also taking it with a ton of liquid."

"The flavor is excellent tasting! The downside is that the shake becomes SO THICK because you need to add 6 scoops!"

Some users, however, are not content with the price/volume.

"Can buy a bigger bottle for the same price at a big chain store."

Some even received defective products.

"No scoop, so how much is what???"

"Item was already open upon delivery."
Bottomline
So, there you have it, our in-depth review of the beloved Body Fortress Mass Gainer. 
Judging from the Amazon reviews, this is quite the stuff for anyone wanting to gain mass/weight.
If you like this article, check out our other reviews on home gym equipment and supplements: The Best Pre-Workout for Women 
We are devoted to giving you a healthy lifestyle and a muscular physique, so be sure not to miss out on any of our tips.
Similar Articles: