It's no secret that testosterone production often decreases as men age. 
As this happens, you may experience a reduction in lean muscle mass, feelings of irritability or depression, or a litany of other symptoms. (1)
One way to help offset low testosterone, and its many adverse side effects, is through the use of testosterone booster complexes. 
Finding the right treatment for you, however, can leave you feeling like a lab rat lost in a maze of options.
The creators at Military Muscle formulated their Muscle Testosterone Booster to solve your low-T issues with utmost transparency and ultimate efficiency. 
Continue reading for our thorough, in-depth review and to find out if this supplement is the answer for your low testosterone problems.
TLDR: Military Muscle Testosterone Booster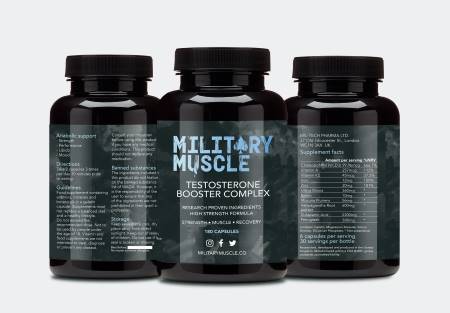 Short on time? Here's a brief overview of what we'll be covering in this review 
Product Description
Military Muscle Testosterone Booster is a natural supplement designed by professional researchers with the aid of active soldiers, fitness enthusiasts, and advanced athletes. 
It promotes the natural production of testosterone to help you increase your lean muscle mass, strength, and prevent the decline of testosterone levels with age. (2)
Its vegan- and vegetarian-friendly ingredients are manufactured in the United Kingdom and regulated under UK food law, ensuring that every bottle is 100% safe for consumption and has clear accurate labeling. (3)
Pros vs. Cons
PROS: 
Full support of anabolic system improves mood, libido, athletic performance, and strength 

Scientifically proven natural ingredients are safe and suitable for vegetarian and vegan diets 

Tested extensively by athletes, military professionals, and researchers in the supplement field 

Free global shipping, no minimum purchase value required 

Supports and positively impacts musculoskeletal health, cognitive function, and cardiovascular health (

4

)
CON: 
Primarily available online from Military Muscle Official Website, so it may be difficult to find in stores
Is It Worth It?
Yes. Unlike many of their competitors, Military Muscle's dedication to transparency, quality, proven ingredients, and fitness makes this our number one recommendation for testosterone supplements.
In-Depth Review of the Military Muscle Testosterone Booster
Ingredients
Vitamin D3: 99.96mcg
Did you know that there is currently a worldwide Vitamin D deficiency so severe that the WHO has declared it a pandemic? 
Military Muscle Testosterone Booster helps you to get your daily dose of D3 to prevent your risk of developing common cancers, hypertension, infectious disease, and autoimmune diseases. (5)
Vitamin D3 also has the added benefit of increasing the production of testosterone in men, according to one study conducted by The Clinical Journal of the Society for Endocrinology and the Endocrine Society Australia in conjunction with professors from the Harvard School Of Public Health Department of Nutrition. (6)
Vitamin A: 257mcg
Aside from being a vital nutrient that promotes and regulates your immune system, Vitamin A serves a second purpose as your body's defense against increased fat reserves. (7, 8)
Additionally, maintaining healthy doses of Vitamin A reduces your morbidity rate should you contract measles, a respiratory infection, or viral infection, and helps to regulate your cells. (9)
Vitamin K2: 45mcg
K2, also known as menaquinone, helps reduce inflammation and plays a significant role in keeping your immune system working as it should. 
Normal levels of vitamin K2 has also been proven to reduce your risk of developing coronary heart disease by preventing the build-up of calcifications in your heart. (10, 11, 12)
Unlike with K1, your body absorbs K2 in higher amounts and, as a result, works more effectively to promote biological activity associated with it. 
And, perhaps most importantly, for our purposes, menaquinone has also been shown to positively combat testosterone decline in aging men by enhancing testosterone production naturally. (13, 14)
Zinc: 20mg
Zinc is abundantly present in the human prostate gland, where it acts as your body's natural defence against diseases like prostate cancer. (15)
Furthermore, low counts of testosterone are associated with low zinc levels, leading scientists at the Department of Internal Medicine at the Wayne State University School of Medicine in Detroit, Michigan, found that supplementing zinc can actually increase testosterone levels and production. (16)
And, according to the American Journal Of Clinical Nutrition, zinc is also vital to the development and function of the cells responsible for keeping your protected against infections. (17)
Iron: 12mg
Iron deficiency, or anemia, affects 24.8% of the population worldwide, according to research provided by the World Health Organization. 
Out of that 24.8% of the population living with anemia, 12.7% are men, and 23.9% are in the elderly population. (18)
Military Muscle Testosterone Booster includes 12mg of Iron to help offset iron deficiencies and to promote healthy, adequate immune system response. 
This is especially essential for older men, as proven by the American Journal Of Physiology, who released a report stating that aging men suffering from low counts of testosterone are frequently anemic. (19, 20)
Ashwagandha: 600mg
Ashwagandha is an evergreen shrub found naturally in parts of Africa, the Middle East, and India, and has been used as a medicinal herb for over 3,000 years. (21)
The creators of Military Muscle's Testosterone Booster specifically chose to incorporate ashwagandha for it's proven benefits in relieving stress, increasing energy level, and its ability to improve mental concentration. 
Ashwagandha supplements have also been proven to significantly increase testosterone levels, enhance muscular strength, boost antioxidants in your bloodstream, and increase sperm motility and count. (22)
Fenugreek: 500mg
Found in western Asia, southern Europe, and the Mediterranean region, fenugreek is used in Chinese and alternative medicine to treat a variety of conditions. (23, 24)
The primary reason that it's used as an ingredient in Military Muscle Testosterone Booster is it's proven ability to elevate testosterone levels and promote healthy libido in men. 
In fact, according to a study conducted by scientists at the University of Mary Hardin, a group taking fenugreek experienced an increase in testosterone and a 2% reduction in body fat. 
This was compared to a control group that did not receive the supplement and experienced a slight decrease in testosterone and no change in body fat. (23, 25)
Boron: 10mg
Boron is a trace mineral and micronutrient that is essential to an array of important processes in your body. 
In addition to improving your body's ability to heal, boron aids in magnesium absorption raises your body's levels of antioxidant enzymes and is essential to your body's ability to grow and maintain your bones. (26)
When it comes to testosterone, boron increases free testosterone levels by almost 25 percent. 
And, it boosts your body's ability to bond free testosterone with proteins present in your blood to improve overall t-levels. (27)
Urtica Dioica: 360mg
Urtica dioica, also known as stinging nettle, is another ancient medicinal remedy that continues to benefit people worldwide today. 
Initially used by the Ancient Egyptians to treat lower back pain and arthritis, Urtica dioica is full of vital minerals, essential vitamins, amino acids, fatty acids, and polyphenols naturally present in your body. (28, 29)
The Military Muscle supplement includes Urtica diocia for its beneficial effects on testosterone levels as well as benign prostatic hyperplasia. (30)
D-Aspartic Acid: 2300mg
D-aspartic acid, or DAA, is a type of aspartic amino acid that supports multiple body functions but is not used to make protein in the body. (31)
You're likely to find D-Aspartic Acid in testosterone-boosting supplements, like Military Muscle, due to its ability to facilitate the release of hormones in the brain correlated to testosterone production. (32)
Mucuna Pruriens: 56mg
Mucuna pruriens is the final ingredient in the Testosterone Booster, and (like Urtica dioica, fenugreek, and ashwagandha) is a long-established herbal drug that originates in alternative and ancient medicinal practices. (33)
The scientists behind Military Muscle included mucuna pruriens in their supplement because of its unique ability to reduce prolactin, a hormone secreted by the pituitary gland in the brain involved in both male and female reproductive health. 
By lowering the levels of prolactin, this ingredient is able to negate prolactin's negative effect on libido. (34, 35, 36)
Who Should Take It
The creator behind Military Muscle's Testosterone Booster developed the supplement for the express purpose of providing a supplement that benefits all adult men, regardless of profession, sport, athletic ability, or diet. (37)
Their dedication to this goal makes Military Muscle suitable for any developed male over the age of 18, especially those who engage in intense physical activity regularly. 
Military Muscle Testosterone is produced with certified animal-free manufacturing processes to be 100% vegan- and vegetarian-safe. (38)
You can also rest assured should you decide to use Testosterone Booster as it is free from banned and prohibited substances, safe to use, and provides full disclosure of its ingredients on every label. (39)
Positive Effects
Naturally increases testosterone levels by stimulating your body's production processes 

Increases muscle strength and growth 

Promotes rapid, more efficient muscle recovery 

Reverses the decline of testosterone regularly seen with age 
Possible Side Effects
There are currently no reports of adverse side effects associated with the use of Military Muscle Testosterone Booster due to its all-natural composition. 
While there are currently no known allergens to contaminate the manufacturing process of Military Muscles Testosterone Booster, you may want to research the individual ingredients for yourself for added assurance. (38)
Guarantees
Military Muscle offers a 90-Day Guarantee Policy for up to 3 bottle orders to all customers who claim a refund and meet the terms and conditions of the 90-Day Guarantee Policy. 
However, you should keep in mind that they do not include shipping costs as part of their refund policy. (40)
What Do People Say About It?
Steve A., an active member of the military and regular user of Military Muscle Testosterone Booster, had this to say in this testimonial on the Military Muscle official website, 
"I have been training to keep in shape and help maintain a ready state of fitness… Using Military Muscle helps me feel better than ever and has helped my [sic] get over a plateau, so I'm now benching over 320lbs."
Another happy customer, Koroush, V., Olympic Weightlifting Coach, adds, 
"A lot of supplements do not provide thorough transparency, but Military Muscle does. I know exactly what I am taking and also that it doesn't include any WADA banned ingredients." 
Paramedic and Ex-Marine, Rob F. also offered his experiences in his Military Muscle testimonial, stating, 
"I've served in both Iraq and Afghanistan over my 9 years [sic] stint in the Marines, and know the importance of keeping fit, healthy, and robust. Now I am a busy paramedic and a parent, I find it much harder to spend time in the gym, but when I do, Military Muscle helps me smash my goals." 
The Takeaway… 
Unlike many over the counter supplements, the Military Muscle Testosterone Booster allows you to safely increase your testosterone levels without fear of negative side effects or dangerous drug interactions.
That's why Military Muscle Testosterone Booster is one of our top recommended testosterone-boosting supplements. We're a fan of its unrivaled efficacy, affordability, and its all-natural, proven ingredients.
We recommend this product to any fully-developed, active males over the age of 18 who are seeking to increase their testosterone levels. 
If you like this article, do check out our Best Sugar Free Protein Powder review!
Similar Articles: