If you've heard about working out at least once, you've heard about sit-ups. They're one of the most common ways to do an abs workout. However, they aren't always the safest and they can get pretty boring after a while.
This is where sit up benches come into play. They encourage proper form, reducing the risk of injury. And if you're more advanced, they also allow you to mix up your workout by adding weights or various inclines. 
Also, if you're willing to invest a little more for your home gym, you can get a bench that can be used for much more than just sit-ups. Alternatively, you could also look at getting a dedicated, interactive core trainer like the Plankpad which is a pretty fun way to train your abs. 
But what is the best sit up bench to train your abs? This is exactly what this article will cover, so keep reading to find out more.
Top 10 Best Sit Up Benches to Train Abs
Bowflex SelectTech is probably the best selling sit up bench on the market at the moment. Its wide range of exercises makes it great for everyone, beginners and advanced users alike. It is probably on the expensive side, but its options make the investment worth it.
It has 4 positional adjustments: decline, flat, 45 degrees, and 90 degrees. It is built with heavy-duty steel frame, which means this bench will last a while. That means you can do all sorts of exercises: sit-ups, tricep extensions, dumbbell curls, dumbbell flys, chest press, abs exercises, and more. It is comfortable and stable, reducing the risk of injuries or accidents.
The main con is that it has only a one year warranty. You may also need to readjust the bolts and nuts as they become loose over time.
Interested? Click here to buy it! 
Fitness Reality takes sit-up benches to a whole new level. It has 12 possible positions and the maximum weight capacity is 800 pounds! You'll also get an app where you can track your progress.
If you want to take your training to a new level, you can choose to subscribe through their app and get hundreds of workout videos. This, however, is just a bonus, and the app is completely free if all you want to do is track your workouts.
It is a good bench for both beginners and advanced users, it is comfortable, sturdy, and durable. Some people find it a little tall and even with all the adjustments, it may not be very comfortable for short people.
Convinced? Here's a quick link to buy it! 

If you're looking for a bench that is simple and cheap, you might like Marcy Utility Slant Board. It is much more affordable than the previous benches. Despite the small price, it still comes with adjustable positions: you can use it both at an incline and a decline sit up bench.
It is easy to store, and best of all, it is built to last. If you're looking for comfort, you won't be disappointed, as this bench is foam-padded.
Customers complain the package comes with several parts missing, such as nuts, bolts, and screws, which makes the assembly quite hard. Many also say customer service isn't great, but if you do receive a faulty package, you can at least get your money back.
Stamina Pro's great advantage is that it is a foldable bench, perfect if you don't have a lot of storage room in your home. It has 4 adjustability levels. It is padded with foam for extra comfort, and the material makes it sturdy and durable. It is best for ab bench workouts, but beginners could find it useful for upper body workouts as well. More advanced users will probably not find it versatile enough.
It is not the best-rated product on Amazon although it receives an average rating. It is not bad, but it is the worst among the ones we've seen so far. Users complain about the design and the stability, neither of which looks very safe.
Here's a quick link to buy it! 
5. Rep Fitness Adjustable Bench
Rep Fitness adjustable bench has a maximum weight of 1000 lbs which is fantastic for a sit-up bench.
It has 7 ladder adjustments and 4 sit adjustments which makes it very versatile. It has a 10-year warranty on the frame and a 30-day warranty on the pads. Beginners could find this bench slightly intimidating, but they will be able to use it nonetheless.
A bench that is made exclusively for ab work, XMark has 12 levels of decline adjustment and will help you get a challenging workout whether you are a beginner or an experienced athlete.
Some may see as pretty expensive given that it is aimed only for ab workouts. However, it does stand out among other benches of the same type, so the price is somewhat justified.
Interested? You can buy it through this link! 
Vanswe is a workout bench that can be used both for upper body and abs workout. Its maximum weight is 650 lbs.
It is sturdy, comfortable, and made of a durable material that should last for a long time even with frequent use. What makes this workout bench stand out is the possibility to add leg extensions to your exercises. In other words, you can almost get a total-body workout with just one bench and some dumbbells.
You can buy through this link! 
Meruxe Deluxe is a foldable bench that is aimed primarily at ab workouts, but it can be used for upper body exercises as well. It has a fair price for what it offers.
The maximum weight capacity is 800 lbs, it is made to last, sturdy, and secure to minimize the risk of injuries. It is also comfortable and has 4 different seat adjustments.
Convinced? Here's a link to buy it! 
9. Body-Solid Pro-Style Ab Board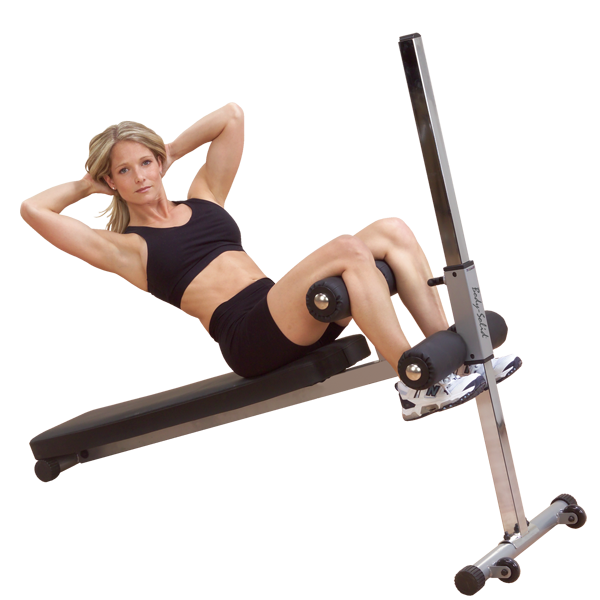 Another simple ab board, Body-Solid Pro-Style has 12 height settings between 0 and 45 degrees. It is perfect for both beginners and advanced users and has a lifetime warranty. It is sturdy, stable, so the risk of injuries and accidents is reduced.
On Amazon, It has an average rating. Complaints are related to the assembly, which is very difficult especially since the board doesn't come with any instructions. Some also find it unstable, thus unsafe.
10. Rogue Ab-3 Adjustable Bench
The last on our sit up benches list is Rogue's Ab-3 adjustable bench. It is the most expensive of them all. At the time of writing this review, the bench isn't available on Amazon, but you can get it through the official Rogue Fitness website.
It is fairly easy to assemble and has several customization options, though, for this price, you would expect a lot more. Instead, the best customization options come at a price.
It is sturdy, durable, comfortable, and made with high-quality materials, though the price, even without the additional gadgets is a bit high, especially considering you can get benches of just as high quality for a much lower price.
What To Look For When Buying the Best Sit-Up Bench?
1. Durability 
You want a bench that is heavy-duty,  sturdy, and can hold a good amount of weight. Think that you will probably become more advanced in time and you'll want to add weights, so look for a number well beyond your body weight.
Durability is also crucial. You want a bench that lasts for a long time, not one that will come apart after you use it for a few months. 
2. Size, Adjustability, and Foldability 
Next, start looking at features like size, but also adjustability, and even foldability. 
The correct size makes your workouts safer. An adjustable sit-up bench will help you change your workouts but it will also be perfect if multiple people are using the same bench. 
Foldability isn't a necessary requirement in an exercise equipment, but it is a nice feature to have if you don't have a lot of space for your home gym.
3. Design and Construction 
Next, start looking at the design and the construction. This will give you further insight into the security, comfortability but also durability of the bench. 
Finally, check out the warranty. Ideally, you want a long warranty, that allows you to repair or even exchange faulty parts.
Frequently Asked Questions (FAQs)
What is the best sit-up bench?
The best workout bench is the one that matches your personal requirements and helps you move forward in your workout. Our personal favorite is the Fitness Reality bench, with Bowflex coming in close on second place. If you find another one that suits your needs better, choose that one.
Can I do sit-ups on the bench without weights?
Of course, sit-ups with or without weights are completely optional. In fact, if you're a beginner, it's probably safer to stay away from them. Alternatively, you can do bodyweight (or calisthenics) core exercises or even use your pull-up bar to do L-sits or toes to bar. 
What is the best bench for toning?
Look for a bench that is adjustable and that is made for more than just ab work. From our list, the Bowflex and the Fitness Reality benches are both great but don't overlook the Vanswe bench either.
What different exercises can you do with a flat bench?
A flat bench allows you to do just about any exercise. You can work your legs with extensions, single-leg deadlifts, or squats, chest exercises such as chest press, dumbbell flyes. You can also work the shoulders with a shoulder press, the triceps with tricep extensions, the biceps, and the back.
So, Which One Should You Buy?
There are many options on the market for great sit-up benches to get six-pack abs! Whether you are looking for a simple board that will allow you to take your ab workouts to the next level, or want a bench that will help you get a total-body workout, there's something for everyone.
Our top pick is the Fitness Reality bench, which has a medium price, can be used by both beginners and athletes, and will give you a full-body workout if you wish. 
If you choose to invest a bit more, the Bowflex is another great option. For those with a low budget, the Marcy Utility Slant Board could be a great choice.
If you like this article, please check out our other reviews at Dumbbellsreviews.com.