Being sweaty is not only unhygienic and uncomfortable but also potentially dangerous, especially in the gym. 
Sweaty backs can make you slip off the bench, slippery hands can drop adjustable dumbbells, barbells, etc.
Apparently, you do not want any of that. So, the simplest solution is to have a towel around your neck or over your shoulder when hitting the gym.
To be fair, most of us have been carrying one, but not all know the significance of a good gym towel. Even we used to think that any towel would have been okay. It is not.
In this article, we are bringing our pick of the 5 best gym towels on the market. But before we get into that, let's get you started with a little guide on…
What To Look For In A Proper Gym Towel?
Material
The most common material is cotton because cotton fibers are absorbent and quickly dried. It is an excellent material, one of the best, but not the only one. There are:
Cotton-polyester blends

Microfiber

Linen

Bamboo
Size and Weight
A towel's weight refers to its fabric density. Ideally, you would want a heavy one so it will not wear down after washes. Sheets that can last over time is a way for you to save money.
However, some instead buy commercially priced towels in bulk to replace them regularly. It is up to you, really.
The perfect size is also a matter of preference. But you can always base your decision on the length of your workout. An hour or more may call for a large towel for all the sweat, while 20-minute workouts only require something like a hand towel.
Absorbency
The best sweat towel should be somewhere in the middle — absorbent enough to keep you dry during a workout. It should not be so thick that it retains bacteria between washes or causes you to carry extra weight in your gym bag.
Time Needed to Dry
A bit of a trade-off will happen here. Thinner towels dry faster, but their thicker, fluffier counterparts absorb sweat better and are significantly more durable.
The one thing to keep in mind is that thoroughly dried towels are essential to prevent you from bacteria and mold.
Softness
You wipe your sensitive facial skin with it so it would not hurt (both literally and figuratively) to have a soft towel.
And again, you would have to pay for the premium ones to get the desirable softness without compromising durability.
Now let's get to work. Our list will give you everything you need to know about the top 5 gym towels, including their prices, special features, benefits, and drawbacks.
Best Gym Towels – Top 5 Options
The Desired Body Gym Towel is made for drying sweat and covering gym machines with a grey waffle design and a silky white border – a unisex design fitting both men and women.
The towel can stretch to 44 x 16.5 inches and weighs around 5.3 oz or 150 grams. No label or hook can accidentally scratch your skin.
The company even provides a 40-day Refund Guarantee if its customers are not 100% satisfied.
Pros
Beautiful, stylish, and unisex design

Durable.

Lightweight and soft.

Waffle texture adds absorbency

Good price

Refund guarantee

Dries quickly

Good cover for gym equipment

2 towels in one pack

Stretchy microfiber material

Machine washable
Cons
Might fall apart after washings

Long/narrow size

Only comes in white

Only one size

Some customers have found the material to be rough on the skin
Special Features
Quick-absorbing – Waffle fabric texture

Odor-free – You can use it several times before washing

Machine-washable – Little detergent needed

Bleed-free – High color grade
Who is it for?
Probably a great start for anyone new to the concept of a good gym towel. Basically, the 40-day refund allows you to try and see if you like it. If you do, terrific. But if you do not, you will still get a grasp of your ideal towel. Then just get a refund and buy the one you like.
The Sinland gives you a pack of three 16 x 32-inch towels claimed to dry three times faster than traditional ones. They are also durable enough to withstand 500 washes, but who's counting anyway, right?
Pros
Absorbs more water

500x washings

Good for outdoor sports

Dries 3x faster

Unique and comfortable terry texture

Doesn't lose its flexible properties

Available at a reasonable price

3-Pack towels with bright colors.

Lightweight and compact microfiber towels

Ideal for a variety of activities
Cons
Strong smell

Smaller than description
Special Features
An 80/20 blend of polyamide and polyester

Premium Microfiber: Soft, smooth, super absorbent, and quick-drying

Exceptional terry texture design capable of absorbing more water than flat towels

Big enough to wipe sweat at the gym

Durable, up to 500 times washing

Lightweight and Easy Carry

Multi-purpose workout towel

Great for yoga, hiking, swimming, traveling, camping, and other outdoor activities.

Also used as bath towel, face towels, hair drying towel, kitchen drying towel

Includes a 3-pack
Who is it for?
As mentioned, the Sinland Towel does not only excel at being a gym towel but can also be used as a bath, face, hair, and even a kitchen towel. This makes it perfect for people looking for versatility or a trustworthy brand that they can use for anything.
The RJ Hall Gym Towel is 100% cotton for any cotton lover out there. As you can tell, its selling points are the pockets. You get two zipper pockets to store your belongings during workouts.
The towel is 50 inches long and 9 inches wide with two 6 inches pockets. RJ Hall also states that "A PERCENTAGE OF EVERY SALE IS DONATED TO AMERICAN CANCER SOCIETY."
Pros
Two pockets for your accessories

Many different colors available

Durable, soft, and absorbent

Pockets don't get damaged while washing
Cons
Accessories' weight might intervene with your workout.
Special Features
100% Cotton

Two zipper pockets

Available in Black, Blue, Grey, Light Blue, Light Pink, Mint, Pink, Purple, Red, White, Yellow

Made in the USA
Who is it for?
Obviously, the RJ Hall Towels are made for people who like to keep their accessories by their side during workouts.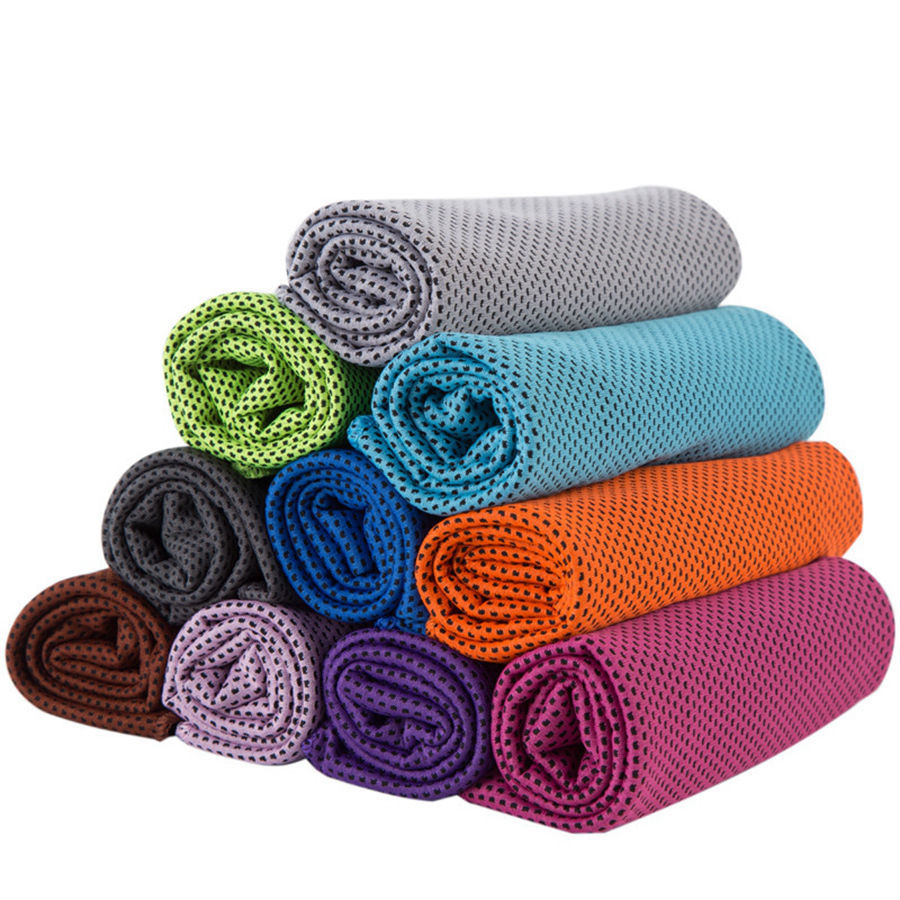 Now we move on to the first and only cooling towel on the list. Don't worry, the cooling is totally chemical-free. Instead, it lies in the "super ice hyper-evaporative breathable material." It can actually stay chill for 3 hours, and all you need to do is soak it for a minute.
Pros
The fabric is super safe. This item has undergone multi-inspection processes to assure safety and high performance.

Comes in two different sizes and in multiple colors

Ridiculously low price.

The towels maintain coolness, refreshing you during your workout

Chemical and odor-free

Includes a carrying bag and a clip
Cons
Even though many people consider this the best set of towels for the gym, they're not the softest.
Special Features
High strength water absorption:

High-tech cooling fabric with high strength water absorption can absorb the moisture more than twice its weight.

Super sweat capacity

High-efficiency air permeability:

High-quality cooling fabric with high-efficiency air permeability, fiber internal water circulation, accelerating the surface water evaporation and taking away the heat.

Soft light, safe, and healthy:

Ultra-light fabric, lessen the burden, physical cooling, safe and healthy
Who is it for?
Although this is only the second cheapest towel on the list, it has the best value for the money. Perfect for anyone looking for a great deal or preferring cold towels.
The Rag Company Towel is a 16 x 27-inch towel with over 300,000 fibers per square inch. It is actually durable enough to withstand 500 washes and get softer after each use.
You can buy it for cheap here! 
Pros
3-pack towels

Free shipping

Lightweight and easy to store

Microfiber gym towel 

Large Size
Cons
A bit low in towel density

They need to be washed before they are used for the first time. If you don't wash them first, they may smell a bit when you use them!
Special Features
Large and Soft: Perfect sizing based on professional feedback

Premium Blend: High quality 80/20 blend

Extremely Durable
Who is it for?
Amazon dropped the price dramatically FOR THREE TOWELS with free shipping! This is simply just too tempting of a deal.
The Bottomline
So, there you have it, our picks on the top 5 gym towels on the market.
Apparently, the Rag Company offers the best price. You can turn to U-Pick for cooling towels, though.
And if having pockets is more your style, feel free to get some of those RJ Hall's.
If you like this article, make sure to check out our other reviews and dumbbell exercises. We have tons of writings on healthy lifestyles, home workout guides, and equipment reviews. For fitness lovers out there, you would not want to miss any.
Further reading: