Are you a gym freak? If yes is the answer, what are the things you need to stick on your gym routine without any hassle, where your whole concentration remains on a workout? 
Well for all the questions above, compression shirts are the answer. 
They are made up of special fabric which makes the garment suitable for workout. 
These are body fitting garments made up of spandex like material. These are specially designed to help for proper circulation.
You will get to know all the relevant details as you go through the article. Thank me later for this piece of information. This is the best read for your next gym wear buy. 
The tightness of the material keeps the body warm and stable also helps to get rid of muscle fatigue which is the most common problem for gym enthusiasts. 
There are different types of shirts depending on the needs of a person. Sportspersons may need a different type of compression level to a person who needs it for the gym.
These shirts are also used for medical treatment as per doctor's advice. 
Nowadays there are customized compression shirts available, based on technology and with properties such as antimicrobial, anti-itch, and UV protection.
For gym workouts with a wide range of motion, some may need it for post-workout recovery, to work out for a longer duration. 
Some may need it for maintaining the posture or some may need it to improve breathing. You need to check out the 10 top-quality compression shirts.
10 Best Compression Shirts for Men
Pros:
It is form-fitting for comfort and support.

The fabric keeps away the sweat by drying immediately which makes it the best suit for gym wear for a person having over sweating issues.
Cons:
It might be difficult to fit in the abdomen area.

Avoid buying white color as it is a bit transparent.

Is only available in a short sleeve pattern.
Special Features:
Ergonomic seams provide natural comfort.

It has ribbed crewnecks along with interior taping.
Description: It is made up of 76% nylon and 24% spandex.
Pros:
It has enhanced support through the trunk area which is best for posture support.

Gradient compression is throughout the arms.

It is also available in long sleeve patterns.

Climate control technology becomes cool when the weather is hot and becomes warm when the weather is cool
Cons:
It is not for the longer run.

Go through the size chart before purchase as it can hurt if fitted tight.
Special Features:
It has bonded hems for increased comfort.

It has 360-degree reflectivity; glass bead enhances visibility in low light.

It has UPF50+UV protection.
Description: This shirt is made up of 84% polyester and 16% elastane. It has a short sleeve.
Pros:
Heat gear fabric. UPF 30 protects from sun damage.

It has a 4-way stretch stitch.

Moisture-wicking properties make it dry very soon.
Cons:
Don't go for white color, it ends up being transparent.

Expensive.

Stitching is not concise.
Special Features:
This can be worn all day because of its UA compression.

It has UPF 30 protection.

Anti-odor technology.
Description: It is made up of 80% Nylon and 20 % Elastane.
Pros:
Invista LYCRA makes it durable and good for stretching.

Good for better breathability.

It is engineered to support the upper body.
Cons:
Not good in a longer run.

Going through the size chart, some may experience it extremely fit.
Special Features:
Specially designed for reducing fatigue.

It has UPF 50 for protection against sun rays as well as antimicrobial properties to keep away odor and sweat.

It has powerful pressure to reduce fatigue.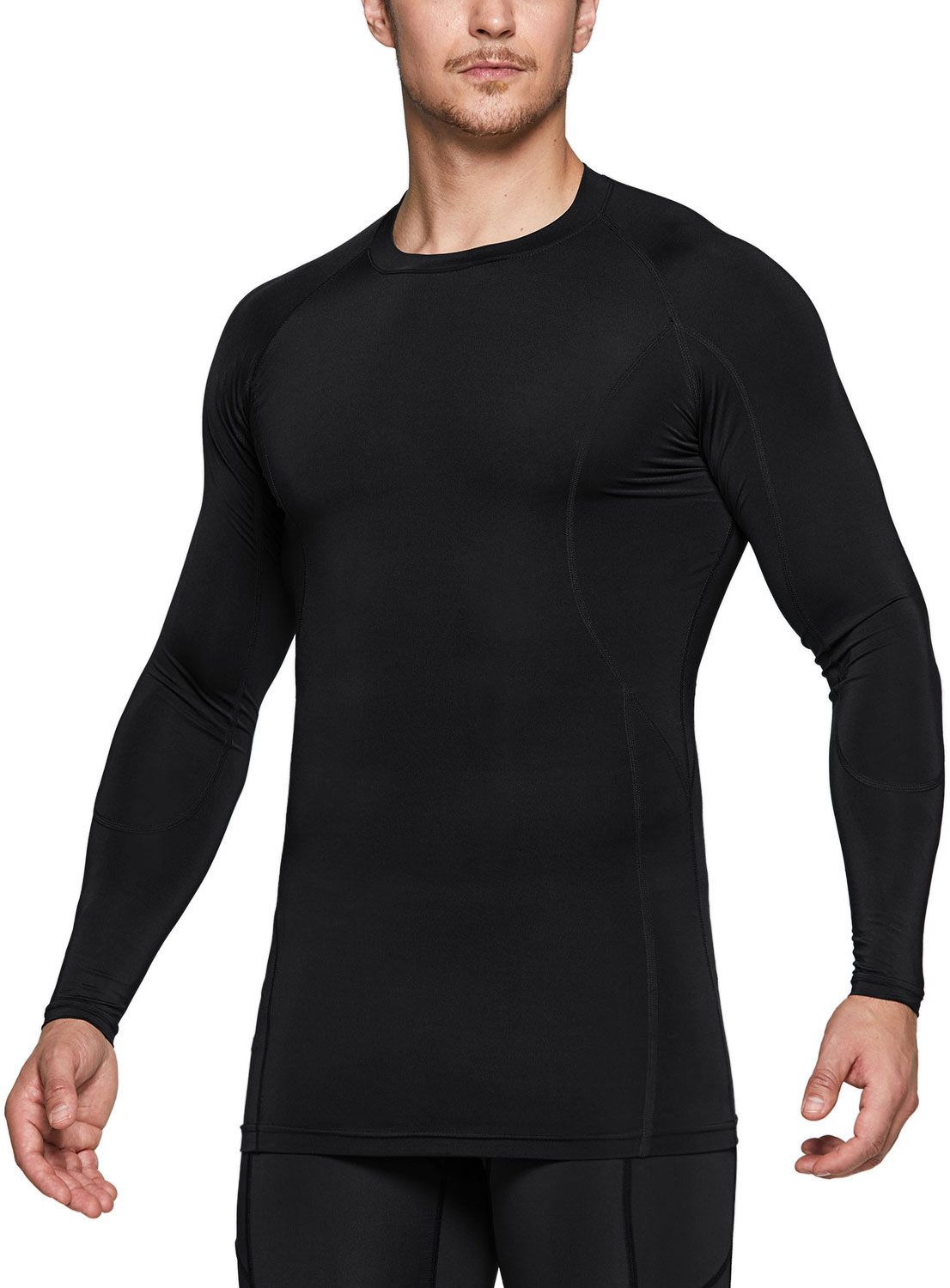 Description: It is a mix of Spandex and Polyester.
Pros:
It is durable and is good for all seasons

Low cost

It has long sleeve compression

Non-abrasion fabric material which has great elasticity and durability.
Cons:
Average quality for a rash guard.

Check on size if you don't want extreme compression.
Special Features:
It has sensibility towards moisture, which makes it dry in a few seconds.

It has UVF 50 protection.
Description: A body shaper waist tank top. The material used is Spandex and Nylon.
Pros:
It has a zipper closure.

Remains cool throughout the day.

The price is reasonable.
Cons:
Before ordering you need to check on the size as it has the best fitting at the abdomen region.

Needs hand washing.
Special Features:
Body slimming properties make it perfect for a person who has recently gone for gynecomastia surgery (a kind of fat loss surgery) perfect for running, yoga to reduce fat.
Description: Fabric used is recycled polyester and elastane on sleeves and front. It is 0.7in height and 0.14 in widths.
Pros:
Climacool helps in keeping dry and cool in hot weather.

Lightweight.

Helps in reducing muscle vibration.

Compression fit molds to the body for a supportive feel.

Mesh panels on back and underarms act as a ventilator.
Cons:
Needs to order after viewing the size chart especially if the upper body muscle is large.

Only hand wash can be done.
Special Features:
Best for reducing muscle vibration.

It has UV protection and flatlock stitching helps in minimizing chafing.
Description: It consists of Nylon 80 % and Spandex 20%.
Pros:
Good for both men and women to keep the body in shape.

Has breathable and soft material that can be easily worn inside clothes.

It can be used as swimwear as well.

Shoulder mesh material allows it easy to take on and take off.
Cons:
It needs men's body's posture to assist.

Needs a size check before use.
Special Features:
Made up of high-quality nylon to maintain the perfect shape.

Revolutionary slimming undergarment.

It can be worn after fat loss surgery to keep the tightness of the skin.
Description: This shirt is lightweight and has short sleeves.
Pros:
It is a thermal undershirt with superior quality.

It has an underarm mesh that keeps underarms cool and dry.

Sweat-wicking properties make it keep dry and cool on the body.

It is a base layer shirt.

Light in weight.

Itch free.
Cons:
Expensive.

Slightly uncomfortable under the arms.

Color availability is in black, because of which deodorant stains are visible.

It should come in more color options.
Special Features:
This shirt is specially designed for athletes.

It gives optimal muscle support. It is suitable for gym wear and other sports activities.
Description: It is a mix of nylon and spandex.
Pros:
It is seamless and light in weight.

Provides double high compression on the tummy.

Body shaper

Material is soft and breathable.
Cons:
Size may vary so it needs to be purchased after viewing the size chart.

May not be useful for the longer run.
Special Features:
It has moisture-wicking properties.

Ergonomic slimming

Designed to reduce the appearance of gynecomastia or man boobs in men.
The Takeaway… 
Compression shirts come in a wide variety of designs and features. So, here you have numerous options to choose from. 
You can choose any of these according to your budget and requirements. They can be worn for multiple activities. 
Now you have good knowledge of all types of shirts you can advise your friends and colleagues on which shirt would be best suited to their needs. 
Other than shirts, it is also possible to find compression sleeves, shorts, tights, socks, and underwear. Since this sportswear is designed to reduce injuries, it is fit for athletes and bodybuilders alike.
As some of the shirts come with body slimming properties, this feature might appeal to a lot of people out there. 
They are skin-hugging materials capable of offering the right amount of compression to certain areas of the body.
These special shirts can keep you warm to prevent muscle strain while working out. The shirts discussed here are specially meant for men who carry out rather extensive workouts daily. 
These shirts will help their muscles heal quickly and prevent itching and chafing while exercising. 
Here we have listed down the top 10 compression shirts for men so that they can have a pick according to their workout needs.
PS! Need support for your knees during squats? Check out our Copper Knee Brace Review!