A CrossFit workout combines many functional movements to become stronger or to lose weight. As Crossfit or cross training involves a lot of different exercises, the running shoes you wear are important in providing support and preventing injuries. 
If you have wide feet, then you may find that shoes with flexible weave or extra eyelets more comfortable during workouts. You can lace the shoes to fit your feet size without having to resort to going one size up. To see what might fit you, read on to know more.
CrossFit Training Shoes for Wide Feet – 5 Best Options
IMAGE
PRODUCT

Our Top Pick!

Superior durability with innovative textured print
Flexible support with a drop-in midsole
Stable platform
Thinner mesh

View On Amazon →

Provides good flexibility and comfort
Breathable
Wide toe box
4mm heel to toe drop

View On Amazon →

10mm heel to toe drop
Six eyelets and 2 extra for some variation
Good breathability with mesh uppers
Water resistant upper

View On Amazon →

Narrow fit for snugness and stability
Synthetic leather with mesh at the collar and tongue
High-density die-cut midsole
Heel height is 15mm

View On Amazon →

Synthetic leather upper
EVA feels like a pod
Many color combinations
Removable insole

View On Amazon →
Product Description:
Nike Metcon 4 Men's Cross-Training shoe provides a stable base while giving flexible support to the feet. Nike makes durable shoes that are fit for a wide range of training activities. Using the latest technology, the mesh is lightweight and will not hinder any training.
Pros:
Superior Durability with innovative textured print.

Flexible Support with a drop-in midsole. The drop is firmer at the heel, and softer at the front. The design provides stability and flexibility when required.

A stable platform for maximum connection to the ground for more explosive lifts and high- intensity training.

A thinner mesh that is more breathable using Haptic technology

Six eyelets for better customization.
Cons:
Price varies between store to store

Midsole squeaks 
Special Features:
4mm heel to toe drop

Nike uses Flywire (Vectran Filaments) around the entire upper of the shoes

Soft tongue for extra cushioning

The heel counter reduces drag

Stabilizing heel clip

Textured rubber in midfoot for rope exercises

Sticky rubber at the front for traction

6 eyelets allow you to lace the shoes to fit those with wide feet better
Best For:
Cross trainers that work indoors and outdoors using heavyweights. The technology in Nike Metcon 4 allows abuse to the shoe. If cost is not an issue, the Nike Metcon 4 will withstand heavy-duty dumbbell exercises and high-intensity exercises.
Product Description:
With the CrossFit community in mind, the Nano 8 boasts maximum comfort and durability. The Flexweave upper is breathable, while the added cushioning in the forefoot promotes stability and flexibility.
Pros:
Reebok Nano 8 provides good flexibility and comfort during sessions.

Flexweave provides durability, flexibility and it is breathable.

Wide toe box.

Wave design at the sole for better grip.

Hard sole for better stability during snatch grips.

Seven eyelets for lacing

Heel bootie construction provides better stability during certain exercises
Cons:
Harder sole means more impact during plyometrics or high impact exercises.
Special Features:
Reebok uses Flexweave Technology, which weaves fibers into a figure-8. The weave provides strength and flexibility.

Unique bootie construction at the heel for better performance and comfort.

Flexible forefoot flex grooves

Low-cut design to allow better reaction and mobility

Toe traction technology improves durability in the toe area

Standard 4mm heel to toe drop
Best For:
Non-high impact Cross Fitters as the bottom of the sole is hard. The Reebok CrossFit Nano 8 has a wider toe box if you require more space at the front. The shoe offers great flexibility for many different exercises indoors or outdoors.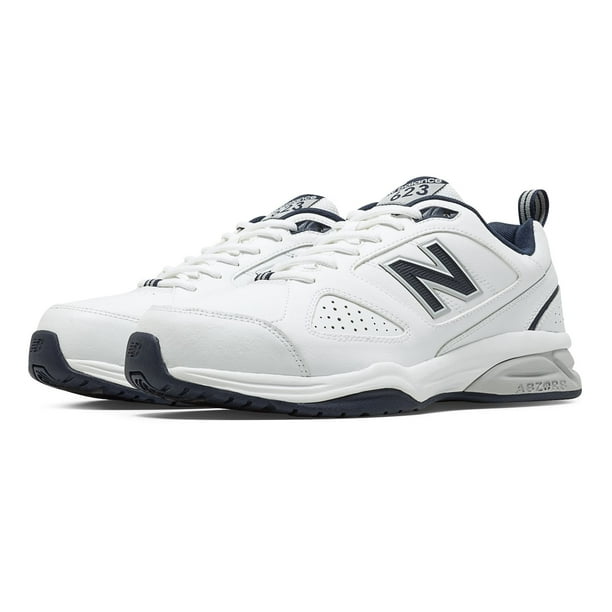 Product description:
The New Balance 623 V3 is mesh leather upper with ABZORB heel capsule. The 623 has a reinforced collar foam that cradles your feet for better stability and comfort. It also has IMEVA (Injection-molded EVA foam) that will allow better cushioning without sacrificing stability.
Pros:
Water-resistant upper that is made of leather and suede.

EVA (Ethyl Vinyl Acetate) foam footbed for cushioning and comfort.

IMEVA (injection-molded EVA foam) in the midsole for stability.

Additional midfoot support with their internal shank

The insole is removable if you have your own customized insole.

Has its unique QUIX technology for better traction during cutting movements.
Cons:
Complaints about changes in sizing 

Wider heel pocket will provide less heel support if you have a narrower heel. 

Poorer arch support. 
Special Features:
10mm heel to toe drop.

Six eyelets and 2 extra for some variation.

Good breathability with mesh uppers.
Ideal For:
If you like to combine style with functionality, the NB 623 V3 is for you. The upper gives a fresh look than other CrossFit training shoes, which means you can wear them as casual wear straight after training. The shoe is perfect if you have wider heels or if you need to put your own insoles in.
Product Description: 
Adidas Performance is a narrow fit shoe for maximum stability. The lightweight upper allows the shoe to breathe, while the outsole features their unique Adiwear. Adidas Performance Powerlift 3 is more for the weightlifting part of CrossFit.
Pros:
Durable Adiwear Outsole is a thin, hard rubber for a better grip.

Heel height of 15mm reduces the risk of ankle strain during heavy weightlifting.

Reasonable price for beginners.

Roomy toe box and free forefoot assembly for comfort and better toe splay.

Midfoot/ metatarsal strap covers the laces to prevent loose laces and tripping.
Cons:
No arch support for other activities

EVA heel compresses and will have unwanted lateral movement.
Special Features:
Narrow fit for snugness and stability.

Synthetic leather with mesh at the collar and tongue.

High- density die-cut midsole.

Heel height is 15mm average for squatting exercises.

Comes in 3 designs.

Lightweight.
Best For:
Beginners in weightlifting or CrossFit, the Adidas Performance is a good entry-level cross- trainer shoe that allows you to have good form when lifting weights. It has space to toe splay, and decent heel height will help train you towards better exercise posture.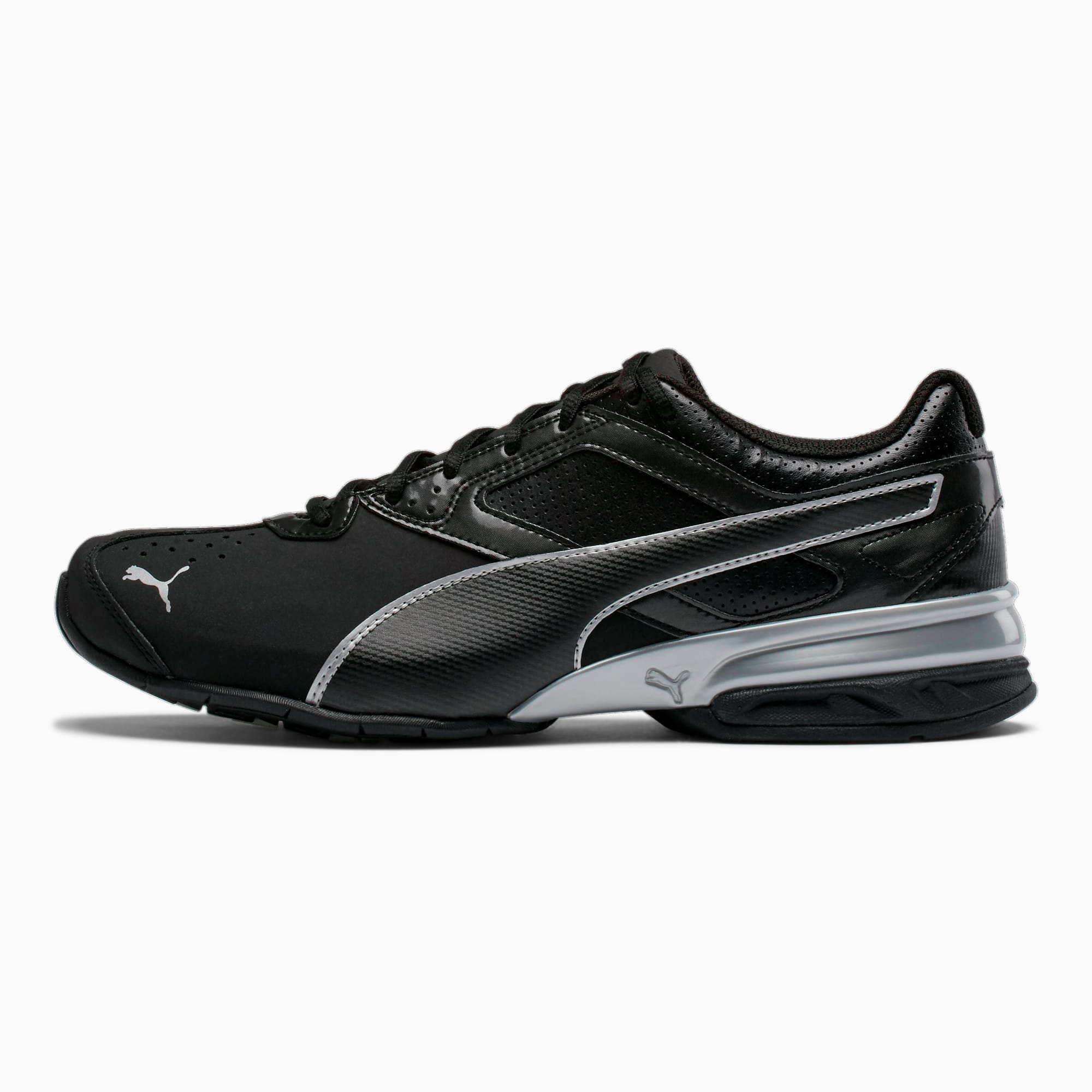 Product description:
Puma's Tazon 6 FM has a sleek, streamlined outline. The Tazon 6 is stylish enough to be casual wear, while has specifications for a good running or cross training workout.
Pros:
Good for all-day wear and weightlifting.

EVA heel panel for shock absorption, and durable cushioning.

Removable insole.

TPU shank to reduce lateral movement during weightlifting.
Cons:
Users complain that the shoe heats up during exercises despite mesh lining.

The EVA cushioning is not enough to absorb shock from running.

Removable insole.
Special Features:
Synthetic leather upper.

EVA feels like a pod for shock absorption and cushioning.

Many color combinations.

Six with extra 2 eyelets at the end.

Softfoam sock liner for a good feel under the foot.
Best For:
If you want a stylish and effective training shoe, the Puma Tazon 6 FM is an excellent choice for a cross-trainer. It has all the features to support you when you are exercising and look good enough to go out on the streets after.
Buyer's Guide

Size
One of the first and most obvious things you'll need to search for when buying a new pair of Crossfit shoes is your size. If you're in-between shoe sizes, then make sure to read the reviews to find out whether the shoes fit true to size or if they come up slightly smaller or larger so you can gauge what size to go for.
Type of Arch
Not everyone has the same arch in their feet, so it's important to find a shoe that will fit your particular arch to optimize your performance and to ensure long-lasting durability.
High Arches
If you have high arches in your feet then you'll need to find a neutral cushioned Crossfit shoe, with primarily most of the cushioning in the midsole, this will prevent the heel and toes on your feet from absorbing all of the shock when your feet hit the floor.
Flat Arches
If you have flat arches then you'll want to go for shoes that are motion-controlled so they provide extra protection and cushioning inside the shoe and will reduce pronation in the foot.
Normal Arches
If you've got normal arches in your feet then stability trainers will be best for you as they'll help keep your feet comfortable and supported.
Shoe Construction
When it comes to finding shoes that are best suited for Crossfit training, more heavyweights trainers are preferred to offer the stability that the support demands.
Do not buy extremely lightweight shoes as these are constructed for running and are made to help the runner to feel lighter on their feet.
Outsole
If you're looking for durability, stability, and performance then try to find Crossfit shoes that have a rubber outsole or thermoplastic polyurethane (TPU) listed in their construction specifications as these offer great stability and are often used in the construction of cross training and weight lifting shoes.
However, if you're seeking Crossfit training shoes for comfort then search for shoes that have a mixture of both rubber and foam in their outsole construction as these will provide the most cushioning and comfortability for your workouts.
Outer Construction
The outer construction is the most varying factor between Crossfit training shoes. Companies will use different materials for the outer construction to give it a different look and to also add benefits to the shoe.
The key to good outer construction is both durability and breathability, as you'll want your feet to stay cool when you're doing an intense Crossfit workout but you also want them to last you more than a week before they start falling apart.
If you get super sweaty feet, then you'll want to find a Crossfit shoe with a complete mesh out layer so your feet can breathe.
For maximum durability, look out for high-quality materials like TPU, thick mesh, leather, or synthetic materials that will be able to withstand the rigor of a Crossfit workout. Look for a thick toe cap on the construction of the shoes, these will protect the toes when you're doing exercises like burpees or push-ups and will also prevent that area of the shoe from being excessively worn down.
Heel Support
For the heavy lifting exercises in Crossfit training, you'll need to have a shoe that can provide good stability and support for your heels. A more supportive shoe will have TPU layers, extended rubber outsoles, and also heel cups to help keep your foot stable and aligned in the shoe.
Width of the Shoe
If you struggle with very wide or narrow feet, then this will be a major factor you'll need to consider when buying Crossfit shoes or any shoes for that matter.
Read through the reviews to find out if the shoes are accommodating to the width of your feet, some people may have posted photos of the shoes, or maybe the brand has a photo of the outsole of the shoe.
Compare the difference between the size of the forefront of the shoe at the mid-foot of the shoe, if there is a big difference between the widths then shoes should be suitable for narrow feet, however, if there is a small difference in widths of the forefront to the mid-foot of the shoe then they're more suitable for wider feet.
Check the fit and comfort of the shoes
Whenever possible, try on some Crossfit training shoes in store to find out the fit and comfort of them before buying them. It's best to try on a handful so you can get a grasp of what sort of materials and cushioning feels best for your feet and what would work best for your Crossfit activities.
Frequently Asked Questions
What types of shoes are best for Crossfit?
Whilst there are no strict rules of what shoes you should wear for Crossfit, the consensus is that more durable and supportive shoes are recommended for this type of sport.
Some of the best Crossfit shoes around at the moment are the Nike Metcons, Reebok Nanos, and Adidas Powerlifting shoes.
How much should Crossfit shoes cost?
The price of your Crossfit shoes will depend on the brand you're going for, popular brands like Nike, Adidas, Reebok, and New Balance will offer a range of suitable shoes for Crossfit come in low to more premium prices.
Although we all love a bargain, it's best to not go for the cheapest option out there as you won't be guaranteed high-quality materials enhancing the durability and overall comfort of the shoe, resulting in you not having optimized performance or even incurring injuries.
Is it bad to run in Crossfit shoes?
You should be fine to do short and light runs in your Crossfit shoes, but it is not recommended to do longer runs in them as these sorts of shoes are built to provide good stability and support for the feet whereas running shoes are primarily built with cushioning to absorb shock impacts of the feet hitting in the ground.
We'd recommend having two different pairs of shoes, one for long distance running and one for Crossfit training. Running shoes also do not provide the correct stability and support that is required for lifting weights and certain exercises in Crossfit.
Can you wear Crossfit shoes every day?
Yes, you can wear Crossfit shoes every day as your casual shoes if you wish as they offer good support and are often very comfortable.
Many people often end up buying a couple of pairs of their Crossfit shoes so they switch between them for Crossfit sessions and then also everyday wear.
Can you walk in Crossfit shoes?
Crossfit shoes will do fine for general everyday wear and casual walking, however, if you're looking into doing more high-intensity walking like hiking, then you should find specialized walking shoes or boots to help support your shoe properly.
Walking shoes also offer more flexibility than Crossfit shoes, so you may find your feet get tired and sore when doing long walks.
Do you need to wear socks with Crossfit shoes?
Yes, you should always wear socks with Crossfit shoes or any other kind of shoes for that matter. Socks help to absorb sweat and moisture and prevent your shoes from getting extremely smelly and prevent you from developing athlete's foot.
Wearing no socks when wearing Crossfit shoes will leave your shoes being incredibly smelly within only a couple of times of wearing them, which results in you having to either wash them more (can decrease quality and construction of the shoe) or constantly spraying them with shoe spray.
How often should you change your Crossfit shoes?
If you work out every day, then you should try to change your Crossfit shoes every 3-6 months.
How should Crossfit shoes fit in the toe?
Crossfit shoes should fit you as normal shoes do. There should be 1 thumb width space between your toe and the top of the shoe to avoid blisters and sores.
The Bottomline… 
It is important to select the correct shoe type for the exercise that you are aiming to do. There are many new technological advances that go into making cross-training shoes that are supportive and comfortable. 
The New Balance 623 V3 has the option of a standard or an extra best Crossfit Training Shoes for Wide Feet wide-fit if you have wide feet. This can provide you with extra comfort during cross-training and it will be the best cross-training shoes for you. 
If you like this article, check out our other home gym equipment and dumbbell reviews.