A CrossFit workout combines many functional movements to become stronger or to lose weight. 
As Crossfit or cross training involves a lot of different exercises, the running shoes you wear are important in providing support and preventing injuries. 
If you have wide feet, then you may find that shoes with flexible weave or extra eyelets more comfortable during workouts. 
You can lace the shoes to fit your feet size without having to resort to going one size up. To see what might fit you, read on to know more.
CrossFit Training Shoes for Wide Feet – 5 Best Options
Price: $130 from Nike
Product Description:
Nike Metcon 4 Men's Cross Training shoe provides a stable base while giving flexible support to the feet. Nike makes durable shoes that are fit for a wide range of training activities. 
Using the latest technology, the mesh is lightweight and will not hinder any training.
Pros:
Superior Durability with innovative textured print.

Flexible Support with a drop-in midsole. The drop is firmer at the heel, and softer at the front. The design provides stability and flexibility when required.

A stable platform for maximum connection to the ground for more explosive lifts and high- intensity training.

A thinner mesh that is more breathable using Haptic technology

Six eyelets for better customization.
Cons:
Price varies between store to store

Midsole squeaks 
Special Features:
4mm heel to toe drop

Nike uses Flywire (Vectran Filaments) around the entire upper of the shoes

Soft tongue for extra cushioning

Heel counter reduces drag

Stabilizing heel clip

Textured rubber in midfoot for rope exercises

Sticky rubber at the front for traction

6 eyelets allow you to lace the shoes to fit those with wide feet better
Best For:
Cross trainers that work indoors and outdoors using heavyweights. 
The technology in Nike Metcon 4 allows abuse to the shoe. If cost is not an issue, the Nike Metcon 4 will withstand heavy-duty dumbbell exercises and high-intensity exercises.
Price: $130 from Reebok
Product Description:
With the CrossFit community in mind, the Nano 8 boasts maximum comfort and durability. 
The Flexweave upper is breathable, while the added cushioning in the forefoot promotes stability and flexibility.
Pros:
The Reebok Nano 8 provides good flexibility and comfort during sessions.

Flexweave provides durability, flexibility and it is breathable.

Wide toe box.

Wave design at the sole for better grip.

Hard sole for better stability during snatch grips.

Seven eyelets for lacing

Heel bootie construction provides better stability during certain exercises
Cons:
Harder sole means more impact during plyometrics or high impact exercises.
Special Features:
Reebok uses Flexweave Technology, which weaves fibers into a figure-8. The weave provides strength and flexibility.

Unique bootie construction at the heel for better performance and comfort.

Flexible forefoot flex grooves

Low-cut design to allow better reaction and mobility

Toe traction technology improves durability in the toe area

Standard 4mm heel to toe drop
Best For:
Non-high impact Cross Fitters as the bottom of the sole is hard. 
The Reebok CrossFit Nano 8 has a wider toe box if you require more space at the front. The shoe offers great flexibility for many different exercises indoors or outdoors.
Price: $84.99 from New Balance
Product description:
The New Balance 623 V3 is mesh leather upper with ABZORB heel capsule. 
The 623 has a reinforced collar foam that cradles your feet for better stability and comfort. 
It also has IMEVA (Injection-molded EVA foam) that will allow better cushioning without sacrificing stability.
Pros:
Water-resistant upper that is made of leather and suede.

EVA (Ethyl Vinyl Acetate) foam footbed for cushioning and comfort.

IMEVA (injection-molded EVA foam) in the midsole for stability.

Additional midfoot support with their internal shank

The insole is removable if you have your own customized insole.

Has its unique QUIX technology for better traction during cutting movements.
Cons:
Complaints about changes in sizing 

Wider heel pocket will provide less heel support if you have a narrower heel. 

Poorer arch support. 
Special Features:
10mm heel to toe drop.

Six eyelets and 2 extra for some variation.

Good breathability with mesh uppers.
Ideal For:
If you like to combine style with functionality, the NB 623 V3 is for you. 
The upper gives a fresh look than other CrossFit training shoes, which means you can wear them as casual wear straight after training. 
The shoe is perfect if you have wider heels or if you need to put your own insoles in.
Price: $90 from Adidas
Product Description: 
Adidas Performance is a narrow fit shoe for maximum stability. 
The lightweight upper allows the shoe to breathe, while the outsole features their unique Adiwear. Adidas Performance Powerlift 3 is more for the weightlifting part of CrossFit.
Pros:
Durable Adiwear Outsole is a thin, hard rubber for a better grip.

Heel height of 15mm reduces the risk of ankle strain during heavy weightlifting.

Reasonable price for beginners.

Roomy toe box and free forefoot assembly for comfort and better toe splay.

Midfoot/ metatarsal strap covers the laces to prevent loose laces and tripping.
Cons:
No arch support for other activities

EVA heel compresses and will have unwanted lateral movement.
Special Features:
Narrow fit for snugness and stability.

Synthetic leather with mesh at the collar and tongue.

High- density die-cut midsole.

Heel height is 15mm average for squatting exercises.

Comes in 3 designs.

Lightweight.
Best For:
Beginners in weightlifting or CrossFit, the Adidas Performance is a good entry-level cross- trainer shoe that allows you to have good form when lifting weights. 
It has space to toe splay, and decent heel height will help train you towards better exercise posture.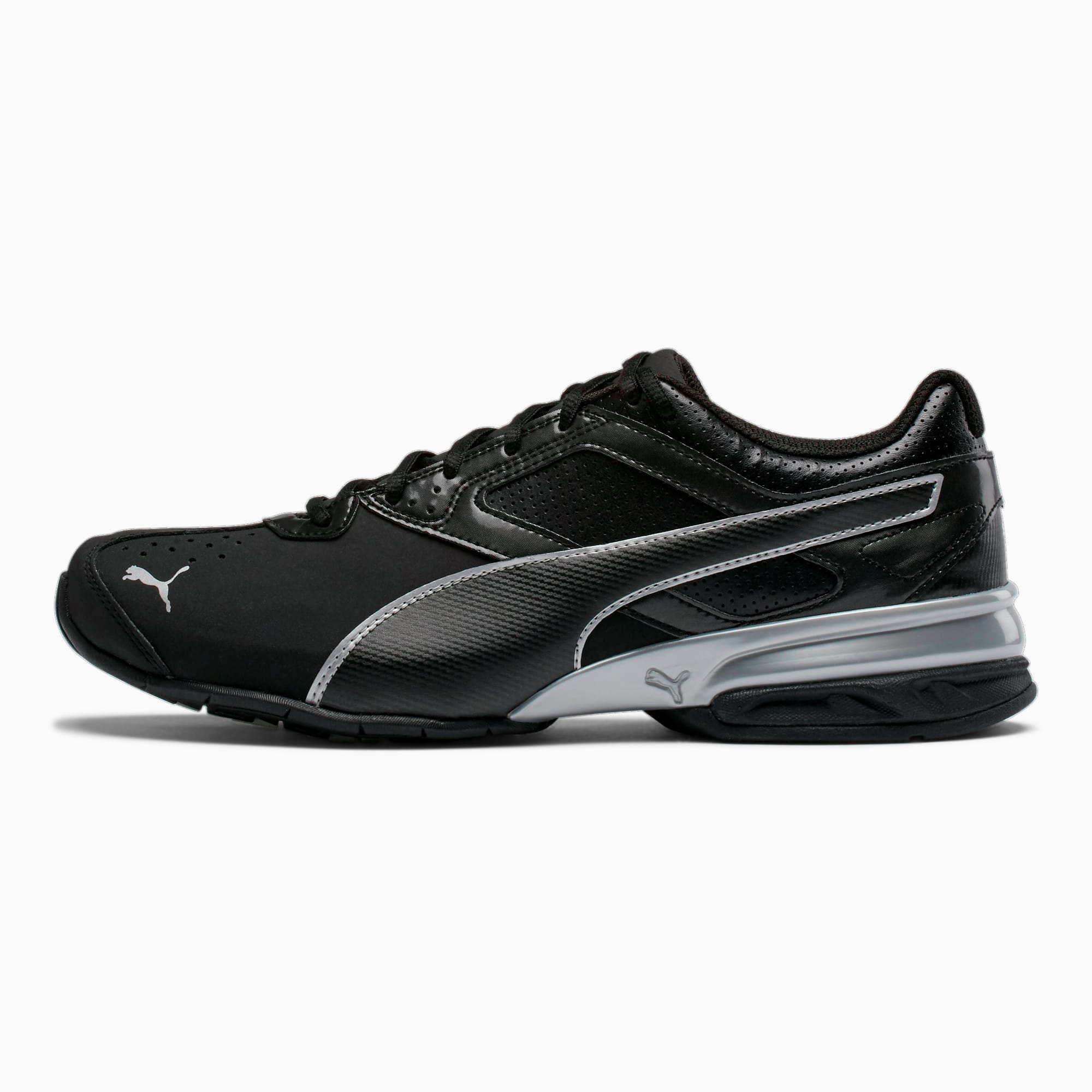 Price: $70 from Puma
Product description:
Puma's Tazon 6 FM has a sleek, streamlined outline. The Tazon 6 is stylish enough to be casual wear, while has specifications for a good running or cross training workout.
Pros:
Good for all-day wear and weightlifting.

EVA heel panel for shock absorption, and durable cushioning.

Removable insole.

TPU shank to reduce lateral movement during weightlifting.
Cons:
Users complain that the shoe heats up during exercises despite mesh lining.

The EVA cushioning is not enough to absorb shock from running.

Removable insole.
Special Features:
Synthetic leather upper.

EVA feels like a pod for shock absorption and cushioning.

Many color combinations.

Six with extra 2 eyelets at the end.

Softfoam sock liner for a good feel under the foot.
Best For:
If you want a stylish and effective training shoe, the Puma Tazon 6 FM is an excellent choice for a cross-trainer. 
It has all the features to support you when you are exercising and look good enough to go out on the streets after.
The Bottomline… 
It is important to select the correct shoe type for the exercise that you are aiming to do. 
There are many new technological advances that go into making cross training shoes that are supportive and comfortable. 
The New Balance 623 V3 has the option of a standard or an extraBest Crossfit Training Shoes for Wide Feet wide-fit if you have wide feet. 
This can provide you with extra comfort during cross training and it will be the best cross training shoes for you. 
If you like this article, check out our other home gym equipment and dumbbell reviews.