Competing in sports and regular exercise are still the best ways to keep your body fit and healthy. 
Although the benefits are remarkably plenty, fitness can take its toll on your body. During training, particularly vigorous leg exercises such as squats, your knees do most of the work, and protecting them is crucial.
Knee sleeves provide compression, increase your lower limbs' blood flow, reduce pain, and protect your knees, allowing athletes and fitness enthusiasts to perform optimally without worrying about the risks.
Read on as we provide the low down on these protective sleeves, how much you need them, and the best knee sleeves, especially for squats.
Do You Really Need Knee Sleeves?
Athletes and fitness enthusiasts know how detrimental extreme knee pressure is and that it may cause serious injury if taken lightly. 
Knee sleeves offer support as you complete squat reps, relieving excess joint pressure, and stress.
Here are a few more of the benefits of sporting knee sleeves:
Warms knees quicker and keeps them warm throughout your session.

Provides support to joints for superior lateral hold.

Stabilizes you when performing squats with heavier weights.

Aids in your recovery as it minimizes the pain and reduces swelling.
5 Best Knee Sleeves For Squats
A slight feeling of pain and discomfort on your knees may be telltale signs of the need to tap on these protective sleeves.
You're looking at knee sleeves that made our A-list:
These sleeves by premium weightlifting brand Nordic Lifting not only promote muscle recovery but also prevent serious injuries gained during intense squats and workouts. 
Perfect for weight lifting and other heavy fitness workouts, its price is a steal since its durability allows both men and women to use it when doing any form of exercise.
Extremely durable as these sleeves are made of premium quality 7mm neoprene and reinforced stitching, these lifting knee sleeves are designed to provide an excellent fit for unmatched comfort.
Pros:
Reduces stiff muscles by regaining and retaining heat.

Aids in muscle reconstruction and rehabilitation.

Improves performance.
Cons:
It seems to rip easily on the seam.
You can buy it cheap from this Amazon seller! 
The Bear Komplex 7mm neoprene knee sleeves provide excellent support while performing several exercises such as power cleans, lunges, and squats. 
It snugs perfectly for warmth and compression, increasing an athlete's blood flow and eventually their performance. 
Available in 5mm and 7mm and is suitable for both male and female athletes, it also comes in a variety of fun colors.
Pros:
This knee sleeve helps reduce pain from an intense workout.

Provides limited impact from high-intensity exercises such as running and box jumps.

Comes in several fun colors: purple, red, pink camo, and neon yellow camo.

Can be used when competing or playing several sports such as football, soccer, golf, and running.
Cons:
Not machine washable.

Irregular product sizing.

Needs utmost care for the maximum life cycle.
You can buy it cheap from this Amazon seller! 
These are very affordable knee sleeves, this protective add-on gives you the best bang for your buck. 
Peppered with tons of benefits, it is equipped with a Stable Pressure feature which provides maximum support across your knee joint. 
Suitable for both male and female athletes, these knee sleeves offer lightweight and breathable support for enhanced athletic performance.
Pros:
Contains a Knee Precise Muscle Temperature control for an excellent fit.

It includes an Air Flow and Moisture-Wicking Fabric for maximum comfort.

Quickly absorbs sweat for hours of non-stop workouts.

Equipped with an Anti-Slip system to prevent it from sliding down during competitions and exercise.
Cons:
The compression on the knee sleeve is not strong enough for some exercise routines.
You can buy it cheap from this Amazon seller! 
A state-of-the-art elastic knee sleeve that solves the problem of these gears rolling down, this innovatively designed support is fitted with an adjustable strap for maximum performance and flexibility. 
An awesome purchase per pair, it holds your knee braces in place as you go through your rigorous workout routine.
Pros:
Sleeves conform to each pose and stance with its Ultra-Stretch Fit feature.

Reduces muscle vibration during workouts for less muscle soreness and faster recovery.

Offers great compression to relieve pain and enhance blood circulation.

Precise sizing guide.
Cons:
Needs maximum care for extensive performance.
You can buy it cheap from this Amazon seller!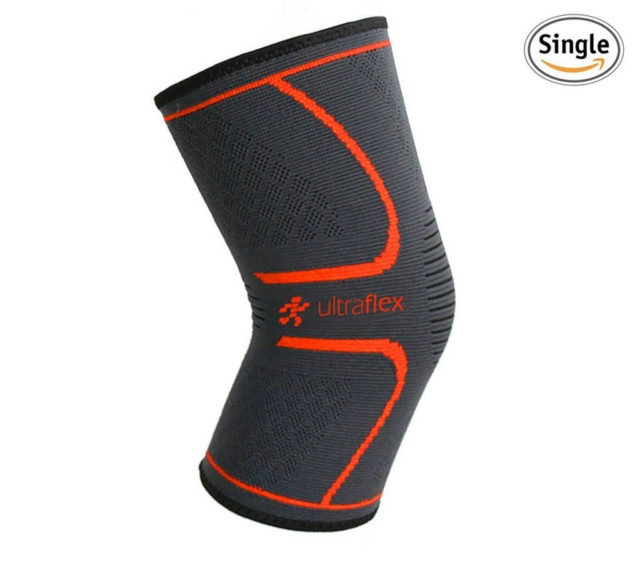 Blending the excellence of innovation and high-quality materials, get the best value for your money as this affordable knee protection was crafted to reduce the inflammation and swelling from your high-intensity workouts. 
Lauded by athletes and fitness buffs, this compression sleeve is designed not only to improve athletic performance but also to diminish soreness due to stiff muscles as a result of high-impact exercises such as squats and box jumps.
Pros:
Its Optimal Compression feature protects the knee and improves muscle endurance.

Turn heads in the gym with its fashionable and stylish design, outshining muscles and curves as you perform lunges and squats.

Exceptionally flexible as it offers superior stretch with its 4-way stretch capability feature for outstanding protection.

Provides the best grip with its double silicone anti-slip wave, eliminating the need for readjustments while pumping iron, during yoga, and as you perform squats.

Supports knee movement as you complete everyday chores.

Great for multiple sports such as basketball, tennis, and volleyball.
Cons:
Silicone strips create friction on the leg, inducing pain.

The blend of latex and spandex may cause a rash in athletes with sensitive skin.
You can buy it cheap from this Amazon seller! 
The Takeaway… 
Knee sleeves can be worn every day for a variety of reasons. 
They are 100% percent worth the purchase since their use is not confined to the gym due to the support and protection they provide not only to your exercise routines but even for your daily duties.
Squats put a lot of pressure on the knees which, over time, contributes to tears and soreness. 
But with the benefits this protective accessory offers, finding the best knee sleeves made especially for squats is the bee's knees.
Visit our website as we breakdown more of the ins and outs of sports and fitness topics.