If you're looking for the best cardio machine or recumbent cross trainer for your all-new home gym, you might want to check out the Teeter Freestep. Even though some fitness enthusiasts prefer traditional models such as the exercise bike, elliptical, or treadmill, many new and cool machines have come out in the past few years.
Do you want to know more about the in-depth reviews of the Freestep product? Keep on reading. We've gathered our research and wrote this review to help you decide if you should buy one or not for your gym so you can finally exercise.
TLDR: Teeter Freestep Review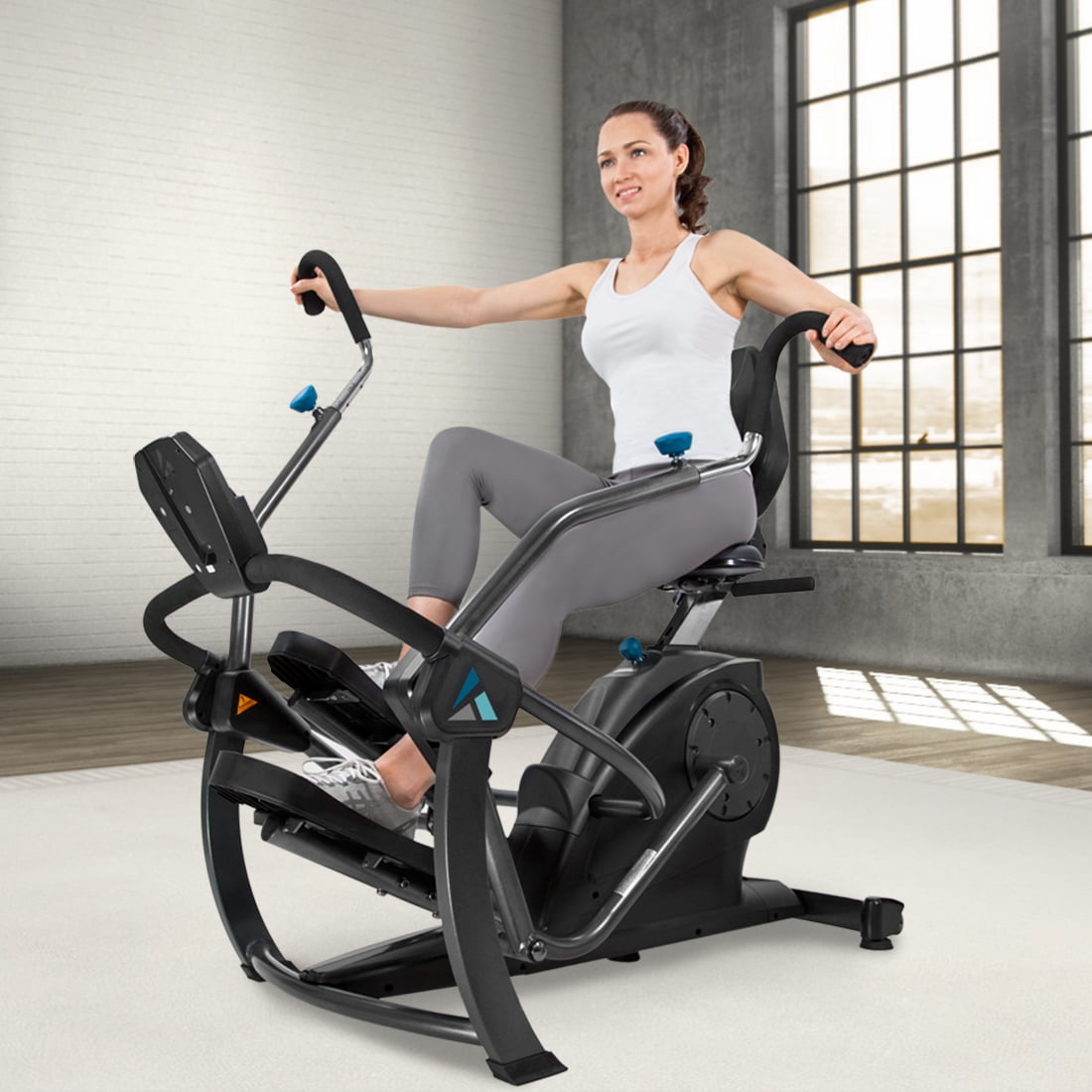 Product Description
The Teeter recumbent cross trainer is a zero-impact strength and cardio training machine. It is designed to help injured people or those who may be suffering (or recovering) from mobility issues to work out. However, another term to describe the Freestep product is that it is a recumbent cross-trainer.
This recumbent cross trainer includes handles that work your upper body, and the footplates focus on your lower body. You can comfortably sit back in a seat the same way you'd sit on a recumbent bike's seat.
Freestep's movement was also constructed to support your lower back and take the pressure off of your knees. You don't have to worry about getting injured unlike being on a treadmill.
This piece of equipment is ideal for injured or mobile individuals who need assistance in building strength in their upper body, lower body, and cardiovascular fitness. 
What separates the Freestep from the rest is that it offers you a full-body workout with zero pressure on the lower back, knees, and hips.
Pros and Cons
Here are the top-most pros of using the Freestep machine for yourself:
Include long-lasting frictionless motion at each pivot point for fluid start-up and stride transitions

Feature a durable grip surface for added control and traction with each stride

Provides thicker cushiony support with more positioning options

Handles with high-grade polyurethane coating offer unmatched durability and an easy-clean, sweat-resistant surface

Provides a full-body workout

Includes zero impact on joints

Heavy duty

Features a whisper-quiet design

Slip-resistant on floors
However, here are some cons that you should know to understand the product better:
Expensive

It takes up a lot of space

Not suitable for a high-intensity workout
Is it worth it?
Yes. If you or someone you know is injured or suffering or recovering from mobility issues, the Freestep machine might be worth a try. This product is ideal for individuals who need assistance to perform rehab and heal from their injuries at the comfort of their own home. 
However, if you're sticking on a tight budget, then you might want to consider your other options.
In-Depth Review of the Teeter Freestep
The Freestep was invented specially for individuals who are suffering from injuries and mobility issues and want to perform rehab. 
Therefore, you might want to give this product a shot in case you happen to suffer or recover from a physical injury.
Types of Teeter Freestep Machines:
Teeter Free Step LT Naudoti

Teeter Free step LT1

Teeter Free step LT-3

Teeter Free step 150

Teeter Free step 300

Teeter Free step 450

Teeter Free step 550
Specifications
Here are the different specifications of the Freestep:
Dimensions: 54 x 38 x 52.5 inches

Weight: 110.9 lbs

Manufacturer: Teeter

Date First Available: April 15, 2019

Foldable: No
Quality and Durability
The Teeter Freestep recumbent cross trainer features upgraded ultra glide bearings that assure you long-lasting frictionless motion, which can be found at each pivot point for fluid start-up and stride transitions.
The machine also includes SoftStep pedals that include a durable grip surface for added control and traction with each stride. Also, its ComfortSelect Seat offers thick cushioned support with more positioning choices for the machine's seat.
Lastly, its SureGrip Handles with high-grade polyurethane coating offers you unmatched durability and an easy-clean, sweat-resistant surface.
Workouts and Exercises
So, what can you do with this Teeter Freestep recumbent cross trainer? Well, technically, you can use this machine for anything. However, here are the most common workouts and exercises recommended with the Freestep machine:
Forward rotation

Reverse rotation

Single leg pedal

Isolate legs

Chest press

Seated row

Bicep curl

Tricep extension
Additional Features
The Teeter Freestep includes several amazing features that we thought are worth mentioning. Here are a few of the main features that make the Freestep machine stand out from other cardio equipment.
In case you didn't know, it is very rare for a cardio machine to have a fully adjustable seat. Therefore, Teeter Freestep breaks the record as one of the machines with the most comfortable seat. 
The seat can also be tilted backward and forwards, which means that many individuals can use this product in complete comfort. The seat also covers a broad range of people's mobility issues.
Meanwhile, the inclusion of well-made transportation wheels explains the machine's hefty price. However, this feature allows you to easily move it around your house between uses.
However, the key feature of the Freestep is that it does not include impact. To simply put, no forces will hit your joints whenever you use it. A zero impact design's benefit means you are injury-proof.
Another feature to admire about the Teeter Freestep is the patented stride technology. This feature works in two ways: first, it reduces muscle fatigue, and second, it reduces injury risk. You can now train for longer and at a higher intensity compared to other cardio machines.
You can assess or track your progress using the machine's console. This feature allows you to track your time and speed, the calories you burned, and the distance that you have traveled. 
Warranty
Fortunately, the Teeter machine offers an extended warranty. It includes an additional 1 year of repair and replacement against manufacturing defects in materials and workmanship.
Note: Outlet items are excluded from this offer.
Who is the Teeter Freestep Recumbent Cross Trainer Best For?
The Teeter machine is best for individuals who have injuries or mobility issues and might need help to perform workouts and exercises. 
What Do People Say About It?
Amazon customer Sally Cays gave positive reviews  of the Freestep, where she wrote, "Great cardio for people with physical problems." She also writes, "It was easy to set up, great instructions and we're just a couple of amateurs. This works great for a couple of short old-timers (77 & 83) who need to workout but have lots of arthritis in their backs and really can't walk very far without a lot of pain. It's very solid, and it works as well as a several thousand dollar NuStep. Very pleased with the purchase."
However, Isy Brink negatively reviews the product saying, " Fantastic customer service, terrible quality control." She explains further by writing, "There are not many things that can be wrong with this equipment. One by one they surfaced. First was non-existent tension. Lots of help, no solution. The monitor did not work. That resulted in us ordering a replacement." She says that the Teeter machine is not worth anybody's money.
YouTube channel named "dougiedigs" uploaded a video reviewing the Freestep as soon as he purchased it and says that he loves it. "The design of this is excellent. As far as the recumbent bike, the smoothness is just unsurpassed. The magnetic resistance on this is just smooth," he says.
He also mentions that it doesn't take a lot of time to assemble and the instructions are super easy to follow. 
The Verdict: Should You Try It?
Finding workout equipment for your personal gym might be a challenge, especially if you or someone you know is suffering or recovering from injuries or mobility issues but needs to exercise. Luckily, the machine is ideal for injured individuals.
The Freestep machine is a zero-impact strength and cardio training machine that is designed precisely for those dealing with injuries and it includes handles that work your upper body, and the footplates focus on your lower body.
If you like this review, you might want to check out our other reviews at Dumbbellsreviews.com.