Finding a truly good budget treadmill may seem like an impossible mission. It's not! 
While it is true that a lot of them are well over $1000, it is possible to find treadmills under $500 that are perfect for individuals of all fitness levels. 
Whether you are an avid running enthusiast trying to keep in shape in the offseason, need a cardio machine to complete your strength training routine, or you're just trying to do some light movement, there's a budget treadmill for you.
So if you've been looking for a while and haven't found anything you like, keep reading to see the best 5 budget treadmills below $500.
Best Treadmill Under $500 – 5 of the Best Options
Weslo Cadence G 5.9 is a folding treadmill, perfect for those who have little storage space in their apartments. It is a basic treadmill, without too many special features, but for this price, it does its job nicely.
Its pros include:
maximum weight capacity of 250 lbs;

6 built-in workout programs;

maximum speed is 10 mph;

adjustable incline.
Cons:
the incline needs to be manually adjusted, which means you can't automatically change it while you're on the treadmill – this reduces the possibility of doing more complex workouts or HIIT;

the running track is very small – the total dimensions are 68″ L x 31″ W x 55.5″ H, which is ok for a treadmill of this type, but the running track is only 50" long and 16" wide;

the idea of "simplicity" may be taken a bit too far, as there isn't even a water bottle support on this treadmill;

The warranty is very short: only 1 year for the motor and 90 days for other parts.
You can buy it cheap from this Amazon seller! 
2. ProForm Performance 300i
The ProForm Performance 300i costs a bit more than the Weslo, but it also comes with a lot more features. 
Many consider it one of the best treadmills in its class, due to its sturdiness, various built-in programs, and other features.
Pros and special features:
it is foldable;

it has 16 built-in programs with presets for speed, incline, but also distance;

the maximum speed is 10 mph, while the incline goes to 10% and it is automatic;

the track has an air-based cushioning system that helps reduce the stress of the joints;

Includes a heart rate monitor 

it has a basic, but good console, which tracks your speed, distance, calories burnt, and more;

you can listen to your favorite mp3 right on the treadmill, as it comes with a built-in audio system.;

The warranty for the motor and frame is 5 years, while for the other parts, including the audio system is 90 days – this is probably somewhere in the middle, many manufacturers offer a lot more than that, but in the realm of a budget treadmill, it is one of the best in warranty.
Cons:
the track length is only 50";

the motor can be fairly noisy;

the grip heart rate monitor, while a good addition, is not very accurate.
The first thing that stands out when looking at the Exerpeutic TF1000 is the maximum weight capacity of 400 lbs. 
For a treadmill less than $500, that's pretty impressive. The other thing that stands out is that it isn't exactly made for running: it can only go up to 4 mph.
Pros and special features:
it is great for people who aren't in great shape, beginners, or people recovering from an injury because you can increase the speed in increments of just 0.1 mph;

quick and easy to assemble; in fact, it comes almost completely assembled right from the start;

there are a lot of safety measures: a safety key that protects the user in case they slip while the belt is moving, and long handrails;

Pulse grips on handrails to monitor to heart rate

The warranty is 10 years for the motor and 5 years for other parts and labor.
Cons:
no preset programs;

fairly small running area: only 40" long and 20" wide;

no possibility to manual incline;

The cushioning is very poor.
You can buy it cheap from this Amazon seller!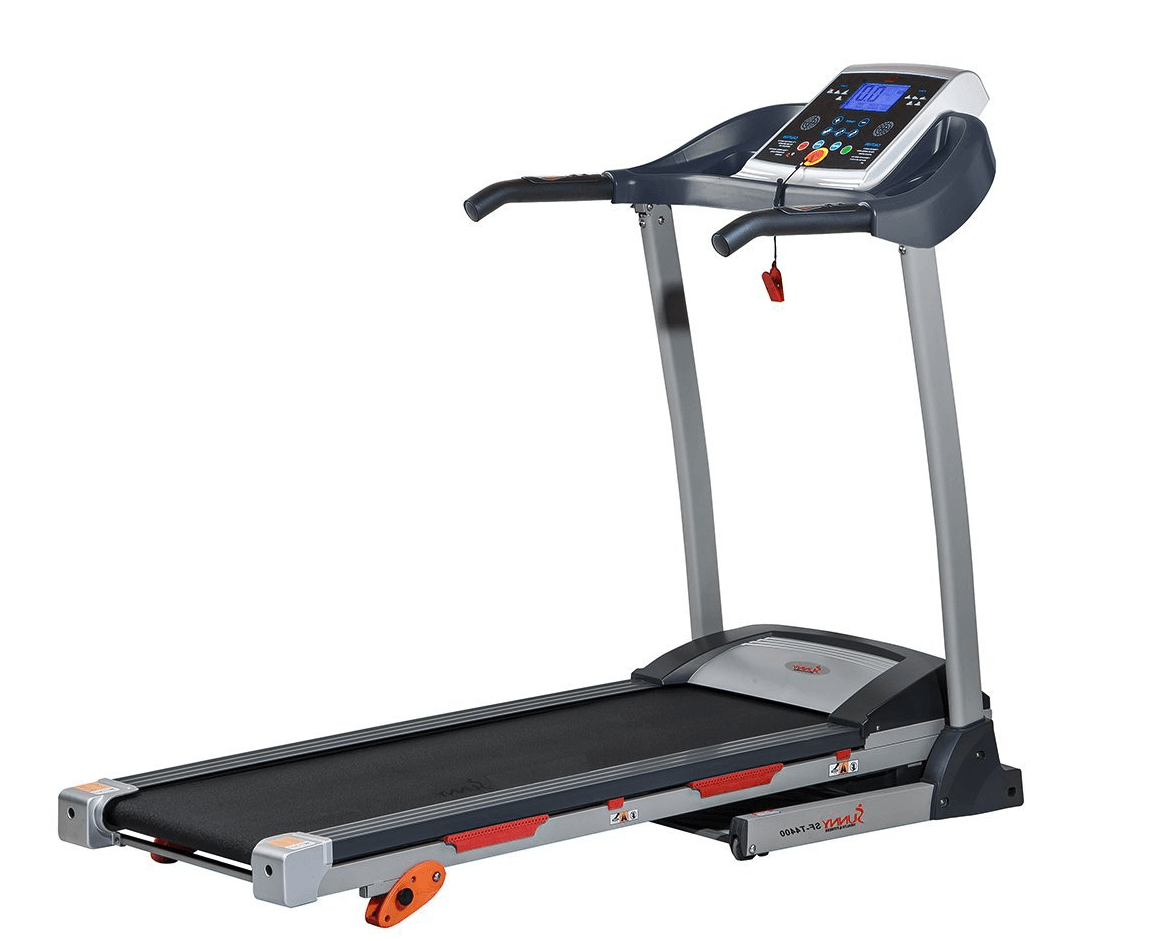 The Sunny Health & Fitness Treadmill comes with shock absorption, incline, and a few other great features.
Pros and special features:
9 preset workout programs in addition to the manual mode;

it can calculate BMI and offers feedback about speed, distance, and calories burnt;

you can control the speed both from the console but also from the handrails;

The maximum speed is 9 mph, which is less than most treadmills allow, but still good for a machine at this price.
Cons:
the maximum weight capacity is only 220 lbs, which is fairly small even for a budget treadmill;

the incline is manual and can only go to 5%;

the track size is, again, small: only 15.75" wide and 48.82" long;

The warranty is only 1 year for the frame and 90 days for the parts.
You can buy it cheap from this Amazon seller! 
Our final treadmill is Xterra Fitness TR150, is a folding treadmill, gives you more space to workout, a higher incline than other similar treadmills, and other interesting features. 
The maximum weight capacity is 250 lbs, which is not great, but it is an average for equipment in this category.
Other pros and features include:
it has transportation wheels;

the extra cushioning reduces the impact on the joints;

12 preset workout programs;

maximum speed is 10 mph and you can increase it in increments of 0.1 mph;

incline with 3 levels of adjustment;

pulse reading;

easy to assemble;

It has low power consumption.
Cons:
the incline is manual;

the calories burnt estimation isn't very accurate;

you'll need to do some period maintenance: the TR150 requires lubrication every 180 miles, as well as some belt adjustments.
You can buy it cheap from this Amazon seller! 
Bottomline
Treadmills below $500 under hard to find and they can be pretty good too. 
While it is true you may need to do some compromise, there's no reason why you shouldn't be able to keep in shape on a low budget. 
Whether you just want a treadmill to walk when it is impossible to do so outside, or you need to keep training in your offseason, you can find something to suit your needs.
If you liked this review, please check out our other reviews, to find more great equipment for your home gym.