Welcome back to another one of our home gym reviews. Today, we are going to talk about one piece of equipment that most of us have seen. Many have used it, but few know what it is and what you can actually do with it. And if you have not guessed it, we are talking about the Roman chair. 
Mostly, Roman chairs are machines that have 2 pads. One of them is broader and higher, which is used for hip support. The other one is smaller, lower, and used to hook your legs for leverage. The primary usage of a roman chair is to strengthen the lower back. However, you can also target the glutes, hamstrings, and abdominal muscles in the process. 
In this article, we are bringing you the top 5 Roman chairs on the market that you can implement into your home gym for some back and abs workouts. Now, without further ado, let's get to the top 5.
IMAGE
PRODUCT

Our Top Pick!

Compact design for smaller spaces
Ankle pads with adjustable pads for different exercises
High-density foam is very durable
Comfortable for long exercise sessions

View On Amazon →

Editor's Choice

Quick and simple to assemble
Thick steel tubing for added safety
High weight capacity at 350 pounds
Lightweight and compact design

Check Best Price →

Best Value

Adaptable for different heights
Improves circulation and flexibility
Fixed at 45 degrees
Ideal for beginners

View On Amazon →

Runner Up

Excellent low price point
Comfortable hip pads
Incredible choice for variety of exercises
Powder-coated scratch-resistant steel frame

View On Amazon →

Runner Up

Premium build quality
Included dip bars
Very quick and easy to assemble
Stable frame with no shaking or movement

Check Best Price →
The Best Roman Chairs on the Market
The Marcy JD-3 Roman chair is an easy-to-assemble, compact, and safe platform for you to work your six-pack abs, back, and glutes. The secret to its comfortability lies in its high-density foam on the handle and leg holders. Also, the machine is said to "stand the test of time" thanks to its deluxe upholstery and heavy-tubing steel frame with a powder-coated finish.
Price:
Pros
Easy to put together

Padded foam rollers are ergonomic and comfortable

Fits in a small corner when it's not in use

Affordable price tag

Compact and functional design

Good build quality

Great value for money

Very light equipment

Very stable despite the lightweight

The handlebars are very useful
Cons
Only comes in gray

Compact size might be an issue for bulkier users, for example, people over six feet tall

Lack of adjustability limits versatility

The narrow frame might mean it is less stable

Average design and materials

Hard to set up for sit-ups
Special Features
Adjustable Height Ankle Pads

Assist Handles

Tube Frame

Comfortable Pad
Who is it best for?
As mentioned, the best users for the Marcy JD-3 are those under six feet tall. You can find an even better deal for this one than the Powerline, so it is undoubtedly affordable. If you do not have a lot of space, the Marcy JD-3 should also serve you well.
2. Powerline Roman Chair/Back Hyperextension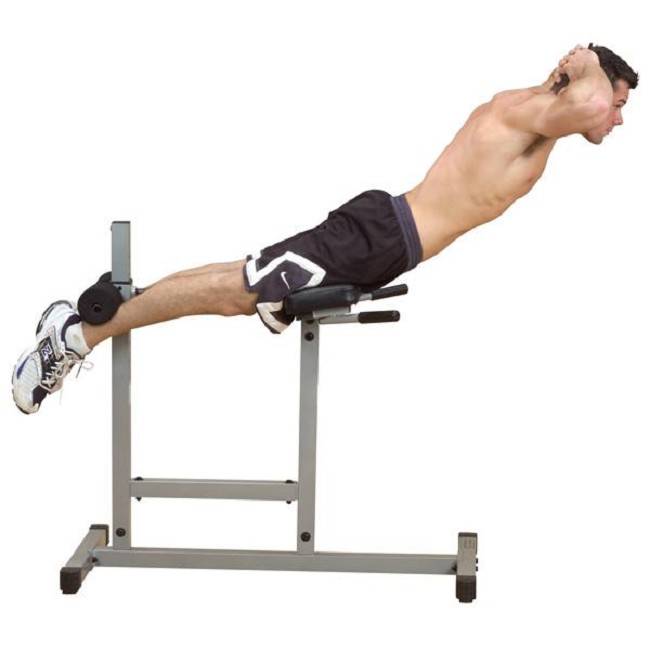 The Powerline by Body-Solid allows you to train your backs, abs, glutes, and hamstrings safely and comfortably. This is thanks to their 2-pad hip support and sturdy structure with 2 x 2 inches steel tubing.
Price
Pros
Fairly inexpensive.

A great alternative to paying for a gym membership

Easy to put together, straightforward assembly

Sufficient double-stitched paddings.

Sturdy structure with 2 x 2 inches steel tubing for safety

Adjustable height footrest

350 lbs. max weight

A gap in the hip pad for comfort

The 2-pad hip support

Great stability

Nice overall finish

Very compact and lightweight
Cons
The instructions are a bit complicated

A set of socket wrenches is required for assembly

May not reach commercial gym's quality

Not recommendable for those with existing back problems

Some athletes complain that the handlebar should be a bit longer

The ankle pads move a little when you exercise

Ankle support is too narrow

Will not fit tall users

Only 1-year warranty for the pads
Special Features
2 x 2 inches heavy-gauge steel construction

Extra-wide base eliminates rocking

Electrostatically applied powder coat finish
Who is it best for?
The Powerline Roman chair does not fit tall users. If you are not too tall and looking for a relatively inexpensive Roman chair that requires a small space, this should be a good fit.
The Body-Solid GHYP245 is the first one on this list that can adjust to different heights. However, the angle is fixed at 45 degrees. This could be a good or a bad thing, and that is up to you to decide.
Price
Pros
Extremely well built

High-quality materials

Adapts easily to different heights

Easy storage
Cons
You can't adjust the angle/intensity

Cumbersome equipment (too heavy)
Special Features
Commercial 2 x 3 inches heavy-gauge steel construction

Extra-thick 3 inches DuraFirm support pads

Ideal for home and commercial use
Who is it best for?
The Body-Solid GHYP245 is explicitly said to do the following:
Relieves back pain

Increases flexibility

Improves circulation

Strengthens back and abdominal muscles
So, if any of those match your needs, feel free to bring the machine home.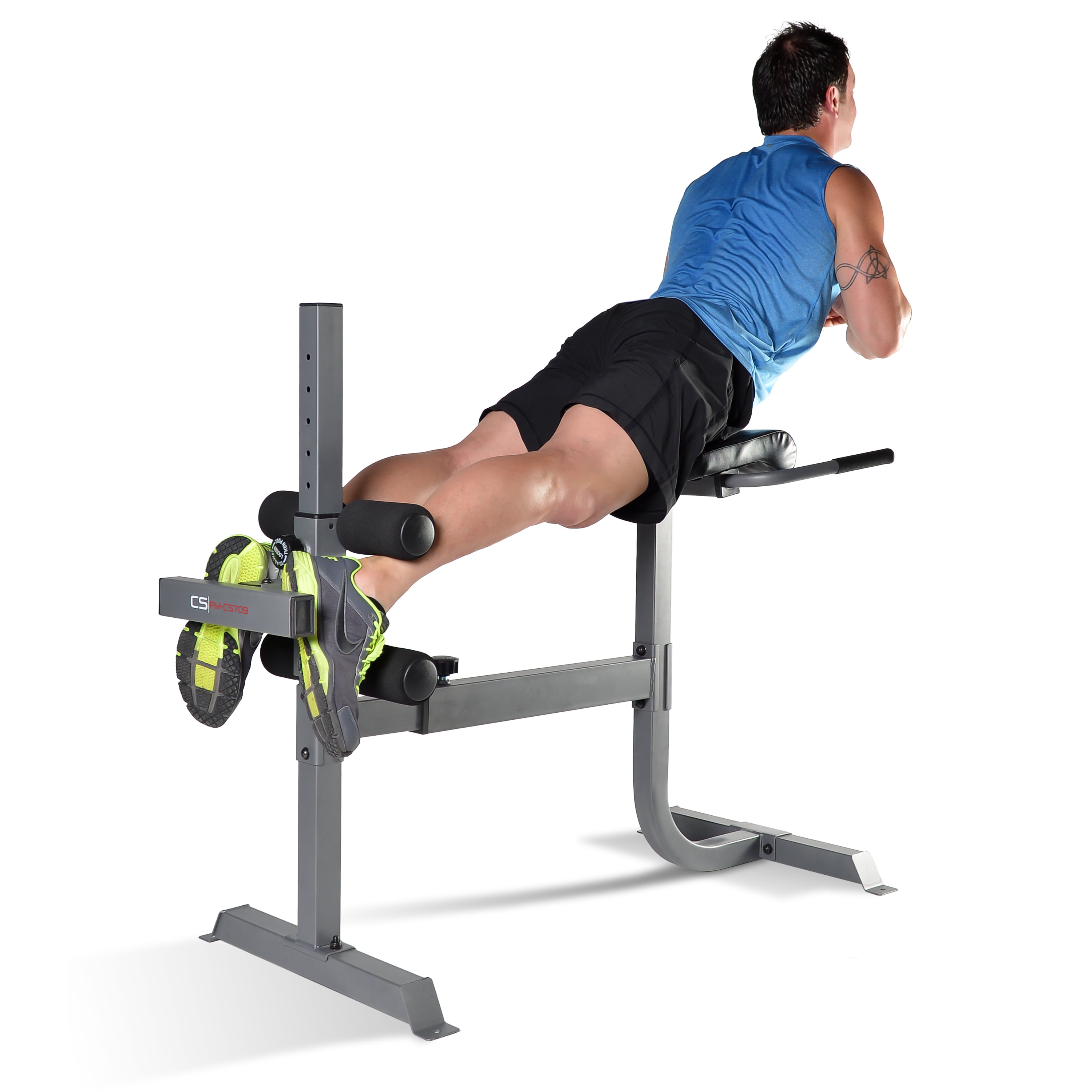 The CAP Roman chair is equipped with padded handles and adjustable leg holders. These allow you to perform strenuous exercises without a spotter or trainer. The main attraction, however, lies in its price.
Price
Pros
Affordable

Made of high-quality steel, Very durable

Has a unique ankle/shin support system

300 lbs. weight capacity

2 sets of ankle rollers.

A gap in the hip pad for the pelvic area

Powder coating for scratch resistance

Wide choice of exercises that can be done with it

Very adjustable

Very stable, safe, and secure
Cons
Isn't designed for people over six feet tall

Is too large to fit in a corner

Doesn't fold for secure storage

The ankle pads are adjustable, but you cannot move them closer together

Acceptable wobbling

Requires careful assembly as Some parts may be misaligned after assembly

The feet have no rubber caps
Special Features
Heavy-duty steel frame for long-lasting performance

Comfortable, high-density foam pads and rollers for supportive workout surface

Ideal for home use

The compact size makes this roman chair suitable for rooms both large and small

Maximum weight capacity of 300 pounds

Weighs 39 pounds
Who is it best for?
The CAP Roman chair is another great deal for people on a budget. Still, there is a catch. That is, you have to be under six feet tall, much like many other chairs on this list.
The XM-7456 is known for its DuraCraft padding and vinyl ankle roller pad that relieve pressure on sensitive points of your hip and upper thighs.
Price
Pros
Premium built quality

Will fit most users

High-grade steel construction

Powder coating for scratch resistance

Frame designed for stability and to prevent wobbling

Heavily padded for comfort

Adjustable foot rollers to make it versatile

Also features dip bars

Easy to assemble as everything is correctly marked

The horseshoe-shaped base ensures that the equipment is stable and eliminates any chance of wobble.

Allows alteration of resistance as 10 roller pad height adjustments are offered

It offers excellent value for money.

Lifetime warranty on frame, mechanical parts, and pads
Cons
The ankle support might be a bit narrow

Takes some time to assemble

The finish seems average and may require some touch-up

Taller people may face difficulties while using this equipment

Pads and feet hooks are non-adjustable, which may cause discomfort for some people

Paint, finish, and vinyl are not covered under any warranty
Special Features
Ten roller pad height adjustments

Hailed as one of the best lower back exercises

Oversized 8 x 4 inches vinyl-covered rollers

11-gauge steel 2 X 3 inches mainframe construction with scratch-resistant powder coat finish

Features triceps dip handles

Broad, horseshoe-shaped base

10 roller pad height adjustments

3 inches thick DuraCraft midsection pads covered with tear and sweat resistant DuraGuard vinyl

Angled rubber grip handlebars with molded finger grips
Who is it best for?
The pad and feet hooks are not adjustable. Therefore, XM-7456 works best for people who find those comfortable. 
The Takeaway… 
So, there you have it, our picks of the top 5 Roman benches on the market. Overall, the CAP Strength is the most affordable chair. Yet, if you want more comfort padding, the Body-Solid or XMark might be better for you. 
If you enjoy this article, make sure to check out our other review. We have tons of analysis available on home gym equipment and fitness exercises. As someone who loves working out at home, you wouldn't want to miss them.
Benefits of Using Roman Chairs
Improves Posture
A Roman chair is a hyperextension bench. This means you can actually strengthen your lower back muscles with it. 
A strong back translates to better posture. You will be able to stand more upright and relieve any further pressure put on the back.
Alleviate Back Pains
Apart from bad posture, a weak core is also responsible for back pain. 
Fortunately, you can train both your back and abs with the Roman chair. As a result, you will have better mobility in your back and firmer abs, thus relieving the stress on your spine. 
Possible Exercises with A Roman Chair
We have put together a total of 9 exercises that you can do on a Roman chair. You will find their name and targeted muscle groups in the following list. 
SIDE BEND obliques

WEIGHTED SIDE BEND obliques

INCLINE PUSH UP lower chest exercise
HANGING DIP chest and triceps exercise
KNEELING PREACHER CURL biceps exercises

BACK EXTENSION glutes, hamstrings, and erector spinae

WEIGHTED BACK EXTENSION glutes, hamstrings, and erector spinae

ALTERNATING SIDE BACK EXTENSION glutes, hamstrings, and erector spinae

WEIGHTED ALTERNATING SIDE BACK EXTENSION glutes, hamstrings, and erector spinae
Precautions 
Of course, the Roman chair would not be called controversial for anything. This equipment can provide excellent strength training only if you follow the safety precautions. 
You must follow the proper form of the exercise. The lower back is a sensitive area, yet it carries the weight of the whole torso. You would not want to injure it (or any other parts of your body).

You must not move too fast OR hyperextend your back. Though this is not extremely dangerous, it will wear your spine out, making them more prone to injuries. Nobody wants to get weaker from working out, right? Keep in mind that you should only go up until your body forms a straight line. Any movement beyond that is considered hyperextension.

You should adjust the chair according to your height and the length of your torso. This not only protects you from injuries but also improves the efficiency of the exercises.
Frequently Asked Questions
What is a Roman chair good for? 
Roman chairs are excellent for building muscle in your back and abs. Regular exercise on a Roman chair can also help alleviate pain in the lower back and spine, so it can be very beneficial for people with these ailments. 
A Roman chair can also boost your sports performance for most activities, improve your balance and posture, and help you workout while preventing any injuries. Being able to strengthen your back and core also helps you to prevent muscle injuries in the future. 
Which is better – a 45- or 90-degree Roman chair? 
This depends on your certain situation and personal preference. 90-degree Roman chairs give you a full range of motion during a back extension, hitting as many muscles as possible as you work. This can also help you strengthen your body quicker, with better joint stability and balance. 
Most 90-degree Roman chairs also come with bars to give you more flexibility with your workouts. You can hit your arms and shoulders with this as well as your back and core. Plus, you can do Roman chair crunches, sit-ups, twists, or side bends to hit more of your abdominal muscles. 
However, a downside to 90-degree Roman chairs is that they are larger and therefore take up more space, and they are better for advanced athletes. 
On the other hand, 45-degree Roman chairs are better for beginners and are more compact which is better for people with less space. They often come with a sit-up bench which allows you to use them for many more exercises. 
You won't get as impressive a range of motion with a 45-degree Roman chair; however, so the stronger you get, the more you might need to level up to a 90-degree Roman chair. 
Are Roman chairs bad for the back? 
No – in fact, they're very good for the back. Roman chairs allow you to have more freedom with your exercises. You can improve your back muscles – a typically difficult to reach area – to strengthen your back. This can alleviate aches and pains in the area and prevent you from damaging it more through other forms of exercise. 
Roman chairs also strengthen the core which can improve your balance and posture. This can help your back remain healthier and less painful through slouching. 
Why is it called a Roman chair?
Professor Sig Klein, who is responsible for popularizing the Roman chair, recalls a Roman lifter who visited the professors' gym who demonstrated exercises on a device similar to the Roman chair. 
This gave the professor the idea to build the Roman chair, and the inspiration became what the exercise equipment was named after. 
Is Roman chair safe?
Yes, Roman chairs are considered to be safe for when you're using correct techniques for every exercise you use them for. Not everyone will have the same abilities, so you need to use the Roman chair according to what you can do at your current level. 
Similar Articles: