The treadmill vs exercise bike debate is one you'll hear at least once going to the gym or just talking to fitness enthusiasts. 
They are both cardio machines that allow you to simulate running, walking up a hill, or biking from the safety of your home.
You'll hear many treadmill lovers swear exercise bikes are no good. But you'll also hear the other camp, praising bikes and telling you all the cons of a treadmill. 
So where's the truth? Is one truly better than the other? And which one can burn you more calories and help you with your weight loss?
We'll answer all these questions in this article, so keep reading to find out more.
All About Treadmills
Pros and Cons
Probably the most popular equipment for aerobic exercises, both high-end and budget treadmills offer a wide variety of workout options. 
Walking, running, sprinting, going uphill, you can do them on most treadmills. They can also be used in more complex workouts, circuits, interval training, and more. 
In short, you can use a treadmill for all your cardio workouts and you won't get bored anytime soon.
Running on a treadmill is also easier on the joints than running outside. Not to mention you're taking the weather issues out of the equation. 
Most treadmills come with safety measures, including handles.
The biggest con with regards to treadmills, especially when comparing them to exercise bikes, is that they put more pressure on the joints and the lower back.
Also, despite their safety measures, you can trip and fall off if you don't pay attention.
Who is it best for?
The treadmill is great for people who are in a relatively good physical condition. You don't have to be an athlete. 
However, if you have an injury or are recovering from one, it might be better to avoid treadmills, or at least not use one unsupervised.
They are also a perfect option for those who want to start training for a marathon, those who want to get in shape quickly, or those who want to complement their fitness programs.
Treadmill Recommendations
1. Weslo Cadence G 5.9i
This treadmill is perfect for a home gym when you don't have a lot of space and you just want to be able to walk or run. 
It is fairly small, foldable which makes it easy to store, and allows you to run at a maximum speed of 10 mph. 
It is also a good option for anyone who is on a budget, as it costs only $298 on Amazon.
Another foldable treadmill, great for those who have little storage space at home, Proform ZT4 has 16 preset workouts built-in. 
It only allows for an incline of 0.1, so not great if you want to do more intense workouts, including uphill training. 
It does fall into the cheaper treadmills category at $499 on Amazon, and it is great for those who want to start losing weight and improve their endurance.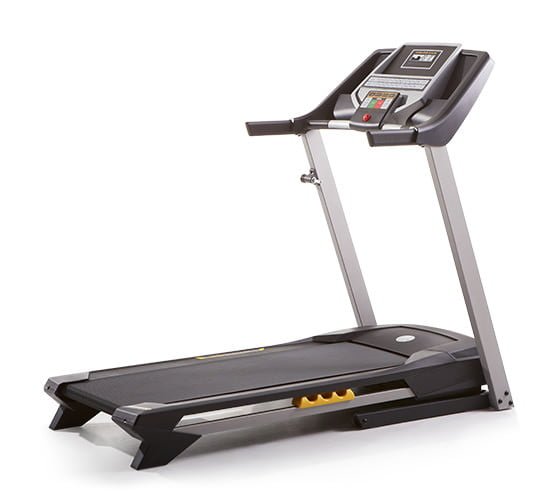 Priced at $599 on Amazon, Gold Gym 720 is a foldable treadmill that allows 10 levels of resistance. Its maximum speed is 10 mph and you can also incline to 10%. 
A great thing is you can change the speed and incline quickly in the middle of the workout. That makes it perfect for those aiming to do circuit training.
All About the Exercise Bike
Pros and Cons
Exercise bikes are usually seen as a safer, easier option for cardio exercises when compared to treadmills.
A few of their benefits include improving leg strength and flexibility and reducing lower back pressure. 
They are also perfect for people with poor balance, who would be at risk to fall from treadmills.
Several models allow a wide variety of workouts, including interval training, going uphill, circuits, and more.
However, the intensity of these workouts is usually lower than what you could achieve on a treadmill. 
Also, if you have an older, cheaper model, that doesn't have any programs, your progress will plateau fairly quickly.
Who is it best for?
The great thing about a stationary bike is that anyone can use it. 
Unlike treadmills, they can be used by complete beginners, the elderly, or those with different physical conditions or injuries. 
They are also perfect for those who are looking to improve hip and knee mobility following accidents or surgeries.
But don't be fooled into thinking if you're advanced and healthy you can't benefit from them. 
On the contrary, they are perfect for you if you want to improve the strength in your legs, your endurance, or even if you're training for a marathon but need a change from being on the treadmill all the time.
Exercise Bike Recommendation
1. L NOW D808 Magnetic Upright Bike
A simple, yet effective bike that can take up to 300 lbs, L NOW D808 has 8 levels of manual magnetic resistance. 
It also has a recovery function and it allows you to set goals such as distance, or speed. It costs only $498 and you can find it on Amazon.
2. Sunny Health & Fitness SF-B1002 Belt Drive Exercise Bike
This bike allows a maximum user weight of 275 lbs, has a 4-way adjustable seat. This allows you to vary your workout quite a bit, making it easy to bike for instance, while standing up. 
If you're interested, you can find it on Amazon and it costs about $599.
3. Exerpeutic Folding Magnetic Upright Stationary Bike
Finally, Exerpeutic is a cheap and simple bike, perfect for those who just want to get some simple cardio, without a lot of fancy programs and all the benefits of using a bike instead of a treadmill. 
The maximum weight allowed is 300 lbs. It has 8 levels of magnetic resistance and the seat can be adjusted on height. You can find it for $149 on Amazon.
Which is Better For Weight Loss?
It's a fact that you burn more calories per workout on a treadmill as opposed to exercising for the same amount of time and the same intensity on a stationary bike. 
Why? Because on a treadmill you're upright and you're using your entire body for the moment.
If you want to lose weight but still prefer using a stationary bike, don't worry! 
Because bikes have a lower impact on your joints, you can spend more time on them. 
This means you do have the possibility to burn more calories, you'll just need more effort and time.
Stationary Bike vs Treadmill: Who is it best for? 
If you're looking to get in shape fast, lose weight, strengthen your bones, and gain endurance, treadmills are the way to go. 
If you want something with less impact on your low back and joints, while losing weight, building strength, and improving mobility in your lower body, a recumbent exercise bike is perfect.
The Takeaway… 
Treadmills and stationary bikes are 2 amazing cardio machines that can help you improve speed, endurance, and strength. 
Which one you choose depends on your exercise level, injuries you might be working with, your goals, and your budget if you're working from home.
For someone in a good physical condition, looking to lose weight and improve fitness performance, we recommend choosing a treadmill as it will help you achieve your goals much quicker.
If you like this article, please check out our other reviews on the top dumbbells, treadmills, bikes, and more, to choose the right equipment for your home gym.