Disclosure: Dumbbellsreview.com is reader-supported. This means that if you should purchase something through my site, I may earn commissions. As an Amazon Associate I earn from qualifying purchases. Learn more.
The seasons are changing, and winter is coming fast upon us. As it gets colder outside, we're taking our daily workouts back indoors to avoid the chilly weather. 
For us, that means sprucing up our in-home gyms with fresh equipment to keep us on our toes, literally and figuratively.
One of the latest machines we've tried out for size is Bowflex's Treadclimber stTC10. And we know what you're thinking, 'isn't there already a newer model of the Treadclimber on the market?' 
Well, yes, there is. However, the TC10 has stood the test of time and remains one of our favorite low-impact workout machines.
Want to see if this oldie is still a goodie that can work for you and your budget? Keep reading to find out more about the Treadclimber TC10 from Bowflex.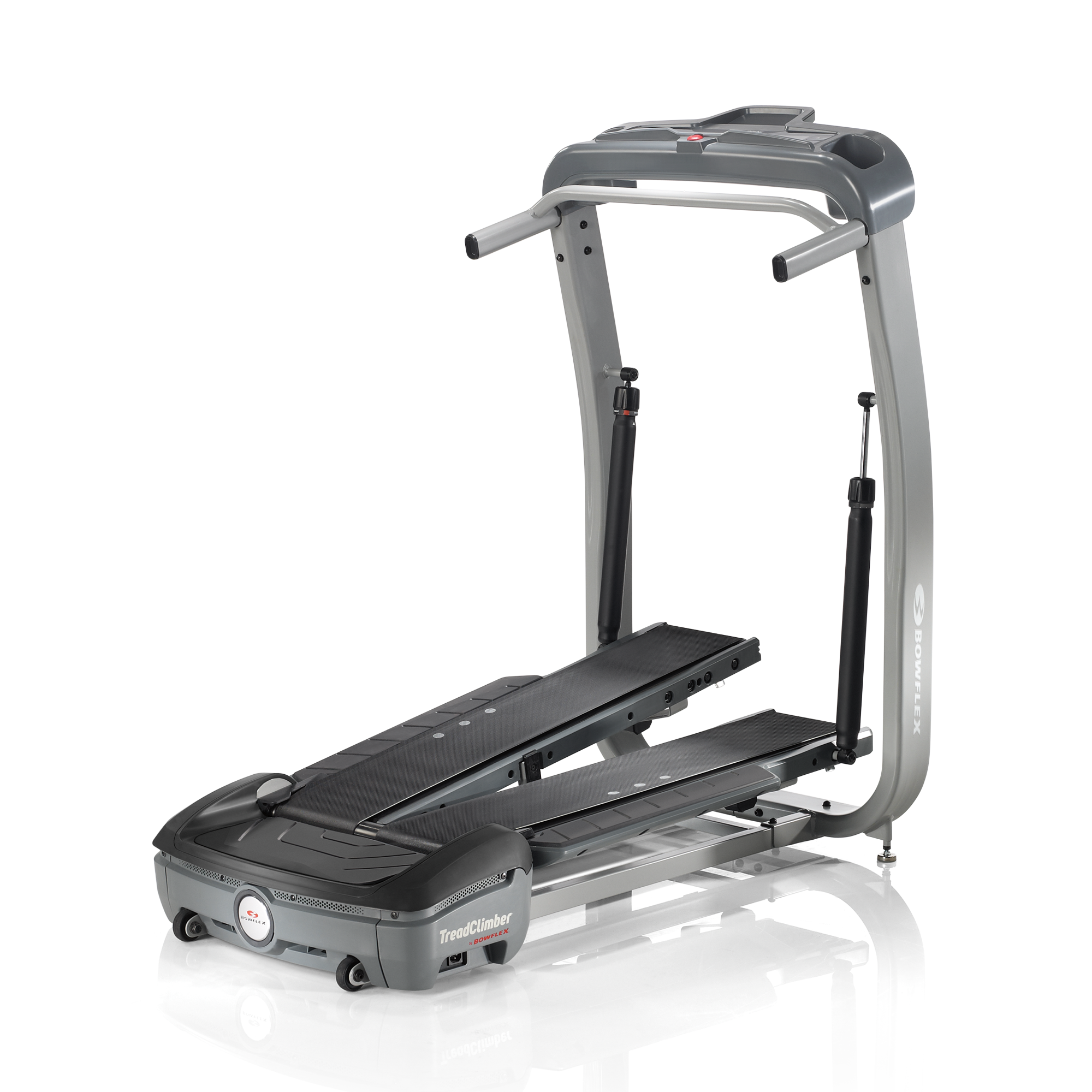 Product Description
Bowflex's Treadclimber TC10 goes beyond your average treadmill by utilizing two independent treadles (essentially, long independent treadmill pedals; one for each foot) rather than a singular moving belt. 
Unlike a traditional treadmill, the Bowflex TC10 also integrates the movements of a stepper and an elliptical so you can achieve 2.5 and 3.5 times the calories burned in the same amount of time you'd spend on other cardio workout machines.
Pros and Cons
Pro:

Three simple, low-impact workouts in one machine

Pro:

Easy to read digital display uses 4 individual LCD screens to show timer, speed, distance, and G.O. Coach display

Pro:

Adjustable 0.5 – 4 MPH speed range, or the machine if you're following a pre-installed program

Pro:

Low intensity allows you to have less "perceived exertion," so you feel less fatigued when you're done

Pro:

Comes standard with a safety key to prevent children from using the machine and being injured

Con:

Specifically designed for walking; therefore, sadly, you can't run on it

Con:

Not suitable for HIIT or other high-intensity workouts

Con:

It does not fold up for storage

Con:

This model in the series is discontinued by the manufacturer and has been replaced by newer model Treadclimber TCs, so it isn't easy to find in new condition
Is It Worth It?
If you're looking for lower intensity and lower impact workout, then the Bowflex Treadclimber TC10 may be just the machine for you. Aside from Bowflex's Treadclimber series, there aren't any other machines that provide the unique 3-motions-in-one workout on the market.
Although the TC10 may be relatively expensive compared with regular treadmills, we deem it more than worth the cost considering its uniqueness in benefits and movement. To find out if it's the right fit for you, specifically, you can check out the "Who Is It Best For?" section below in our in-depth review below.
In-Depth Review of the Bowflex Treadclimber TC10
Not satisfied with the quick overview? Please continue reading for our full, in-depth review of the Bowflex TC10.
Product Specifications
Maximum User Weight: 300 Pounds

Speed Range: 0.5 MPH to 4 MPH

Fully Assembled Dimensions: 30.3″W by 52.3″H by 50.6″D

Fully Assembled Weight: 185 Pounds

Most often shipped in 2 boxes

Box 1 Dimensions & Weight: 48″L x 24″W x12″H; 73 lbs

Box 2 Dimensions & Weight: 55″L x 27″W x 10″H; 112 lbs

Minimum Ceiling Height Required: Your Height (in inches) + 14 inches (height of the treadles at their highest point) + 3-5 inches (extra space for clearance) = Your Required Minimum Ceiling Height

2 Wheels under the rear step platform and Transport Hand Bar under the front of the machine for transport

Requires basic user assembly
Speed, Resistance, and Uphill
The speed on Bowflex TC10 ranges from 0.5 MPH to 4 MPH and can be adjusted as you workout using the buttons on the console. 
Additionally, you can switch through twelve levels of difficulty marked from maximum to minimum using the Hydraulic Setting Cylinders on either side of the treadles. Just make sure you turn the power off to the machine and step off of it first. 
Depending on which mode you use the Bowflex TC10 in, the slope of the uphill motion, level of resistance, and speed can vary throughout your workout. 
The interval training program automatically switches between various speeds and levels of resistance and incline to challenge you throughout your workout. Whereas the Steady State program guides you through a warm-up, a single-speed workout, and a cool-down session.
Quality and Durability
When it comes to quality fitness equipment, you can't do better than the tried and tested durability, strength, and lifespan of Bowflex products.
 The frame on Bowflex TC10 is constructed with high-grade steel, with additional parts constructed primarily from hard plastic, both of which contribute to the machine's longevity, even with repeated use. 
Furthermore, the individual pieces are attached to the frame using various steel screws and washers to secure everything in place. 
Additional Features
Pre-programed with two types of programs, Interval Training and Steady State

Switches between 12 levels of difficulty to increase intensity and difficulty as you improve

Hydraulic Setting Cylinders allow you to set resistance between uses

Arrives with most tools necessary to assemble, except for a Phillips head screwdriver

Media shelf on console fits most smartphones and MP3 players

Side foot support platforms let you step off the machine safely before turning it off

Comes with a Body Weight Loss Guide and Workout Log to track your progress

Included literature also provides suggestions for your shopping list, workout apparel and provides a short overview of some fitness basics

Allows you to save your user profile, so your settings stay saved between uses

Compared to the average treadmill, the Bowflex TC10 reduces the impact on your joints

Comes with Belt Lubrication Kit for regular maintenance

G.O. Coach display clearly shows your weekly progress towards your goal while you workout

Quick Start feature lets you get on and get started with no programming needed
Warranty
The Bowflex TC10 comes standard with a 2-Year Manufacturer's Warranty to cover any defects in the machine that occur due to the production process and/or in materials used in the production process. 
The warranty is only valid and effective for whoever originally purchased the machine, and it cannot be transferred through a private sale. The warranty is also rendered invalid if the person who uses the Bowflex Treadclimber TC10 is under the 300lb weight capacity limit. 
Bowflex also offers a Buy Back Guarantee with the Bowflex Treadclimber that promises your satisfaction or your money back within 6 weeks of your purchase's delivery date. 
However, it would be best if you kept in mind that the BuyBack Guarantee is only applicable to products purchased directly from Nautilus, Inc. (Nautilus, Inc. is Bowflex's parent company; the official Bowflex website counts as a direct purchase from Nautilus, Inc.). 
Who Is It Best For?
We think that the Bowflex Treadclimber is best suited to those looking for a stress-free, low to mid-range intensity cardio workout. 
While this won't replace all of the equipment you'd get access to at your local gym, it is a fantastic alternative for anyone looking to take their everyday walk or jog indoors. 
Additionally, we suggest Bowflex's Treadclimber TC10 for beginner athletes and those who require a lower-intensity workout that can still help you to lose weight or get fit.
What Do People Say About It?
Ready to find out what real users think about the Bowflex Treadclimber? Here's what people on Amazon and Youtube had to say in their reviews.
Amazon
The Bowflex Treadclimber Series, including the TC10, have an average global cumulative rating on Amazon. In one review that hundreds of independent users marked as helpful, Amazon contributor Dave Carver states, 
"I bought my Bowflex TreadClimber as a Christmas present to myself (and my wife) and started to walk. It was really hard at first… just about 1 year after I bought the treadclimber.., I just hit a new max distance of 2.51 miles in 45 minutes, topping out at 4 mph for the last 7-8 minutes… Thank you for a machine that is helping me get my health back. I am 52 years old and feel fitter than at [sic] any other time in my life. [And,] I am not yet done."
Another user on Amazon, Wendy W. from the United States, provides an anecdote of her own experience with the Bowflex Treadclimber, saying, 
"I didn't need to lose any weight when I began Treadclimbing, I've actually gained a few lbs. because my leg muscle mass has increased significantly. It's especially good for the adductors and glutes. And quads, hamstrings, and calves….. My Bowflex TC10 Treadclimber is one of the best investments in myself I've ever made."
YouTube
Not unlike on Amazon, users have taken to YouTube to share their opinions about the Bowflex TC10 Treadclimber. 
One such YouTube reviewer that goes by the handle You Can Lose The Weight had this to offer in his video review, 
"At the end of the day, the Bowflex TC10 Treadclimber is a great machine for certain people. It's not good for people like Iron Man competitors, or hardcore athletes, or trainers who want to work out hard every day. This is for the everyman who doesn't want to pay high-end prices and wants to get fit and lose weight, simply by walking. And, it's also a great option for people who have any type of joint or knee pain."
In a testimonial video for the Treadclimber TC10 uploaded by the user Elite Fitness TV, a 55-year-old woman named Colleen provides her perspective on working with it. Colleen says in the video, 
"I got serious about getting on the Bowflex TC10 Treadclimber… It was easy to use, so easy because I would watch the T.V. and walk. I mean, just 30 minutes, and in no time you see results… I lost 110 lbs in ten months. It was crazy. That's a whole nother [sic] person!" 
PS: Here's a quick link to the cheapest Amazon seller!
The Bottomline
We've covered everything you need to know to make an informed decision on whether or not Bowflex TC10 Treadclimber is the right fit for your in-home gym. And now, it's time to answer the most important question left. Is it worth the money you'll have to spend on it?
The Treadclimber TC10 from Bowflex is more than worth it's asking price, especially considering the fantastic deals you can get purchasing a lightly used one online or locally. 
Because the TC10 is less high-tech than it's successors, you're not paying for any extra bells and whistles you don't need. So you can get the workout you want without draining your bank account in the process.
If you like this article, you may also enjoy this Rogue Echo Bike Review or our article on the Bowflex M3 vs. M5. You can also check out our other reviews on Dumbbellsreview.com.