The Rogue Echo Bike is a modem stationary bike design built to suit serious athlete and those who love intense workouts. 
With its comfortable and fully adjustable seat, heavy-duty frame, and belt-driven fan, this model can serve as the best choice for all CrossFitters.
The Rogue's Echo Bike is the only model produced by Rogue Company. This exercise bike is known for its excellent performance and some other outstanding features you will ever encounter.
The Rogue Fitness company itself is satisfied with this model, and they didn't even produce another sister model. For more information about Rogue echo bike, keep reading.
This review will take you through all the information you need to know about rogues' Echo Bike. 
This model is known for its great features and performance, and it is a unique and reliable exercise bike ever in the market for a home gym.
In-Depth Review of the Rogue Echo Bike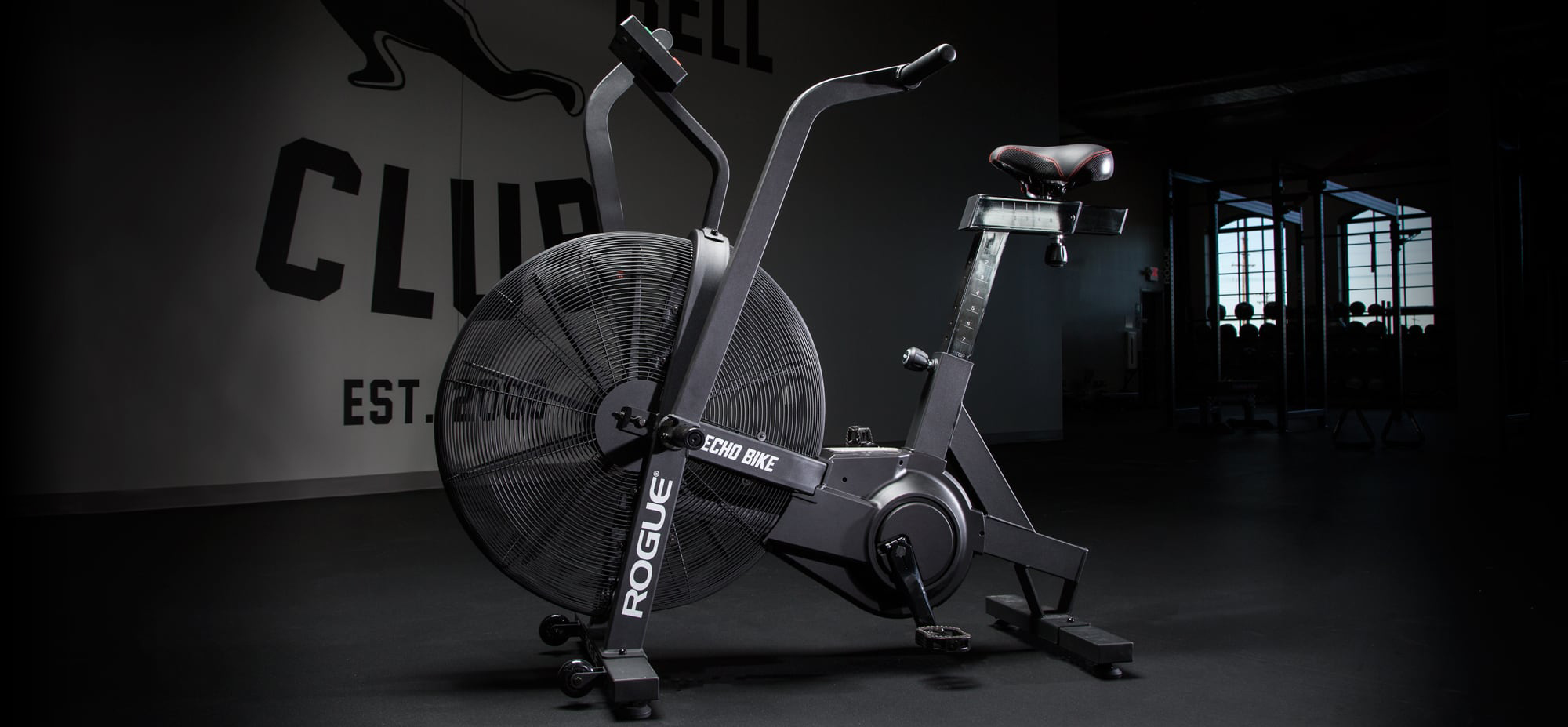 –Cheapest place to get the bike from.
Rogue Fitness Company was an outstanding specialist in squat racks, powerlifting barbells, power cages, and any other fitness accessories in line with its products.
Later, the company became a renowned dealer and producer of CrossFit equipment and came up with this exceptional stationary bike model as their own.
You can grab your Rogue Echo Bike at an unbelievable price.
 The company offers this fantastic equipment at an affordable price for its super quality frame and a built-to-last product that you will ever find at any commercial fitness center.
Rogue Company ensures total customer satisfaction. Only that they didn't back it with a long term warranty as with other companies. 
By visiting their website, you can come across some other competing models that fall in the same category as the Rogue Echo Bike but a different model. The Rogue Echo Bike is the only bike model produced by Rogue.
The development of this outstanding model was not majorly aimed at competing with other models but to provide the best cross fitter that goes in line with other great models in the market.
The known models that can closely relate to Rogue's Echo bike are Air Bike Elite and Assault Air Bike.
Pros
Belt driven fan bike system.

Easy to assemble.

Heavy-duty steel frame construction.

Fully adjustable seat.

It comes at a fair price.

It supports up to 350 lbs. weight.

Rubber leveling feet.

It has a large LCD console.

It is fully compatible with a heart rate monitor.
Cons
It doesn't come with a wind guard.

Some complain that other models have a more extended warranty than this one.

The warranty is only for 2 years.
Frame
The Rogue Echo Bike is a good build cardio machine that utilizes current technology for its effectiveness and efficiency. It is among the few versatile machines that you will come across.
Most may complain that this machine doesn't come with a wind guard, but the assurance here is that the Rogue Echo Bike is a full air resistant bike since it has a built-in fan that acts as a windshield. 
Its fans are firm and reliable as they offer the best in resisting air by providing a harder push and thus acting as a wind guard.
Rogue's Echo Bike is built with a reliable heavy-duty frame made of steel and guarded with a black overcoat to prevent possible corrosion with time and provides it with a great custom look. From your first look, you will be able to tell its robustness by looking at its thick frame.
The frame seems larger as compared to others, and it is evident that it is a heavy machine since its total eight amounts to 127lbs, which is heavier than other machines like the Assault Air bike classic.
The weight makes the bike to be more stable on the ground. You don't have to worry when riding on it since it won't move even with a more significant impact on it. It can accommodate 350 lbs of weight without getting affected.
It features steel fan blades propelled by a belt drive system to provide a quiet and smooth ride. If the floor is not well leveled, the bike will maintain its stability since it comes with rubber leveling feet on rear and front stabilizers, which makes it less wobbly on the unleveled floor.
Its handles are durable and stable since they are both welded to the Echo harms. So, you have no emerging cost related to the repair of its handles. 
It also has metal foot pegs that are attached to the fan bike. The foot begs to allow you to switch the peddling option and use your hands in case you want to do the upper body workouts.
Overall, if you want an exercise bike that can never let you down in frame integrity, you can't go wrong with this option. 
With its ability to hold over 350lbs, I promise this is a reliable option for intense workouts.
Seat
The most crucial part you should look at when choosing a comfortable stationary bike is its seat. 
The best air bikes come with standard uncomfortable bicycle seats. A comfortable seat must be large and cushioned enough to accommodate everyone who would want to use the bike for the first time.
If the seat is small and uncomfortable, you can add some pieces of seat cushions to make them more comfortable. 
It would help if you also considered an adjustable seat, to put you in any position you want. Most seats come with several adjustable positions to choose from during your workouts.
With Echo, you will be lucky to get a fully adjustable seat with 5 horizontal adjustable positions plus 8 different adjustable heights.
Special Features
The Rogue Fitness's Echo bike owns the following distinct features.
Heart rate monitor compatibility – this exercise bike is made compatible with H10 and T31C polar chest strap monitors though it doesn't come with it. 
You can purchase the heart rate monitors separately and just use it with your machine.
Large LCD screen – you can enjoy visible readings during your workouts by using large 6″ x 6″ high contrasts LCD screens. 
You will be able to view your necessary workout progress and monitor several workout modes such as workout intervals, distance, calories burnt, and heartbeat guide programs.
Additional accessory compatibility – this exercise bike is made to accommodate other additional accessories if you want to add them. It comes with a phone holder and a wind guard adapter. You can add a wind guard to block some from the fan, making the workout to be windier.
The phone holder can help you set your phone in place during the workout. You can listen to some music or watch a video with your phone attached to the exercise bike frame.
One inch transport wheel is a heavy exercise bike. The manufacturer ensured that they placed a heavy transport wheel on the front to manage support for the heavy load. You will not experience any problem when moving the Echo to any point you would want.
Easy of Assembly
The process of assembling the Rogue Fitness's Echo Bike is not an issue for many folks. It is a simple procedure that translates to just putting together some bolts and nuts, and you are ready to go.
Assembly takes a few minutes if you have a second person holding together the heavy parts and some hardware. 
The seat comes when it is already attached to the frame. The only parts that require assembly are its console, front and rear stabilizers, handles and pedals.
You will only need to use some tricks when sneaking the console cable through the frame, but I bet this is not a complicated procedure.
According to users, it can't take you more than 30 minutes to unbox and assemble this exercise bike since it is a simple and straightforward procedure.
Warranty
The Rogue Echo Bike comes with a two-year part and a frame warranty. 
The only major downside with this option since we have some other stationary bikes such as Schwinn AD7, which comes with a 10-year frame warranty. 
Warranty always reflects so many issues in a product. A longer warranty is an indication that the product can hardly get damaged within such a period. 
User Reviews: What Do People Say? 
YouTube
Tony Jones. 
"This is, without doubt, the best home gym equipment I have ever come across! No home gym equipment in any part of the state can be completely close to this one since its release. I had to ride on one before I invested in it, but I assure you that this is the best."
Mike Grant
" I am from the UK, and I bought my Echo bike from Rogue Europe during the Black Friday offer! The best piece of a kit that I have ever had, and I am on your side 100% about its quality."
Amazon
Ida
"I bought this indoor exercise bike because I wanted to work out at home. After I used it, it exceeded what I expected from it. The exercise bike is very comfortable and easy to adjust both its seat and air resistance while taking a ride. Also, its handlebars are also steady and the entire bike is stable on the ground."
Jesse
"I received my indoor bike 10 days ago, but I can't wait to build it upon receiving. It is very exciting to assemble and then see it becoming true within a short time. The assembly process is straightforward, especially when following the manual, and the company provides all the assembly tools."
The Bottomline
The Rogue Echo is among the best air bikes to include in your garage gym, while it stands on its standards. 
You can go wrong with it if you choose to purchase it in place of other renowned high-end models.
If the company made some corrections in its warranty, it would be easier to consider the winner against other significant models.
Despite its warranty issue, I would still recommend that it is among the best options.
–This is the cheapest place to get it from, if interested.
If you like this article, do check out our other home gym equipment reviews, like this one: Best Folding Exercise Bike