Working out on a treadmill is a great way to get cardio exercise. Although running or walking outdoors can have its perks, a good treadmill shouldn't remind you that you're not. 
The call of the great outdoors – the fresh air, good-looking scenery, and good-looking joggers might be enough to pull you out of your living room, but here are a few reasons why a treadmill is worth having as home furniture:
No more waiting for your turn at the machine in the gym

No more outdoor night walking in the dark

You don't need to dodge cars and dog waste

Work out wearing whatever you want

Work out without limit
We reviewed five of the best treadmills for walking to give you the most out of your time burning calories from a low-intensity cardio workout at the comfort of your home.
Best Walking Treadmills
Treadmills are a great way to shed pounds, gain muscles, increase your stamina and endurance, and develop a healthy heart. 
Here are five of the most premium walking treadmills that not only save you from crowded gyms and crazy un-attentive drivers but also keep in mind that they make you healthy without the need to lace up your sneakers.
This treadmill manufactured by Sole Fitness is an excellent piece of equipment for both joggers and walkers. 
It boasts of the Cushion Flex Whisper Deck which reduces the risk of injuries when walking or running on hard surfaces by shaking off the impact of exercise on your body. 
10 workout programs have been pre-set, 6 of which can be accessed with the press of a button while the others require a chest strap as they are all heart-rate based exercises.
Its 15% incline range is par to the more pricey machines, making it seem like the bigger treadmills in the market.
Pros:
A quiet yet heavy-duty frame and motor.

Easy Assist folding mechanism for effortless storage.

Has a higher weight threshold than other treadmills this size.
Cons:
Offers the most basic technological features
PS! This is the cheapest place to get it from.
The C990 model remains to be one of the best in the market as it includes a 60"x20" track, a 12% automated incline, and 32 exercise programs that guarantee you a complete indoor workout like no other. 
Equipped with a 7-inch LED screen for you to keep track of your workout, it reminds you not only of the calories you've already burned but also that indoor walking is convenient and superb.
Some units include a high-definition TV or a tablet bracket, entertaining you during exercise for longer and more effective workouts. It's a steal at its price tag as it can outclass the best treadmills in several high-end gyms.
Pros:
Top-notch 7" console screen makes it an easy read from any angle.

Smooth-running, high-quality track has a nice amount of grip.

FlexSelect Cushioning provides the option to simulate walking outdoors or a more fluid one for maximum joint protection.
Cons:
The Wireless Heart Monitor would have been a great add-on if only the chest strap was included on purchase. You'll need to shell out a couple more dollars to hook it up to the treadmill's Bluetooth wireless system.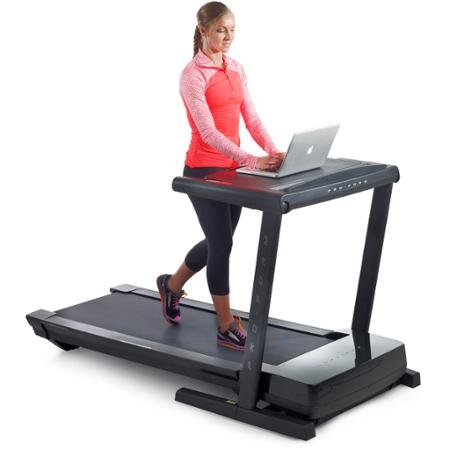 This treadmill that can moonlight as a desk for your home or the office is available in Standard or Pro and can be folded upright to take very little floor space. 
It comes with 40 workout programs, making it a great option for multi-tasking kings and queens as you squeeze in a few walking miles while you sift through your paperwork.
Pros:
No assembly required. Just take it out of the box and you're good to go.

Set a tablet or a laptop computer so you can work on its desk, allowing you to squeeze in a workout while you work things out in your workplace.

Stimulate muscles with its 12% incline and 3% decline.
Cons:
Smaller rollers may cause quicker wear and tear on the tracks.
This affordable folding treadmill is made strictly for walking but can easily accommodate up to 400 pounds. 
It runs on a 1.5 HP motor at a max speed of 4 miles per hour. It has a handrail-based heart rate reader, allowing you to monitor the amount of cardio you are getting.
Pros:
It is exceptionally high-capacity for its price and size.

Its longer handrails keep trainees secure during exercise.

A safety key automatically switches off the treadmill if it's moved out of place in case the user slips.
Cons:
It does not include any workout programs.

The track is only 40" long, making it a bit short for standards.

It lacks a good cushioning system.
This walking treadmill provides a stable platform, promoting the user's safety at any fitness level. The T7643 is capable of handling up to 350 pounds on a 19.5" wide walking space, giving you good value for your money. 
A "quick button" feature conveniently allows the user to effortlessly get to his favored walking speed.
Pros:
Although marketed as a walking treadmill, it can go to a maximum of 6 mph which is fast enough for a light jog.

A non-fancy LCD screen display shows speed, time, distance, and calories, keeping to the basic minimum.

The built-in transport wheels and soft drop hydraulics permit effortless folds for easy storage.
Cons:
As mentioned, this treadmill is as basic as it gets. There are no pre-set programs, no sound system, no pulse reading function, and no way to connect it to the internet.
The Takeaway… 
In a world that has come up with more means to exercise, walking treadmills have never been this important. 
Sure, jogging and running can do wonders as a cardio workout, but a treadmill for walking, if done regularly, has its benefits too.
Make sure to check out our website https://dumbbellsreview.com/ for more reviews about fitness and health and remember that whether it is performed in the streets or in the warmth of your living space, the forgotten beauty of going for a walk, its advantages, and gains, will always take you places.
PS! Considering other options? Check out our review of the Best Manual Treadmills!