You're halfway through your WOD, powering through an intense set of reps when, suddenly, you start to feel it. Uncomfortable chafing, wet cotton slapping against your skin, and you realize: it's time to get serious about your workout gear.
We feel your pain because we've been there too. Luckily for you, however, we've got the solution. Enter into the workout arena: shirts explicitly made for CrossFit. CrossFit shirts are designed to improve your performance by increasing your comfort during your workout.
CrossFit shirts are so popular among trainers and athletes that virtually every athletic clothing brand has created its version. From Under Armour and Nike to Reebok and Champion, there's a massive variety of CrossFit shirts to choose from to boost your comfort and style.
Keep reading Best CrossFit Shirts – Top 10 Products to learn more about your options and find out which CrossFit shirt is right for your next WOD.
Buying Guide: CrossFit Shirts
According to the U.S. National Library of Medicine, choosing the right athletic wear can help to lengthen your workout times and aid in your body's ability to regulate its temperature. 
That's we're going to break down the four key factors you should consider before purchasing your next piece of workout wear: material, shirt fit, durability and flexibility, and moisture-wicking. (1)
Material
When it comes to sportswear, there are several staple fabrics you can expect to deal with: Polyester, Polypropylene, Nylon, Spandex, Merino Wool, Cotton, and Mesh. Choosing the right material for your CrossFit shirt is highly dependent on how and where you workout. (2)
Do you workout inside or outside? If you exercise outdoors, what type of weather might you have to contend with, and what SPF protection might you need? How much do you usually sweat? How does each fabric affect your range of motion? 
It's essential to answer these questions for yourself to help determine which fabric will be the most effective for your needs.
Shirt Fit
Depending on your WOD, you might be running, jumping, or performing any number of exercises that require intense and rapid movements. And when you're in the zone, the last thing you want to be doing is fiddling with your clothes.
Making sure you have a shirt that fits you the way it ought to is your best way to avoid the issue altogether. Your shirt should be stretchy enough to move with you yet fitted enough to your body that they aren't obtrusive to your movements. (3)
Durability and Flexibility
Getting dressed and prepped to start your workout should be a chance to start your workout feeling positive about how you look, like a source of empowerment for your training. So, when you're picking out your next CrossFit shirt, it can be helpful to keep in mind that your purchase is an investment in yourself.
Your workout apparel should be durable enough to maintain whatever color or design it has, despite excessive wear and sweating. If you think that a CrossFit shirt is likely to lose its elasticity or vibrancy relatively quickly, then it just isn't worth your investment. (4)
Moisture Wicking
Natural and more traditional fabrics like cotton-blend, wool, and linen, keep you cool by transferring excessive heat away from your body. They also have the unflattering drawback of absorbing and retaining any sweat that doesn't evaporate off your skin.
On the other hand, synthetic, moisture-wicking fabrics are chemically treated and use a particular type of highly-permeable weave that forces sweat through the fabric and on top of the material, where it can evaporate more quickly. 
This prevents the fabric from retaining sweat and moisture the way that normal fabric does. (5)
Top 10 Best CrossFit Shirts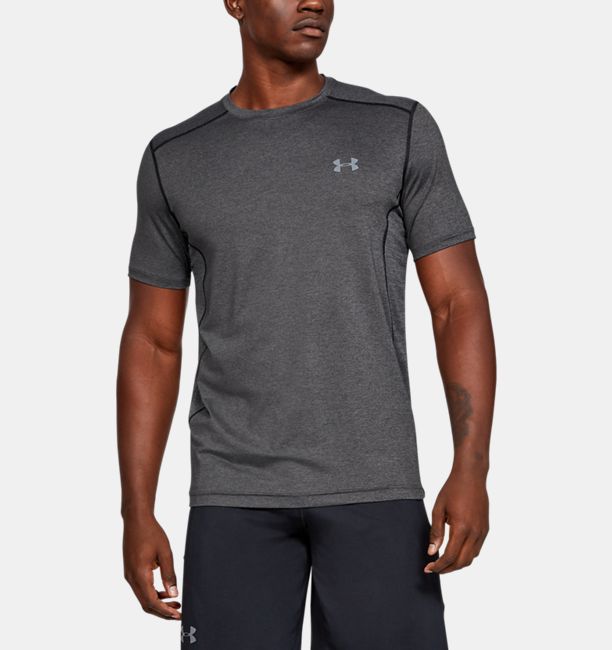 Description:
The Raid collection from Under Armour uses a streamlined fit to reduce unnecessary material and bulk for a cool workout every time. 
Under Armour's Raid shirts are advertised as "core training gear," and the mesh paneling under the arms and across the back is undoubtedly ideal for just that. 
Under Armour's Raid shirts are machine washable and have a makeup of 90% polyester and 10% elastane. (6)
Best Features:
Stretch-mesh back and underarm panels provide ventilation

4-way stretch construction for better range of motion

Anti-odor technology prevents odor-causing microbes from growing
Pros and Cons:
Pro:

14 different color combinations to choose from

Pro:

The shirt is made with Under Armor's super soft HeatGear® fabric

Con:

Vast differences in price points is a bit disorienting and make it hard to know what the real value is

Con:

Some online reviewers report that the seams are uncomfortable and scratch
2. Nike Pro Fitted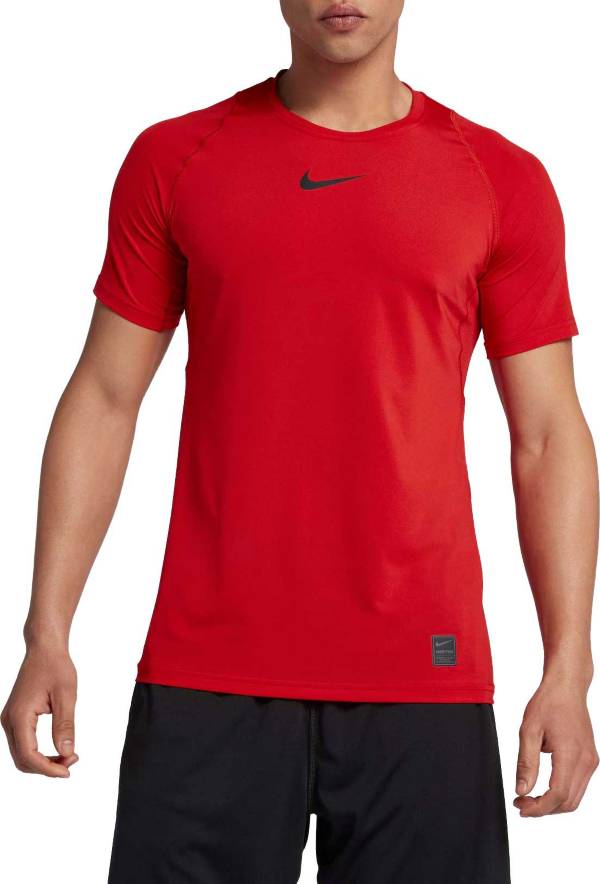 Description:
Nike's Pro Fitted Tank Top uses its patented Dri-FIT technology to keep you dry regardless of how long you plan to be active. 
The smooth, stretchy fabric that makes up the bulk of the shirt is constructed with 91-93% polyester and 7-9% spandex, while the mesh paneling on the sleeves, back, and under the arms has a makeup of 92% polyester and 8% spandex. 
Best Features:
The longer hemline in the back lets you stretch and bend without losing coverage

Slim fit provides a more tailored feel to the shirt

Comes in 7 solid colors and five camouflage color varieties
Pros and Cons:
Pro:

Wide range of sizes from S to 4XL in regular and tall

Pro:

Cooling mesh panels are comfortable and effectively keep you dry

Con:

Because you're also paying for the brand, it's in the more expensive range of options

Con:

Relatively transparent material means you might be showing off a bit more skin than you intend to
Click here to check out the Nike Pro Fitted Tee Shirt on Amazon.
3. Nike Legend 2.0
Description:
The Legend 2.0 Tee from Nike combines fashion and function for a workout shirt you can wear in and out of the gym. 
Made from 100% polyester and Nike's signature Dri-FIT® technology, the Legend 2.0 is all about long-lasting performance with signature Nike Style. 
Best Features:
13 different color short sleeves, plus a long-sleeve version for the winter months

Lightweight, soft fabric with a ribbed crew neck design

Athletic fit lets you move freely and without restriction without being tight
Pros and Cons:
Pro:

Wide range of sizes from S to 4XL in regular and tall

Pro:

Cheaper than the Pro Fitted, but you still get the name brand recognition

Con:

Hard to find online, more availability in traditional brick and mortar athletic stores

Con:

Slightly smaller than some of the other Nike Dri-FIT® material tops
You can cop the Nike Legend 2.0 Short Sleeve Tee from Amazon by clicking here.
4. Reebok Crossfit® Burnout
Description:
Reebok gets ultra-specific with their Crossfit® Burnout made just for, you guessed it, Crossfit®. Reebok is unique because they operate out of both the U.S. and Greece and offer different designs depending on where you call home.
The U.S. version of the Crossfit® Burnout Tee is made with 65% polyester, 35% nylon mélange fabric, and Reebok's Speedwick technology so you can stay cool and dry. The Greece & U.K. versions use an unspecified cotton and polyester mélange blend fabric. 
Best Features:
Slim fit, Speedwick fabric keeps the sweat off your skin no matter how intense your workout gets

Burnout graphics on the US version are super breathable and serve as vents

Crew neckline and casual wear basic tee cut make for a longer hem and comfortable wear
Pros and Cons:
Pro:

Modern design makes it look like a regular graphic tee, so it also works as streetwear

Con:

Due to a recent increase in orders of workout clothing, it may be hard to find in your size and desired color online

Con:

The UK design is unavailable in the U.S. (and in our opinion, it's the coolest looking one)

Con:

If you prefer solid color tees without designs, you're out of luck as each variation has large graphics on either the front and/or back
Click here to check out the Reebok CrossFit® Burnout Short Sleeve Tee on Amazon.com.
5. WOD Warrior Tee
Description:
Made from a tri-blend of 50% polyester, 25% cotton, and 25% rayon, the WOD Warrior Tee from Epic MMA Gear is the most budget-friendly option yet. 
Make a statement that turns heads at your next workout with this light yet durable CrossFit tee and the "W.O.D THE "F@%K !" graphic printed boldly on the chest. 
Best Features:
True to size fit means you don't have to do any guesswork before you order; just get your regular tee size, and you're good to go

Made specifically for larger men sizes XL to 2XL

Comes with free standard shipping from Arizona, U.S.A. when you purchase from eBay
Pros and Cons:
Pro:

Super affordable, so much so that you can pick up two or more for less than the price of just one of some of the other CrossFit tees we've covered thus far

Con:

Only available on Amazon and eBay, so you can't try it on in-store

Con:

Although there is no profanity written, it is pretty heavily implied

Con:

You're out of luck if you don't like the color blue because you can only get this shirt in two different shades of it
You can get your WOD Warrior Tee from Amazon by clicking here.
6. Under Armour Waffle Crew
Description:
Available in five solid color variations, the Waffle Crew from Under Armour is built to keep your CrossFit training going strong all winter long. 
Ideal for running and plyo exercises, the Under Armour Waffle Crew is kind to you and the environment with a soft recycled polyester fabric blend for the torso and raglan sleeves. 
You can also choose from five different color combinations to match whatever you already own for workout attire. (21, 22, 23)
Best Features:
Warm enough for outdoor workouts during colder weather

ColdGear® recycled polyester fabric uses waffle knit to trap heat without trapping moisture

Flatlock seams and 4-way stretch construction for a more comfortable fit with reduced chafing
Pros and Cons:
Pro:

Made with recycled polyester, which is more environmentally friendly to manufacture than traditional polyester

Pro:

Moisture-wicking, quick-dry, and antimicrobial treatment control odors and keep your workout dry

Con:

Only available in limited colors and long sleeve variation

Con:

Limited availability for most sizes and colors, so you may have to wait a few months for Under Armour to update their stock
Click here to check out the Under Armour Waffle Crew for yourself on Amazon.
7. Reebok Crossfit Placed Burnout
Description:
Reebok makes our list of the top ten best CrossFit shirts yet again with the Crossfit® Placed Burnout Short Sleeve Tee. The Crossfit Place Burnout Tee is made for chilly autumn and winter days to keep your temperature regulated, regardless of how intense your WOD gets. 
Best Features:
Stretchy yet soft nylon tencel and polyester blend fabric provide extra comfort

Basic tee and Bare Move System design allows for greater freedom of movement

Burnout graphic allows for ventilation in the front and back panels of the shirt
Pros and Cons:
Pro:

Quick dry and wicks moisture Playdry technology from Reebok

Pro:

Sleek burnout graphic looks good as active and casual wear

Con:

Even less of an online presence than the other products discussed thus far, so you shouldn't expect to be able to find this one online anytime soon

Con:

Only available in two colors that we could find, purple and blue
Want the Reebok Crossfit® Placed Burnout Tee for your next workout? Click here to get yours from Amazon.
8. Champion Men's Big-Tall Powertrain Performance T-Shirt
Description:
The Men's Big-Tall Powertrain Performance T-Shirt from Champion is the perfect marriage of effective moisture-wicking technology and comfort. 
The Powertrain Performance T-Shirt is unmatched in its size accessibility and is available in solid colors to match any existing athletic wear. 
Best Features:
Made just for big and tall men, so sizes range from XL Tall and 2X Regular to 6X Big and Tall

Tag-free, polyester material prevents distracting itches during your workout

Relatively affordable depending on the style and size you choose
Pros and Cons:
Pro:

Available in 8 solid colors and one two-tone monochromatic variation

Pro:

One of the few products that still have a healthy inventory available online for purchase

Pro:

Wide variety of size and color means more opportunities for you to find the best CrossFit shirt for you

Con:

Because it's in big and tall sizes, it's not going to be a suitable option for anyone wearing sizes smaller than a 2X
Pick up the Champion Men's Big-Tall Powertrain Performance T-Shirt from Amazon here.
9. Baleaf Men's Cool Dry Skin Fit Long Sleeve Compression Shirt
Description:
Baleaf is one of the lesser-known brands on our list, but not for lack of trying. Baleaf delivers the same high quality, ergonomic, compression fit you expect from the big-name brands, at a fraction of the cost. 
Currently available in red, white, and black, the Men's Cool Dry Skin Fit Long Sleeve Compression Shirt from Baleaf is perfect for workouts in the cold.
Best Features:
Compression fit can aid in preventing soreness during and after your workouts

Stretchy 90% polyester, 10% elastane, moisture-wicking fabric

Four-needle flat seam construction reduces chafing and irritation
Pros and Cons:
Pro:

Modern style and tight fit show off the physical benefits of all your hard work (read: your muscles) while you exercise

Pro:

Breathable and durable material grabs onto your muscles and holds without shifting or sliding

Pro:

You get all of the advantages of a well-made CrossFit shirt with the added benefits of integrated compression

Con:

Like so many of the other products on this list, it may be challenging to find your size and desired color in stock online
Click here to get the Baleaf Men's Cool Dry Skin Fit Long Sleeve Compression Shirt from Amazon.
10. Under Armor Men's Tech V-Neck T-Shirt
Description:
We've saved the best CrossFit shirt for last with Under Armor's Men's Tech V-Neck T-Shirt. The Tech V-Neck T-Shirt is the culmination of Under Armor's many years of hard work and experience making comfortable and stylish athletic gear. 
Loose enough to go out and look great with a pair of jeans but well-fit enough to keep you dry through the most intense of WOD, the Tech V-Neck T-Shirt is unrivaled in its variety of colors and ability to deliver on performance. 
Best Features:
V-neck shaped neckline is unobtrusive during vigorous exercise and looks good

The widely inclusive size range of XS to 5XL and 20 different color combinations to choose from

Utilizes UA Tech Fabric with moisture-wicking and anti-odor technology
Pros and Cons:
Pro:

Simple design makes it great for streetwear and workout wear

Pro:

100% Polyester, UA Tech Fabric wicks sweat off your skin and dries quickly

Pro:

Integrated anti-odor technology prevents odor-causing microbes from growing and smelling up your clothes

Pro:

20 Different colors let you mix and match with your current athletic wear or start fresh with a new set of basics

Pro:

True to size fit and range of XS-5XL sizes take out any guesswork about finding the right size for you

Pro:

Affordable enough for almost any budget you may be working with
You can grab the Men's Tech V-Neck T-Shirt from Under Armor off Amazon by clicking here.
The Verdict: Which One Should You Buy?
Now that we've covered a wide array of CrossFit shirt brands and styles and the various aspects that differentiate between them, it's time to come down with the verdict. So, all things considered, which Crossfit shirt is your best option?
For your money, we recommend the Men's V-Neck T-Shirt from Under Armor. Unlike its competitors that we've discussed, Under Armor's Men's Tech V-Neck T-Shirt offers an unprecedented 20 colors in 9 sizes to fit any aesthetic and body shape. 
Perhaps our favorite aspect of the Under Armor's Men's Tech V-Neck T-Shirt is that you get the durability, quality, and style you want from a big name brand like Under Armor, without the high price point that you would pay with its competitors.
If you like this article, you may be interested in this article on the Best Crossfit Training Shoes for Wide Feet or our article on the Best Compression Shirts for your workout. You can also check out our other reviews, blog posts, and more on www.DumbbellsReview.com by clicking here.