Disclosure: Dumbbellsreview.com is reader-supported. This means that if you should purchase something through my site, I may earn commissions. As an Amazon Associate I earn from qualifying purchases. Learn more.
CLA, or Conjugated Linoleic Acid, is an omega-6 fatty acid that can be found naturally in meat, dairy, and vegetable oils. 
Since it was first discovered to be a possible treatment for cancer in mice, CLA has quickly become a rigorously studied fatty acid with proven effectiveness as a weight loss supplement. (1)
CLA can improve your body composition by increasing your muscle mass while simultaneously reducing body fat. 
However, finding the CLA supplement that will work best for your body, in a market saturated with options, can be difficult. 
Keep reading to learn more about CLA supplements, and to find out which CLA supplement is right for you.
Best CLA Supplements 
Product Description:
NatureWise's CLA uses a standardized 80% potency formula with 1,000 mg of CLA from non-GMO, premium quality safflower oil sourced from certified suppliers. 
Their soft gel tablets can be swallowed with water or, for those who have difficulty taking pills, can be broken and mixed into a drink of your choice. 
Special Features:
Made with clean, natural ingredients

Stimulant-free, non-addictive ingredients make NatureWise safe for ongoing use

Contains 1,000 mg of active CLA

Oblong, soft gel tablets measure at less than 3cm for easy consumption
Pros 
Suitable for vegan, vegetarian, and most other restrictive diets

Made with plant-based, soy-free, gluten-free, dairy-free ingredients

Number 1 best seller on Amazon in CLA Weight Loss Supplement
Con
 The recommended dosage is between 1-3 soft gel pills per meal, so you'll have to remember to take up to a total of 9 soft gels daily
Who is it best for?
NatureWise CLA from NatureWise is most effective for adults over the age of 18 with a balanced diet and an active lifestyle previous to taking the supplement. 
You can pick up a 2-month supply of NatureWise CLA 1250  from Amazon by clicking here.
Product Description:
Optimum Nutrition's CLA Soft gels contain 750 mg of Conjugated Linoleic Acid in every easy-to-swallow pill. 
Each CLA Softgel from Optimum Nutrition is primarily composed of Clarinol® brand A-80 CLA; Clarinol® A-80 comes from natural safflower oil. 
Special Features:
Optimum Nutrition is one of the most trusted names in supplements with over 30 years of experience in the industry

Available for purchase in over 100 countries worldwide

All of Optimum Nutrition's products and vendors undergo thorough testing and verification processes to provide quality assurance

Quantities are available in 90 or 180 unflavored soft gels at a time
Pros 
The recommended dose for Optimum Nutrition CLA is one soft gel with every meal, so you'll only have to remember to take a maximum of 3 soft gels a day

Optimum Nutrition CLA has a high rating on Amazon from over a thousand customer reviews

Comes in at number 4 in EPA Nutritional Supplements, number 8 in CLA Weight Loss Supplements, and number 25 in Weight Loss Supplements according to Amazon Best Sellers Rank
Cons:
Currently only available through Optimum Nutrition's official website and Amazon.

Contains inactive ingredients like Glycerin and Gelatin
Who is it best for?
Optimum Nutrition CLA Soft gels are safe for use by animals, adults, and children with the supervision of a primary care physician.
Optimum Nutrition CLA soft gels are available for purchase; click here to be redirected to Optimum Nutrition's official CLA listing on Amazon.
Product Description:
Bulk Supplements offer CLA in a variety of different forms for their customers, but for the purposes of this review, let's focus on their CLA Softgels. CLA Softgels from Bulk Supplements come in 100, 300, or 6,000 county supplies of 1000 mg soft gels, and are packaged and manufactured in an FDA registered facility.
Special Features:
Does not contain sugar, soy, dairy, gluten or yeast

All Bulk Supplement products are independently and lab-tested for purity and quality

Does not contain fillers or unnecessary additives
Pros: 
Variety of supply account allows you to save money by buying in bulk quantities

Bulk Supplements also provides pure powder options for purchase from 100g to 25kg

Softgel capsules are easy to swallow, and pure powder CLA can be mixed into drinks so that anyone can use Bulk Supplements CLA
Con
Who is it best for?
Bulk Supplements are best suited towards bodybuilders and professional athletes who are more likely to require more significant amounts of CLA than the average person trying to lose a couple of pounds. 
Additionally, this CLA supplement is not recommended for use by Vegans or Vegetarians due to the bovine gelatin component.
Click here to check out Bulk Supplements CLA Softgels on Amazon.
Product Description:
MRM's High Potency Conjugated Linoleic Acid, or MRM CLA, contains concentrated CLA from safflower oil and is a certified USDA Organic and non-GMO Project verified. 
One of our favorite things about MRM is that they directly evaluate ingredients and ingredient sourcing to a high standard, including but not limited to; sensitivity to the environment and wildlife habitat, soil optimization, and farmer fairness. 
Special Features:
Does not contain egg, peanut, milk, tree nut, fish, shellfish, soy, gluten, wheat, or yeast

Each 1,250 mg soft gel contains 1,000 mg of active conjugated linoleic acid isomers derived from safflower oil

Available in quantities of 90 or 180 soft gels

High potency 80% CLA content
Pros: 
MRM CLA is safe for anyone over the age of 14 with doctor supervision

Recommended dosage is 1-2 soft gels three times a day with meals, so you're only taking between 3 and 6 soft gels daily
Cons
Not safe for vegans or vegetarians

Not recommended for use by those who are pregnant or nursing
Who is it best for?
MRM CLA 1250 works most effectively for active adults, and adolescents over the age of 14, with a well-balanced diet.
Are you interested in purchasing MRM CLA for your workout routine?
Click here to check out the official Amazon listing.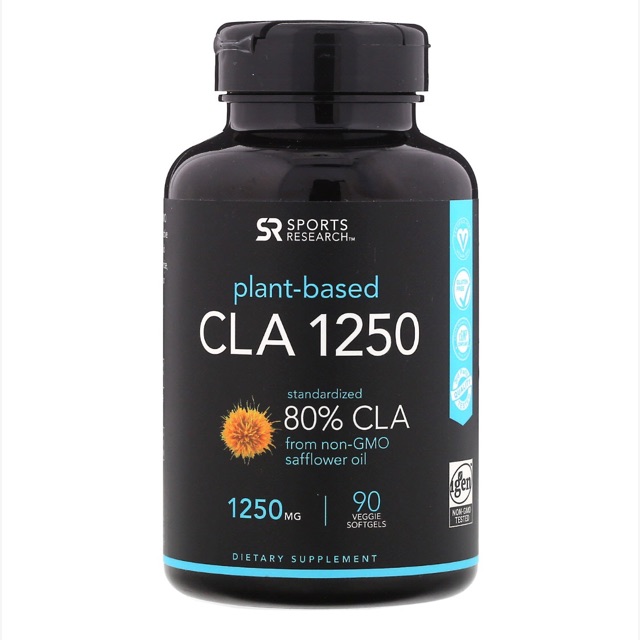 Product Description:
Sports Research CLA contains 1250 mg of safflower oil to deliver 1000 mg of active CLA in a small, easy to swallow soft gel capsule. 
Sports Research's high-potency formula is concentrated in two separate CLA formulas, the plant-based CLA 1250 with standardized 80% CLA, and the max-potency CLA 1250 with standardized 95% CLA. (13, 14, 15)
Special Features:
Ranked at #2 in CLA Weight Loss Supplements and #6 in Appetite Control and Suppressants on Amazon

Easy open and close pop-up lid

A high rating on Amazon from thousands of customers and reviews

Includes non-GMO modified starch and non-GMO vegetable glycerin as opposed to animal-based gelatin

The company was first established in 1980 and now have 30 years of dedicated service and experience in providing high-quality supplements
Pros:
Third-party quality testing ensures that this supplement only deliver the top quality ingredients and products

Gluten-free, plant-based formula with no added colors or preservatives makes CLA safe for use by Vegans, Vegetarians, and those with Celiac Disease

The choice between 80% and 95% potency capsules of 1250 mg safflower oil and 1000 mg CLA

Suggested dosage calls for 1 liquid soft gel per day with any meal

The company offers an online "Track Your Lot" tool that allows you to view the third party testing on your product in real-time
Con:
As with most safflower oil-based consumables, you may experience side effects of stomach pain and/or loose stools
Who is it best for?
This CLA supplement is recommended for adults, especially those with dietary restrictions or plant-based diets, over the age of 18.
Click here to pick up a supply of CLA from the MRM Amazon Store for 80% or 95% CLA.
Bottomline
Integrating CLA supplements to your current fitness and dietary routine can help you to build muscle mass while shredding body fat. 
Furthermore, CLA supplements may be able to positively affect other aspects of your health by protecting against certain cancers, obesity, and cardiovascular diseases.
While adding CLA supplements may be beneficial in addition to your routine, remember, there is no magic pill for weight loss. 
You have to maintain a regular exercise routine and a balanced diet in order for any CLA supplement to work effectively. (16)
That being said, the best CLA supplements I recommend is Sports Research CLA 1250 90% potency gel capsules. 
Not only are they responsibly and ethically made from premium ingredients, but Sports Research also provides peace of mind by going the extra mile with their "Track Your Lot" tool and commitment to transparency.
If you like this article, check out our other reviews on Dumbbellsreviews.com by clicking here.
Similar Articles: