Pre-workout supplements are a great addition to any diet. They help boost your energy and burn more fat while building more muscle. But sometimes their prices aren't very budget-friendly. There are cheaper supplements, but there's often the worry that you'll need to compromise quality for the price.
The good is that's not always the case. You can find some cheap great quality pre-workout supplements, you just need to know what you're looking for. Sounds interesting? Keep reading to see how to find great quality pre-workout supplements that won't strain your budget and our top 7 choices.
[Editor's Note – I have a full hands-on review on ON's Amino Energy + Electrolytes Preworkout. Spoiler Alert – It's very affordable and worth a look]
What To Look for When Buying Cheap Pre-workout Supplements
Pre-workout supplements come with several benefits. Most of them are meant to give you more energy, but some contain proteins that will help you build lean muscle and may even shorten the post-workout recovery time. 
Benefits
What are the benefits you should choose? That's up to you to decide, depending on the goals you have. If you're a beginner and aren't quite sure what to get, it's probably best to choose the most complete one, that will give you both energy and proteins to sustain your muscles.
When looking at the benefits, you'll inevitably look at the composition. For instance, the most common ingredient in pre-workout supplements that aim to energize you is caffeine. In terms of proteins, BCAAs are extremely common, but you might find others as well. Beta-alanine is another common ingredient in pre-workout supplements that boosts your energy and helps you get through more reps.
Side Effects
Remember many cheap pre-workout supplements come with additional ingredients such as sweeteners and flavors. While these are generally harmless and calorie-free, they could cause side effects and intolerances, so double-check the list of ingredients and make sure you're ok with everything on it.
How To Use 
You may also want to consider how the supplement is administered. Some prefer pills or gummies due to the convenience and ease of use, whereas others swear by the powder because they are absorbed quicker by the body.
Customer Reviews 
Finally, look at customer reviews. Of course, a lot of things are up to personal preference. You may love a product that someone else hates and vice versa. But if a product consistently gets negative reviews, that is a good sign it all goes beyond personal preference and there is in fact a bigger issue.
Top 7 Cheap Pre-workout Supplements
1. Optimum Nutrition Gold Standard Pre-Workout
The Optimum Nutrition pre-workout is considered one of the best in the industry. Gold Standard is known for its high-quality products, and this pre-workout seems to be the same. 
Available on Amazon, this contains 175 milligrams of caffeine, which is the equivalent of about 2 cups of coffee. This is actually a bit under what you'll see in many pre-workout supplements, as some can have 200 milligrams or even more.
The ingredients also include beta-alanine, l-carnitine, a proprietary blend made of astragalus root and ginseng root, several vitamins such as vitamin D, B6, niacin, and folic acid, and more. As additional ingredients, there are natural flavors and sweeteners such as sucralose.
It is meant to boost your energy and your immunity thanks to the proprietary blend and the vitamin mix. It will also improve endurance and alertness.
Does it have cons? The main complaint is usually the sucralose content. This is a fairly controversial sweetener that may be carcinogenic, though not enough studies have been made to give a definitive answer. Some users also complain about the taste and texture. However, Optimum Nutrition has a high rating on Amazon, so it is safe to say most people enjoy it.
2. Nitrosurge Pre-workout Supplement
The Nitrosurge pre-workout supplement created by JackedFactory is the next on our list. You can find in on Amazon. It contains 180 milligrams of caffeine.
Other ingredients include l-citrulline, betaine anhydrous, theanine, and beta-alanine. It also contains nitric oxide which improves blood flow to the muscles, which in turn maximizes your strength and endurance.
Nitrosurge guarantees you'll feel instantly energized and you'll be able to perform your best during your workout.
And if you want to avoid artificial sweeteners and flavors, you'll love Nitrosurge even more as it contains none.
Does it have any cons? Yes, if you look at customer reviews. Some claim they felt extremely jittery and even experienced tingling in the arms and legs shortly after taking this pre-workout supplement. 
Others, on the other hand, praise it precisely because they didn't get any of that. In the end, it most likely comes down to how well you tolerate the ingredients and especially the caffeine. If you find coffee agitates you or makes you jittery, you will most likely feel worse after a pre-workout like Nitrosurge.
If you're worried, you always have the option to try with only half a serving. Each serving is made of 2 scoops, so cutting it down in half is very easy. This is a simple way to assess how you feel and if you find you're ok, you can try increasing to a full serving.
3. C4 Sport Pre-workout Powder Blue Raspberry
If you found the previous two supplements had too much caffeine, C4 Sport pre-workout could be what you're looking for. It has only 135 milligrams of caffeine. Available on Amazon.
It also contains taurine, beta-alanine, creatine monohydrate, magnesium chloride, and other ingredients as well as several vitamins and minerals such as vitamin B6, B12, calcium, and magnesium. It mixes very easily, gives you a lot of energy, and helps you power through your workout.
The big con when it comes to the ingredients is that they are all part of a proprietary blend. That means we can't know exactly how much of each there is, which is not ideal when you want to reach certain goals.
It can have side effects such as headaches, anxiety, jitters, cramps, and even trouble sleeping. Again, it all depends on your body and how you react to energy drinks. Also, be mindful that while it has less caffeine than other pre-workout supplements, it also has taurine which is a common ingredient in sports drinks and is responsible for increasing your energy.
Most users on Amazon recommend C4 Sport as the supplement has a high rating. A few complaints include issues with the taste and side effects like itchy skin, headaches, or even acne.
4. C4 Ripped Sport Powder Arctic Snow Cone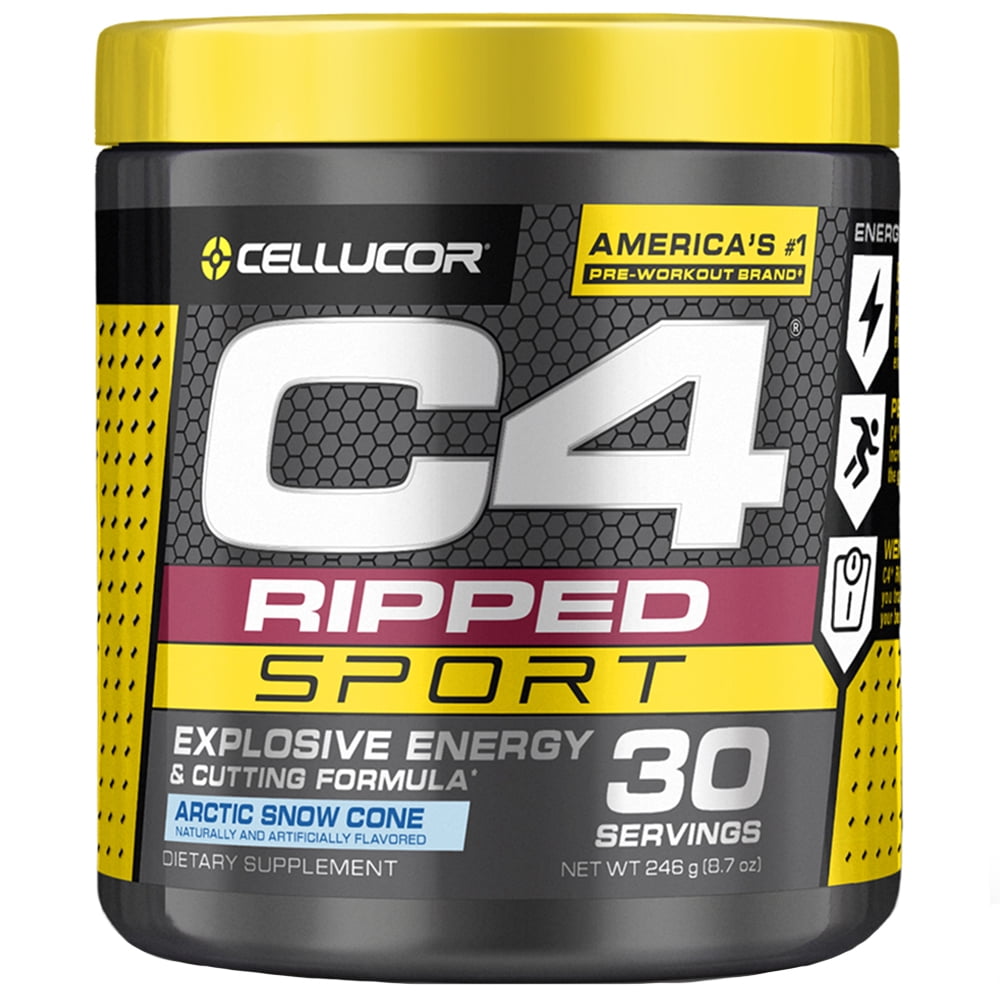 C4 Ripped Sport is manufactured by the same company that creates C4 Sport. Unlike the previous pre-workout supplement, the Ripped Sport version is aimed more towards those looking to burn fat and lose weight.
It also contains l-carnitine which can aid weight loss but it also reduces muscle damage and fatigue. It contains the same vitamins as C4 Sport and many of the same ingredients.
There is the same con as for C4 Sport with regards to the ingredients: they are all part of proprietary blends. No matter how much you trust the company and the product, proprietary blends are usually a miss or win and most people prefer knowing the exact amount of each ingredient.
Users are generally content with the results, both in terms of energy and weight loss. Complaints are usually related to the flavor but also side effects such as tingling and itchy skin.
5. Evlution Nutrition Pump Mode
If you're looking for a supplement that increases endurance and delays muscle fatigue, Evlution might be the perfect choice. Available on Amazon, this supplement contains 1600 mg of beta-alanine and 2000 mg creatine monohydrate. 
It also has niacin, vitamin B6, B12, folic acid, and choline. The rest of the ingredients are part of a proprietary blend that contains things like caffeine, betaine anhydrous, l-tyrosine, and more.
It was awarded Breakout Brand of the Year by bodybuilding.com, which says a lot about its quality.
It does contain some artificial flavors and sucralose, which are not everyone's favorite ingredients. The proprietary blend could make you frown as you can't know for sure how much caffeine you're having for instance, but other than that, there are no cons.
On Amazon, there are few complaints, most of them refer to side effects like tingling in the arms and legs and itchy skin, which are common side effects caused by beta-alanine.
6. Ultra High Strength Beet Root Capsules
So far we've looked at supplements based on caffeine and beta-alanine, all in powder form. If you're looking for something that has neither of those ingredients and comes in a ready-to-take form, the Ultra High Strength Beet Root capsules could be a good option. 
Available on Amazon, these capsules contain 1400 mg beet root powder, which in turn contains 4% nitrates.
Its main benefit? Improving circulation and stamina, giving you more energy and strength to power through your workout. They also lower blood pressure, cholesterol, and help boost immunity. 
You will not get the same type of immediate energy you would from a supplement containing things like caffeine and taurine. Those types of supplements have an immediate effect and should only be used as needed, not necessarily daily.
Ultra High Strength Beet Root capsules can be taken daily, as you would any multivitamin.
This supplement has a high rating on Amazon, with most users being very happy with the results. On the opposite side, you'll find those who complain they didn't see any results, even after 30 days of use.
Of course, results from all supplements will vary from person to person, so there's always a risk you will be one of those few who aren't happy with the results. But the overwhelming number of positive reviews looks promising enough to convince you to give it a try.
7. Hilo Pre-workout Energy Gummies
The last on this list is the Hilo pre-workout energy gummies. Available on Amazon for 10 single-serving packs, this supplement is gluten-free and vegan.
It contains caffeine and beta-alanine, the two most common ingredients in pre-workout supplements, as well as S7 nitric oxide booster, which is a proprietary blend. In terms of amount per serving, you get 150 mg of caffeine and 1600 mg beta-alanine. 
In the proprietary blend, there are ingredients such as green coffee bean extract, green tea leaf extract, turmeric root extract, broccoli, and kale. It also contains natural flavors and added sugars.
It is a great pre-workout supplement if you need something that can be taken quickly, easily, that you can carry with you and you don't need to mix it with water. The fact that each serving is packed separately is also great as you don't need to worry about the open package if you only use them very rarely.
Potential side effects are the same we saw in all the supplements containing caffeine and beta-alanine: tingling, itchy skin, headache, jitters, and trouble sleeping.
Out of the supplements in this article, this one has the lowest rating on Amazon. The main complaints are regarding the taste: many people say they are almost impossible to take, as their taste and texture can make you instantly sick. Like anything, taste and texture are a lot about personal preference, though the high prevalence of such comments is a little worrying.
So, Which One Should You Buy?
As you can see, there are plenty of options to choose from if you're looking for a cheap pre-workout supplement. 
Our personal preference is Optimum Nutrition Gold Standard, as it is a trustworthy brand that always delivers high-quality products. However, if you want to avoid artificial ingredients, Nitrosurge could be the way to go: you will get a great quality product without any questionable ingredients.
Those looking for something to boost weight loss may want to check out C4 Ripped Sport. And finally, if you want something without caffeine, check out Ultra High Strength Beet Root capsules.
If you liked this article, please check out our other reviews at Dumbbellreviews.com to find the best products that will help you reach your goals in no time.