We bet most people are drawn to kettlebells because they look cute and cool. Sure, they're easy to use and swing around compared to other strength training equipment, but make no mistake. These round metal balls with handles on them are heavy too. In fact, kettlebell weights can range from 8 to 105 pounds.
The problem, though, is choosing the appropriate kettlebell weight for you. Some are heavy, others are expensive. So, the best way to go is to choose an adjustable kettlebell, such as the Bowflex kettlebell.
If you want to know more about the Bowflex Selecttech 840 Adjustable  Kettlebell, keep reading. 
We provide you with this comprehensive guide to educate you on how it works and clear up any confusion about this model.
TLDR: Bowflex Selecttech 840 Adjustable Kettlebell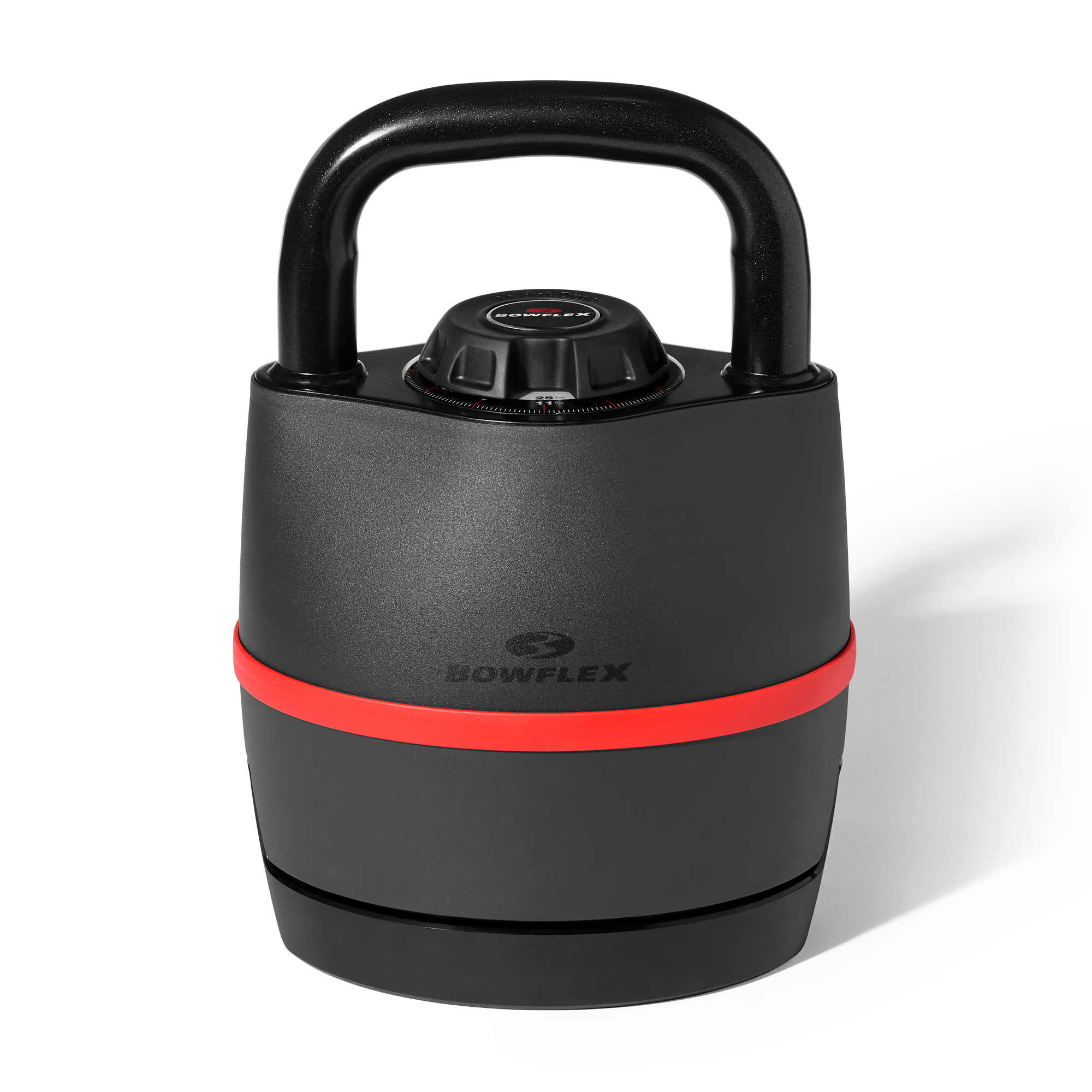 Price $179.00
Product Description
This Bowflex SelectTech 840 Adjustable Kettlebell is your ultimate adjustable kettlebell. 
Six kettlebells in one, this Bowflex SelectTech 840 has a quick change mechanism. Its 15-pound weight handle can be adjusted between 8 to 40 pounds.  Simply turn the dial and choose the resistance you want for your training. That way, you can perform full-body exercises and quickly switch from one exercise to the next.
This advanced design of Bowflex SelectTech 840 Kettlebell was also created with portability in mind. It allows you to scale your workout needs without buying two or a set of standard kettlebells. You won't even need to buy a kettlebell rack to store this fitness equipment!  The unit is small; you can guarantee it will only occupy a little space in your home gym.
Bowflex kettlebell is easy to use. It may just be a challenge for beginners to change weights but they'll get used to it along the way. And as they get familiar with locking and unlocking the weight plates, they can consider it a short break in between their training sessions. After all, a short rest is important to increase muscle endurance too.
Bowflex truly did a great job in combining stability, functionality, and a great look in making this exercise tool. Also, it has durable molding around the metal plates and a metal tab to secure the weight. 
Pros
6 weights in one system

Space efficient

Ergonomic handle

Weight selection dial

Adjusts from 8 to 40lbs.

Portable

Fully assembled when shipped
Cons
The handle doesn't have a scored grip or rubber

Awkwardly shaped for cleans and snatches
Is it worth it?
In terms of its build quality and function, the SelectTech 840 Adjustable Kettlebell is worth it, especially if you prefer two-handed kettlebell workouts like goblet squats and kettlebell swings.
At first look, you may be thinking that the shape of this kettlebell is more cylindrical and wider compared to traditional bells. But it's not really an issue. 
In fact, it's ergonomic with durable molding. Just hold the handle firmly so that it is turned away from you as you perform exercises. You may also simply hold the adjustable weight on the sides. That way, it will be horizontal even in the topmost position.
In-Depth Review of the Bowflex Selecttech 840 Kettlebell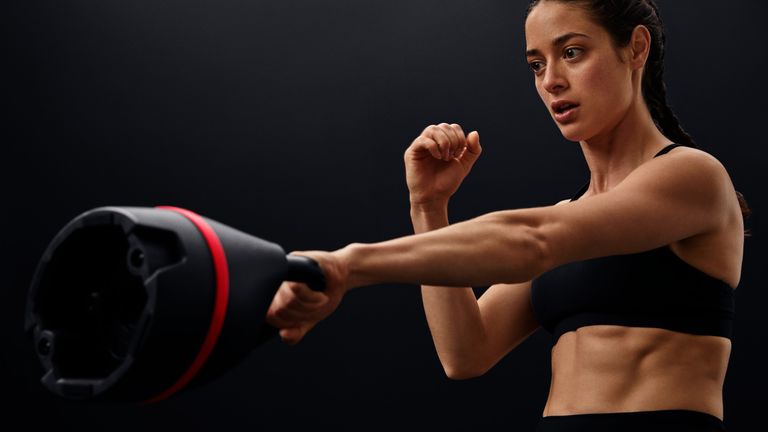 Specifications
Space-efficient design

Adjusts from 8 to 40lbs

8, 12, 20, 25, 35 and 40lbs weight settings

Dimensions: 8.8″ L x 7″ W x 12.5″ H

Assembled Width (cm): 17.78 cm

Package Depth (cm): 33.70 cm

No Accessories Included

Core Material: Steel
Quality and Durability
The versatility and design of this Bowflex SelectTech 840 Kettlebell make its purchase worthwhile. It saves you space, money, time, and is durable.
You can also find the steel weight plates hidden in the rigid and smooth plastic housing, designed with smooth edges. 
Workouts and Exercises
Whether you're an advanced-level lifter or a beginner in kettlebell exercises, here are the top exercises that will help you further your health and fitness goal this year. 
Remember to change the kettlebell exercise selection. Get pushing, pulling, and swinging. The change in routine will keep your muscle and body guessing. 
The change in intensity using different weights will also tell your muscles that they are now stronger and bigger to handle the change. Choose any of these workouts and cycle through. 
Kettlebell Swing

Kettlebell Clean

Windmill

Pushups

Kettlebell Press

Push Press

Kettlebell Jerk

Snatch

 Turkish Getup

Renegade Rows

Kettlebell Jump Squats

Single-Leg Romanian Deadlifts

Front Squat

Goblet Squat

Overhead Squat
Additional Features
Upon checking Bowflex's website, we spotted an interesting perk for Bowflex SelectTech 840 Kettlebell users. 
Buying this kettlebell will give you access to a healthy series of 24 kettlebell workout tutorials. So, if you want a bit of diversity in your exercises, take advantage of these videos.
Warranty
The Bowflex SelectTech 840 Kettlebell comes with a 2-year warranty, assuring you that it will perform satisfactorily even after years of regular use.
Keep the original proof of purchase that details the serial number and date of purchase to validate the warranty support.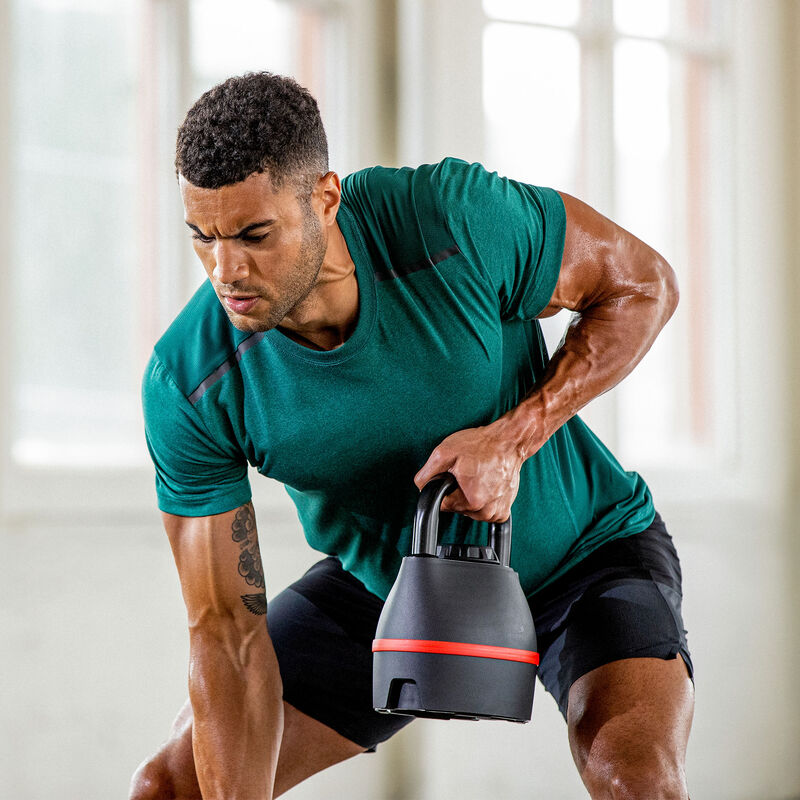 Who is it Best for?
The Bowflex SelectTech 840 Kettlebell is best for fitness enthusiasts looking for an all-in-one total body conditioning tool. They can use the different weights for balance, flexibility, strength, or endurance training.
This product is also good for beginners who just want to burn their calories. A 20-minute home workout using adjustable kettlebells burns as much as 400 calories. That's 20 calories per minute.
The adjustable weights of this Bowflex SelectTech 840 Kettlebell also make it a good choice for athletes who want to build lean muscle. While kettlebell exercises don't build muscle mass as barbell workouts can, it sure can increase the lean muscle tissue.
What Do People Say About It?
Amazon 
The Bowflex SelectTech 840 Kettlebell gained 4.5 out of 5 stars on Amazon from a global cumulative rating of 2,168 people. 
Eric Bailey praised the product for its space-saving feature. He shared that over the years, he brought many kettlebell sets and they took up a lot of space in his home gym. With Bowflex SelectTech 840 Kettlebell, he said, "zero issues." "They're worth every penny," he added, comparing it to buying a similar size standard kettlebell set.
Another Amazon user Malachi D. Hough said the grip knurling may feel "a bit too harsh" but overall, it gives you that good dumbbell feel. The size and length of this product also have their advantages in some exercises.
YouTube 
YouTuber Paul Kei purchased the Bowflex SelectTech 840 Kettlebell during the quarantine. He said everybody seems to talk about how much the SelectTech 840 Kettlebell rattles when some parts of the weight are removed. But upon trying, he said he's "not too concerned" at all. "I give this thing a two thumbs up," he continued.
Beasts Train Mean YouTube channel said "the built is strong" and that "it's relatively safe to use." The plates rattling slightly "is really nothing to be alarmed." She also likes that it is "pleasing to the eye." She can just put it in her home gym and she appreciates that it comes in black and red color.
The Verdict: Should You Try It or Not?
Whether your goals are flexibility, full-body workouts, weight loss, or improved strength, we recommend you to try the Bowflex SelectTech 840 Kettlebell. It's a space saver in the extreme, replacing a whole rack of solid kettlebells with one Bowflex.
It's easy to change the weights too. The dial is just located beneath the handle. Rotate it to your preference, between 8 to 40 pounds and you're good to go. Access to the 24 trainer-led workouts that focus on kettlebell techniques, including twists, squats, rows, and swings, is also a plus. 
The ergonomic design and build of this Bowflex SelectTech 840 Kettlebell will surely train you to move better.
If you like this kettlebell review, you might want to read our other reviews at Dumbbellsreviews.com.