Whether you are a seasoned athlete or just a gym enthusiast, you might have noticed the limitation that comes when lifting heavy weights due to your grip strength. 
While there are workouts you can do to improve grip strength, there's a human limit you might not be able to surpass. That's why many weight lifting professionals use lifting straps. 
The problem? There are so many options on the market, it's enough to drive anyone crazy. This article will shed some light on the available options, show you what to look for in a lifting strap and which are the 10 best lifting straps being sold on the market right now.
The Best Lifting Straps: What to Look For?
Lifting Strap type
First, you'll need to look at the strap type. The most common types of lifting straps are single loop straps, lasso straps, and figure 8 straps. 
A single loop is the most popular type and is ideal if you don't need a lot of help with your lifting grip. The lasso strap is based on the same principle as the single loop, but it offers a bit more adjustability and is great if you need slightly more support with your grip. Figure 8 types are essentially made of 2 equal loops and are ideal for deadlifts.
Material and comfort
In terms of material, most weightlifting straps are made of cotton, nylon, and leather. This isn't just important from a comfort point of view, but especially with regards to durability.
The most common material is cotton. If your primary focus is comfort, cotton is the way to go. They also deal very well with sweat and moisture, which adds to the level of comfort. The downside, however, is that they are the least resistant, and can easily stretch and wear out in time.
Nylon lifting straps are the way to go if you're lifting very heavy weights. They are a staple for Olympic weight lifting and powerlifting. They don't wear out easily, they don't stretch, so you can use them for years without any troubles. 
Do they have any downsides? Yes. They are not the most comfortable straps and they don't absorb sweat and moisture. They're also usually the most expensive straps, so they probably won't be a choice if you're on a budget or a beginner.
With leather straps, you get a bit of the advantage and the disadvantages of both cotton and nylon. In terms of pros, leather straps are comfortable, they're aesthetic, and they don't stretch. On the other hand, they don't absorb sweat so you won't be able to wear them a lot and some can also be quite expensive.
Other things to consider
Ease of use is another important factor. It's easy to use lifting straps, but if you're a beginner who just wants a little help lifting heavier, there's probably no point investing in a more complex and more expensive strap made with Olympic lifting athletes in mind.
The price will obviously be a deciding factor for many people. If you're on a low budget, it doesn't mean you can't get a high-quality strap. Also, keep in mind that while cotton straps may appear much cheaper than nylon or leather, they'll also need to be replaced approximately every 6 months depending on how often you use them.
Top 10 Best Lifting Straps on the Market
1. Harbinger Padded Cotton Lifting Straps with NeoTek Cushioned Wrist (Pair)
If comfort is at the top of your requests when it comes to lifting straps, you'll love Harbinger Padded Lifting Straps. They come with neoprene padding, they are versatile, and despite the cotton material, they are fairly durable.
Comes with an affordable price on Amazon and they can be used with barbells, dumbbells, kettlebells, and bumper plates. Their extended length (21.5 inches) and width adds to the comfort and gives you a better grip surface. That reduces grip fatigue significantly, allowing you to get a better workout.
The main disadvantage of these lifting straps is that despite the padding the edges might dig into your hands if you're not wearing gloves, which can get extremely uncomfortable quite fast. 
Some users on Amazon complain the straps are thin and thus they wear out and stretch quickly. Since they are made of cotton, this is an expected downside, but considering the price range, they are a good investment.
2. Grip Power Pads Heavy Duty
Grip Power Pads are not classical lifting straps. Rather they are hooks that are secured to the hands and have a hook that will be used to hold the bar. It increases the overall grip capacity and is great. With these power pads, you can lift up to 600 lbs!
They are easy to use, more durable than many other lifting straps, and comfortable. The only con is that it might take a while to get used to the grip feeling, which feels anything but natural. They're available on Amazon.
3. Rip Toned Lifting Straps (Pair)
These lifting straps are made of durable cotton and neoprene for added comfort. They reduce the risk of injury, allow you to repeatedly lift heavy, they are easy to wrap and take off. Since they are cotton, they absorb sweat and moisture, so they can be worn for an extended time. They are also adjustable and can be machine-washed.
Best of all, they don't dig into the skin. Rip Toned Lifting Straps can be used by both men and women, bodybuilders, powerlifters, and amateurs alike. They are available on Amazon.
The main downside is the same we see in all-cotton straps: they start stretching and wearing out sooner rather than later.
4. Gymreapers Lifting Wrist Straps
If you're looking for a strap that is both secure and stable but doesn't dig into your hands and tire you, Gymreapers Lifting Wrist Straps could be what you need. They have padding around the wrists, which means they don't become uncomfortable as you increase the weight.
They are not for complete beginners, but their also not the best for seasoned athletes. Instead, weight lifting athletes who want to increase their barbell weight confidently will find them great, but also those who want a bit more security but not something with multiple layers around the barbell. Available on Amazon. 
The only downside users seem to point out is that they aren't great for lifting heavy weight lifting repeatedly.
5. Harbinger Heavy Cotton Lifting Straps (Pair)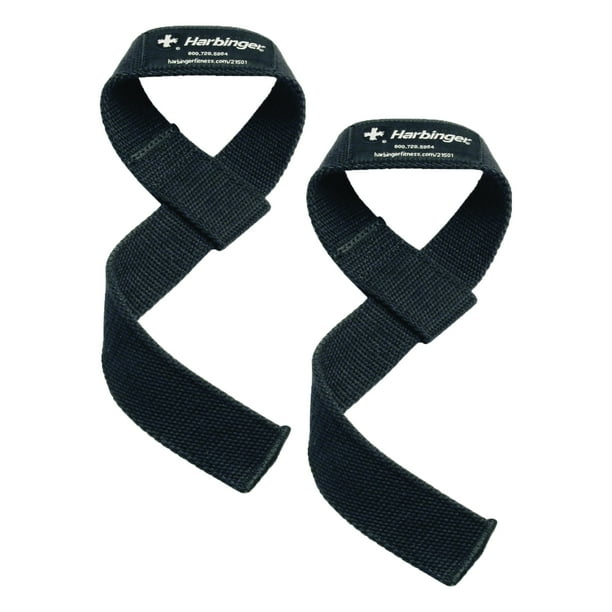 These Harbinger Heavy Cotton Lifting Straps are great for beginners and intermediate users alike. Complete beginners may first want to build some true grip strength first. These straps do not replace your grip strength, they help increase it. They are padding at the wrists and their increased width improves comfort, as they don't dig into the skin as much.
They're available on Amazon, and like most cotton straps they tend to wear out in time. The heavy-duty cotton makes them a little more resistant than other similar straps, but they still don't compare to nylon or leather lifting straps.
6. Serious Steel Fitness Figure 8 Straps
So far the straps were more or less suited for bodybuilding competitors. The Serious Steel Fitness Figure 8 Straps have been tested for up to 1000 lbs weight and are great competitions. In terms of exercises, you can use them for deadlifts, power lifts, shrugs, and more.
The straps come in 3 sizes: 10", 12", and 14". They help you maintain a good posture, are made to last longer, and come with a 1-year warranty. This may seem like too little compared to other straps that come with a lifetime warranty. But you need to keep in mind warranties don't cover the normal that happens in time, so one year is enough to see if they have any faults.
They are available on Amazon and have a high rating, which tells us these straps are truly fantastic.
7. IronMind Strong-Enough Lifting Straps (Pair)
The IronMind Strong-Enough are considered by many powerlifters the best lifting straps sold on the market. Fun fact: Ken Brown broke the deadlift record of 1062.5 lbs while using these straps! Let's just say you never have to worry about the maximum weight they can lift.
They are made of nylon, which is synonymous with durability when it comes to lifting straps. They are easy to clean and versatile, so you'll be able to use them in a lot of lifting exercises.
However, the one downside is that they don't absorb sweat very well, so they could become uncomfortable quickly if worn for too long. They have no padding, something that many powerlifters like, but also something that will probably feel uncomfortable for the less experienced.
8. IronMind Sew-Easy Lifting Straps (Pair)
If you found IronMind Strong-Easy intimidating, but you still want some durable, solid nylon straps, you may want to take a look at the IronMind Sew-Easy Lifting Straps. Don't be fooled by the word "easy" in the name, though. They can confidently be used by powerlifters too, but recreational athletes and bodybuilders will also enjoy them.
Nylon straps are known for not absorbing sweat well. IronMind Sew-Easy is a little better in this department. The absorption won't be as great as with cotton straps, but it is well superior to other nylon straps.
There are a couple of downsides, but they might not bother all users. Firstly, they have no padding. For those who aren't used to straps at all, this could be uncomfortable. Secondly, the wrist support is also minimal, which means you need to be careful to prevent any accidents.
9. Fitpro 4us Lifting Straps
One common complaint among users of lifting straps is that the loops aren't very adjustable and they aren't suited for people with small hands. If that's you, you may want to check out the Fitpro 4us Lifting Straps.
They have a smaller single loop which is perfect for those with small hands and wrists. However, this doesn't compromise the actual strap length, which is 24". They are also padding around the wrists for more comfort.
You'll find them on Amazon.
Who are they ideal for? Anyone with small wrists. They are great for powerlifting, bodybuilding, and just strength training in general. Some users complain they are not as comfortable as you may think when you see the neoprene padding and also that they aren't as durable as it is advertised.
10. Deselen Lasso Lifting Straps
Deselen Lasso Lifting Straps are made of leather and stand out due to their aesthetics. They are safe, durable, and you can lift heavy weights fairly comfortable.
They do have one downside, which is common for leather straps: they need an 'adjustment' period to soften. The good thing is, with the Deselen Lasso straps this process is much shorter than for other similar products.
They have cotton padding, which aids in sweat and moisture absorption. They also come with a 2-year warranty and they have a money-back guarantee return policy. They are available on Amazon. 
So, Which Lifting Straps Should You Buy?
There are a lot of great lifting straps on the market. To find the best lifting straps for you, consider first the type of material you want. 
Do you want to prioritize things like sweat absorption and comfort over durability? Or would you rather have something that is perfect even for Olympic lifting and is made to last a long time? Ease of use, price, and strap type are other things to consider.
Our personal favorite is IronMind Strong-Enough because you can be certain it will never fail, no matter what weight you want to lift. If you want something more comfortable and aimed for less experienced users, that is also comfortable and doesn't dig into your hands, check out Gymreapers. 
However, this doesn't mean you should overlook less durable, but very comfortable ones like the Harbinger lifting straps. It all depends on your goals, your fitness level, and your preferences.
If you like this article, you might want to check out our other reviews at Dumbbellsreviews.com.