Weightlifting is not just about building muscle and getting stronger. It can also make you feel confident and powerful. 
When you hit your big lift, you suddenly feel unstoppable, like you are equipped to handle the challenges that may come your way and are capable of moving that weight. 
Even when you're no longer holding the barbell, you still walk down the street with the mental and physical strength inside you. It's like strength training creates a ripple effect in other areas of your life.
And if your goal is to lift heavier weight, arguably the best way is to use an Olympic barbell. No wonder it is a staple in training facilities and home gyms. 
Here, we lay out everything you need to know in choosing the features of a good Olympic barbell. 
Keep reading our review of the five best Olympic Barbell to learn everything you need to know before you buy!
Top 5 Best Olympic Barbell on the Market
Price $295.00
Product Description
This classic Olympic bar weighs 38 pounds and has a 700 lb weight capacity. The black manganese phosphate shaft coating also makes this piece of workout equipment corrosion resistant. 
It does not just add longevity to the power bar but also gives the shaft a tacky feel. When the medium depth fine knurling and coating are combined as features of this power bar, it allows firm and superior grip without worrying the cheese grater and sharp knurling.
To protect your investment, you are also recommended to wipe this bar regularly with only a 3-in-1 oil in light coating. 
Each time you lift this barbell, you also experience that comfortable feel as the bar was created with attention to detail. 
Even the sleeves that are secured to the power bar have a chrome layer that increases surface hardness. 
With all of its features, you may think that a bar like this is comparable to Ohio Power Bar and is expensive. Surprisingly, it will fit your budget.
Uncompromising affordability and quality, this XMark Voodoo Commercial 7′ Olympic Bar is one of the best Olympic barbells in the market you can buy.
 Pros
Comfortable grip

Trusted brand

Medium depth fine knurling

Excellent  185,000 PSI tensile strength

With brass bushing

Abrasion and corrosion protection 

Affordable

High quality
Cons
Nasty rubber smell upon opening the packaging

Short warranty period
Amazon Ratings
The XMark Voodoo Commercial 7′ Olympic Bar gained a cumulative rating of 4.8 out of 5 stars. Buyers from different countries rated this bar 4.9 for thickness, 4.8 for packaging, and 4.8 for value for money. A satisfied buyer from the US said he loves "everything about it."
Price $299.99 
Product Description
This GOPLUS 7 Feet Olympic Bar is one of the top choices for club owners, powerlifters, commercial gyms, and home gyms. 
What makes this rod sturdy and durable also is that it is made of A3 steel that underwent quenching technology and cold forging. 
This ensures that your bar won't rust easily. The chrome finish further gives this bar the desired look for various workouts, such as bicep curling, lunge, overhead pressure, piggybacking, or bench press.
It has sufficient weight (about 44lbs), thus heavier compared to other Olympic bars. It is 86" long, giving you more movement options during your strength training. 
For added safety, the bearings and sleeves increase the sleeve's lubrication thus reducing the stress on your elbows and wrists. There
GOPLUS adopted the anti-slip knurling design, increasing friction and making lifting easier than without the knurled design. The bar end is 2" in diameter and can fit all weight plates with 2" holes or less.
 Pros
Care Instructions: Hand Wash

Durable structure

Anti-slip knurling design

44lbs weight capacity

Good Olympic WL Bar for strength training
Cons
United States (excluding Hawaii & Alaska) Shipments only
Amazon Ratings
Rated 4.6 out of 5 out of the 150 global ratings, the GOPLUS 7 Feet Olympic Bar is a good product marketed for a good price. In fact, 79% of the global users rated this bar 5 stars. It also scored high in thickness (4.3), sheerness (4.2), and value for money (3.5).
Price $242.00 to $540.00, depending on Bar Features
Product Description
The Beast, The Boss, The Rebel, The Master, and The Warrior are the different  CAP 7-Foot Olympic Specialty bars. Choose among these bars from CAP to complement your home or commercial gym today!
Measuring 2,185mm, The Beast Olympic Bar is a top choice for club owners and professional weightlifters as it can take on super heavyweights. It has been precision engineered for long-lasting performance and balance. Its tensile strength is 110,000 PSI and is made of cold-rolled Japanese steel.
On the other hand, The Boss Silver Zinc bar measures 2,185mm. Just like The Beast, it is made from high-quality cold-rolled Japanese steel but the difference is that it has a black phosphate finish. 
This feature guarantees that it will last for a long time even if used regularly. It weighs 20kg and has 132,000 PSI tensile strength. As for its handgrip diameter, it is 28.5 mm. For those who prefer clean and jerks and snatches, this bar is an ideal choice.
The Rebel bar is unique because of its medium-depth diamond knurling that is comfortable for deadlifts, bench presses, and squats. Its tensile strength is 190,000 PSI, higher than the two previously mentioned specialty bars from CAP. It also features a rotating sleeve that reduces pressure in forearms and wrists when lifting.
Another noteworthy Olympic bar from the CAP is The Master. Also meant for heavy weightlifting, it has a 190,000 PSI tensile strength in every sleeve. 
So, even of the most delicate touch, it allows the power bar to swivel. What's amazing about this variant is that it has a zinc finish, requiring little maintenance but you are still confident that it will last for a long time.
Lastly, The Warrior CAP Barbell features 230,000 PSI tensile strength. There's also a 2×10 pin needle bearings as well as 2 over-sized bushings (oil-impregnated) that prevent the bar from warping as well as providing a smooth spin.
 Pros
The excellent bar for the price

Great value

Black "odude" shift material

Durable

Comes from a trustworthy brand

Long-lasting

Medium-depth diamond knurling

High tensile strength
Cons
Metal shavings may embed in your hands when you touch the threaded ends
Amazon Ratings
These power bars received about 2,126 global ratings from Amazon. The cumulative score is 4.6 out of 5 stars. Most users praised its comfortable knurled hand grips and it received a high rating of 4.3 for sturdiness.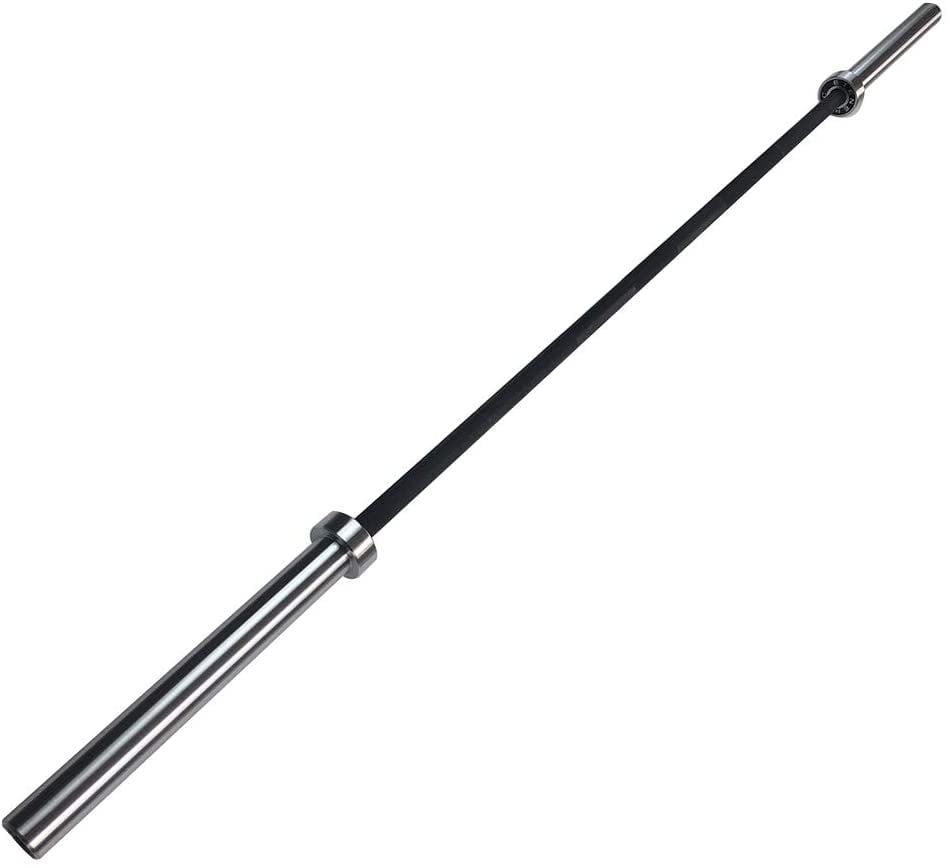 Price $228.99
Product Description
If you prefer a wide snatch grip in an Olympic barbell, then this E.T.ENERGIC 7-Foot Olympic Barbell Bar is an ideal choice. The 28mm grip knurling handles of this bar helps improve your grip experience.
It weighs 44 pounds and measures 7 feet and one of its advantages for strength training is that it can increase your muscle explosiveness, improve your coordination, and increase your strength training. 
The rod of this power bar has a high tensile strength of 215,000 PSI and is made of heat-treated alloy steel strong enough to load 1,500lbs of weight plates. 
Furthermore, it's hard chrome coating prevents the material from abrasion and rust. This barbell can meet your training needs, particularly for the back, glutes, and legs.
The diamond-shaped knurling grip on this bar ensures you a non-slip grip during strength training.
 Pros
Durable and strong

Heavy-duty construction

Hard chrome coating prevents abrasion and rusting

Diamond-shaped knurling grip

Can withstand significant weight and use
Cons
Amazon Ratings
Customers rated this power bar 4.5 out of 5 and among the best sellers rank in Sports and Outdoors items.
Price $162.76
Product Description
Weighing 45 lbs, Sporzon! Olympic Barbell Standard Weightlifting Barbell comes in 5 ft, 6ft, and 7ft variants with either 1- or 2-inches diameter grip size. 
You get to also pick the color of your choice. All bars are made of solid steel construction and are chrome plated so it can last long even after repeated use.
You can also perform multiple knurling positions using these bars. All of these power bars have a 700lb weight capacity. 
The bar end diameter is 0.97" to 1.97" to make sure that bars can fit the standard weight plates with 1" or 2" holes.
You don't also have to be a barbell connoisseur to understand that barbell strength is important in choosing the Olympic barbell you want to buy. 
As for Sporzon! Olympic Barbell's strength, you won't be disappointed. Not only is it the least expensive option but is also of good quality for its price.
Pros
Comfortable grip

5, 6, 7 feet long options of bar

Weight plates don't slide smoothly when loading

Good for value

No metal or paint chipping off

Quick delivery

Chrome plated

Solid bar
Cons
Good customer support team

Bends when reaching 700lb weight max

Clip collars may be difficult to put on
Amazon Ratings
Sporzon! Olympic Barbell is the #1 Best Seller item in Amazon among the category of Strength Training Bars. 
Out of the 1,696 global ratings, 78% of them rated the item 5 stars. It also received a high score (4.7) in sturdiness, thickness (4.4), and value for money (4.6)
What to Look for When Buying the Best Olympic Barbell
But why does one Olympic bar cost below $200 while others $600 to $1,000 when they look almost the same? The differences lie in their features. To ensure that you're picking up the right weightlifting bar, make sure to check these features.
1. Bar Strength
First of all, the yield strength and tensile strength of the power bar that you are buying matters a lot. The tensile strength is the maximum weight load that the bar can handle without breaking or fracturing. 
This means that a high tensile strength means that it is a good bar. On the other hand, yield strength is the amount of weight it takes to permanently deform or bend the bar. 
2. Knurling
Although weight trainers and weightlifters seldom talk about the knurling of a bar, it is still an important feature to look for when buying the best Olympic barbell. A good Olympic bar has a finer gauge in its knurling. 
Most weightlifters also prefer bars with knurling, like the Rogue Bar 2.0 that has dual knurl marks. But you don't have to buy Rogue Bar 2.0  or the Ohio Power bar line for that matter. Just consider those that have a bit more gripping on their surface. 
However, you may consider a knurl that is a bit duller so it won't injure your neck when you have to turn the bar during a lift.
3. Finish
Some of the best Olympic barbells either have chrome or black oxidized finish. Some are stainless steel. 
If you choose a bare steel bar without a finish, chances are you need to maintain it a lot so that it won't be prone to rust. 
However, with chrome finish, it protects the bar from rust but is usually expensive compared to zinc finishes, which come in bright or black finish options.
4. Sleeves
The rotating sleeves of Olympic barbells allow the plates to rotate as you move the bar. So, if you prefer a smooth lifting experience, good for spinning sleeves. 
Inside the sleeve of a bar, such as the well known Ohio Power Bar, are features that determine how much spin and bar can make.
The bearings enable a faster spin but they are usually costly. In case you can test the spin of a bar before purchasing, search for online videos that show the different spins of Olympic barbells.
5. Size of Bar
The length and diameter of bars are not the same and usually differs from women's and men's size. For men, the ideal weight of the bar is 20 kg/44 lb, length 220 cm/86.6 in, and diameter 28-29 mm. For women, the ideal weight of a bar is 15 kg/33 lb, length 201 cm/79.1 in, and diameter 25 mm.
What Workouts Can You Do?
In this section, we break down some of the most essential Olympic barbell exercises. Master these moves and continuously test your strength for total body strength.
Barbel stretches

– It is always better to begin your workout with a stretch. Take note of pec stretch, lat stretch, and T-spine mobility for 8 to 12 reps on each side.

Banded Barbell Glute Bridge

– For this exercise, you may have to wrap a mini band above your knees. Begin with 3 sets of 20 reps so that your body will be familiar with the movement. Then, gradually add more load as you perform another 3 sets of 8 to 12 reps.

Barbell Good mornings

– As you pick the best barbell of your choice, you can try three sets of 8 to 12 reps of Barbell good mornings. This exercise is good for your leg but makes sure that the weight will be manageable for your body.

Barbell Floor Press-

This upper body workout can be done in your home gym using the Rogue Ohio Bar or a barbell of your choice. You need to move to the floor for this exercise. Begin from a dead stop position and try three sets of 10 reps.

Tempo Squat –

For this weightlifting exercise, focus on staying on your midfoot. Keep the two seconds down and up the pattern and hit the four sets of eight reps.
Other workouts you can do with your Olympic bar includes Barbell Triceps Extension to Press, Barbell Jerk (full-body benefits), Olympic weightlifting Barbell Isolation Curl, Barbell Man Maker, Barbell Push Press, Core moves, and Barbell rollout.
FAQ
How much weight should I lift as a beginner?
Some things are intimidating to rookie weightlifters and it's understandable. But the technique is to choose weights that you are positive you can lift. You may start with the dumbbell test, which is a test of two 5 to 10-pound weights. 
Then, while your shoulders are flat against the wall, you aim for 14 to 22 reps. Raise your arms for a count of two and lower for a count of two. What this test does is fatigue your muscle until you feel that your bicep is straining. If you can't maintain good form before reaching 14 reps, use weights that are five pounds lighter.
The reps will dictate the load that you can lift. The goal should be homing in on the amount of weight that challenges you but at the same time allows you to perform the number of reps you decided in perfect form.
If you've had shoulder injuries before, begin by using dumbells for shoulders and chest and use the barbell for deadlifts and squats. The combination of both a heavier and lighter weight dumbbell will help build muscle mass. 
Once your muscle is stabilized, it will support your tendons and joints. Another way to know the right starting weight is to join a workout program or set up a session with a personal trainer so you know how to train properly and come up with a gym plan.
How will I know if I'm ready for a weight increase?
At some point in your strength training journey, you will likely notice that you can lift more than the usual reps. But adding the number does not necessarily mean humongous increases. 
Knowing when you are ready to increase weight is by watching your form and counting reps. A good rule to always remember is to still see if you can perform all the reps in proper form. 
Baby steps are good. 
Adding 2.5 percent of weight than your prior week is also ideal as it creates a balance between your body limit and pushing yourself.
Bottomline: Which One Should You Buy?
Make your time in your home gym worthwhile by using an Olympic bar. And our top recommendation among those on the list is the CAP 7-Foot Olympic Specialty Bars.  
Considering the high tensile strength and handgrip diameter of each variant, they are all-rounder barbells. 
The knurling, spin, and whip will also allow you to perform complex lifts, like clean and press or snatch. 
If you like this article, you might want to read our other reviews at Dumbbellsreviews.com.