Proper weight training is good for you. But if you're a beginner, the gym weight room can be an intimidating area. There's a lot of unspoken rules. There are lots of dudes and they have muscles! Then, there are the complicated-looking machines. 
All these things may make you think that even picking a weight is a daunting task. But really, it's not.  Some of the best approaches you can do when starting in strength training are to get one-on-one help from a qualified fitness trainer, have a plan, or invest in your gym equipment or workout stations, such as the Weider 2980 x Weight System.
It is a muscle-sculpting workout station for building lean muscle even in the comfort of your home. If you want to know more about the Weider 2980x Home Gym, read our in-depth review of this workout station, and know whether it's right for you.
TLDR: Review of the Weider 2980x Home Gym
Product Description
If you're looking for a high-quality go-to exercise system to build muscle strength and develop a wider back, then the Weider 2980x Home Gym is an ideal choice for you. 
It is designed with a lat bar and a high pulley in one workout station. There's also a preacher pad, a 4-roll leg developer, a chest fly, as well as a low pulley in one gym system.
The workout station also features an 80 lb. weight stack as well as a 214 lb. of resistance. So, if you want to elevate your strength and push past your current maximal level, you can take advantage of such a resistance feature. 
Another interesting feature that this full-body toning machine has is the ankle strap with a handle, which you can use during lower-body exercises. An exercise chart is likewise included in the package.
Pros 
Designed for a full-body workout

Exercise chart included

Resistance feature to tone and build muscles

High Pulley with Lat Bar Low Pulley

Reasonably priced

Excellent home gym equipment

Sturdy build

6 workout stations

214lbs resistance
Cons
Takes about 4 hours to assemble/install

The 300lb weight capacity limit may make it less sturdy for users heavy users

Makes noise
Is it worth it?
Yes, it is beneficial to invest in this home gym equipment as you will be able to access it at your convenience. Not only that, your whole family can use it when they're at home. 
Now more than ever, we're finding ways to stay fit even without going out. Investing in this 2980 x home gym may be the answer to your busy schedule as there are many exercises you can do with it.
In-Depth Review of the Weider 2980x Home Gym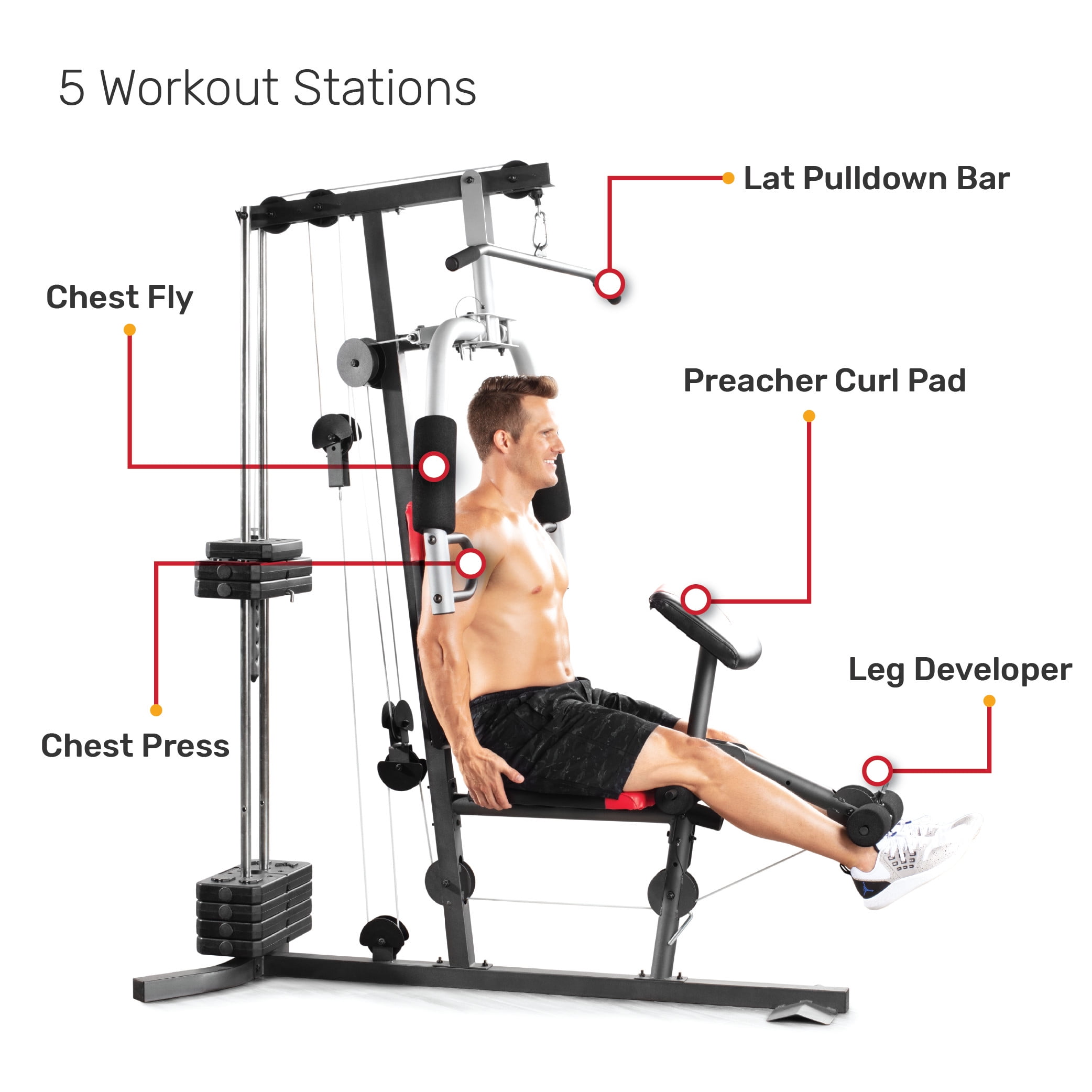 Specifications
Assembly Required Flag: Yes

Maximum weight capacity (lb.): 300

Product height (in.): 76

Weight stack (lb.): 80

Assembly Required: Yes

Product depth (in.): 65

Maximum resistance (lb.): 214

Product width (in.): 37

Possible exercises: 36+
Quality and Durability
This Weider Strength machine is made of steel and has an anti-corrosive double coating. 
Furthermore, to keep it stable during workouts, the machine has rubberized stabilizers while the seating area and pads are made of foam and covered with vinyl. In the pulley bar, heavy-duty nylon materials are used to ensure that it will last a long time.
Duty steel ropes are also used in this weight system so that it can withstand tension. However, it is important to make sure that all parts of this home gym are tightened securely each time you use the system.
Workouts and Exercises
You can perform more than 36 exercises using the Weider 2980 x gym system. In this section, we'll focus on the exercises based on the workout station. 
Using the chest press and the chest fly stations, you can perform workouts that target deltoid (triangular shoulder muscle) and pectoral (connect the front of the human chest). Using the high-pulley station with lat bar, you can train your back muscles, triceps, and shoulder. 
On the other hand, the low pulley station provides a wide variety of exercises, like seated rows, standup curls, and squats. In the leg attachment part, you can perform leg extensions. Then, in the curl pad attachment, you can perform biceps workouts while you're in a seated position.
These impressive array of exercises, when put together are the following:
Leg Curls

Leg Extensions

Leg Abductions

Leg Adductions

Kickbacks

Squats

Low Pulley Trunk Rotations

Deltoid Raises

Upright Rows

Horizontal Grip Chest Presses

Incline Chest Presses

High Cable Crossovers

Lat Pulldowns

Seated Rows

Vertical Grip Chest Presses

Seated Biceps Curls

Stand-up Biceps Curls

Preacher Curls

Concentration Curls

Triceps press downs

Triceps Extensions

Triceps Kickbacks

Ab Pulldowns
Additional Features
Aside from the exercise chart and ankle strap that is included in the product, there are no other accessories included. Yet, its compact size makes it ideal for fitness enthusiasts living in small apartments.
Warranty
Weider Strength understands that like other fitness equipment, their 2980 x home gym can be a huge investment to any facility. This is why it offered a 90-day manufacturer warranty for labor and parts of the item to protect your investment. This is the company's way of giving you peace of mind upon your purchase.
ICON Health and Fitness Inc, the parent company of Weider, also offers a non-extendable warranty if you are the original purchase of the unit. ICON warrants that what they send to their customers is free from defects in both material and workmanship.
Who is it Best for?
This Weider 2980 x home gym is best for people with busy schedules but still want to maintain their form or build muscle. 
Just consider the travel time to and from the gym,  packing and unpacking your gym bag, and waiting in line for machines, a 30-minute workout can easily turn into two hours. 
This home gym equipment, on the other hand, will give you an effective and stress-free workout in half the time. 
It is also ideal for beginners in strength training since they will have more freedom to exercise what works for them.
What Do People Say About it?
Amazon 
Dale Lowery from the US shared on Amazon that the 2980 x home gym is an "awesome product." Now that he has it at home, he no longer has to pay a monthly fee, like going to the gyms. "Thank you Weider for keeping it real," he added.
Another Amazon user who goes by the name of CaroljPatterson warned, however, "This box is sooooo heavy. It will take a couple of men to move it."  Otherwise, she said that it's a quality duty exercise system and "works great" too.
YouTube 
Review Tube YouTube channel, which is composed of fitness experts who spend days researching home gym products, also mentioned the 2980 x home gym. "This equipment can fit into your room without sacrificing a lot of space," it said.
In another YouTube channel Said Online, it showed how to assemble the Weider 2980 x weight system and many people thanked him for such a "great video" as some of them made a mistake in assembling my relying on the instruction manual. 
YT user Rick Khosla said that he doesn't like reading the company brochure. "Poor job by the manufacturer but A1 by you. Thanks and my salute."
The Verdict: Should I Try It?
At an inexpensive price compared to higher-end models of home gym systems, the Weider 2980 x gym equipment provides a full-body workout and is a good starter system for beginners and intermediate users. 
You no longer have to pay expensive annual gym membership to target certain muscle groups in your body as this machine is a good alternative. You can also exercise at your own pace at home.
When you factor in the build, quality, price, and the number of exercises you can do with this Weider 2980 x home equipment, we believe it is worth it.
Like what you're reading? You may want to read our other reviews at Dumbbellsreviews.com.