Think back to when you were a child; when climbing trees and rocks felt like second nature to you. Do you remember the sense of accomplishment and feelings of pure joy that you'd experience after reaching your goal? 
You can recapture that unique feeling of jubilation you experienced as a kid, and that mountaineers experience every time they summit a peak, with a vertical climber machine from the comfort of your local or in-home gym. 
Vertical climbers combine aerobic, cardio, and strength training to provide you with a full-body workout you're sure to feel the next day(1). A popular vertical climber on the market today is the Maxi Climber, but you may be wondering if it's the right machine for you or if it's going to be worth your investment. 
Keep reading to learn more about the Maxi Climber and to find out what it can do for your workout.
TLDR: Review of the Maxi Climber
Product Description
Maxi Climber is the original patented vertical climber that allows you to tone your entire body through aerobic exercise, weight resistance, and gravity, by simulating the same movements as rock climbing.
The Maxi Climber comes with access to the Maxi Climber Fitness App, providing you with a 21-day meal and workout program, an on-demand personal fitness coach, and the ability to track and share your progress. (3, 5)
Pros 
Adjustable height allows users up to 6.2 ft tall, 240 pounds for the Maxi Climber Classic, and users up to 6.6 ft tall, 300 pounds for the Maxi Climber XL-2000

One machine gives you the same workout of multiple pieces of equipment so that you can save space and money

Arrives 90% pre-assembled, so you don't have to worry about a long, complicated set-up

100% Money-Back Total Satisfaction Guarantee promises you a refund or exchange within the first 30 days of your purchase
Cons
Maxi Climbers use plastic rollers to support the bodyweight of the user, so they're more likely to break the closer you are to the weight limit

The Maxi Climber XL-2000 comes with a mobile device holder and accommodates varying levels of resistance, the Maxi Climber Classic does not
Is It Worth It?
Yes. The Maxi Climber Classic allows for a full-body workout, regardless of your fitness level, in a compact and affordable package. It's sleek silver and black design also makes it ideal for most in-home and professional gyms aesthetics.
Buy It On Amazon
Click here to check out the Maxi Climber Classic official Amazon listing. Or, you can click here to see the Amazon page for the Maxi Climber XL-2000.
In-Depth Review of the Maxi Climber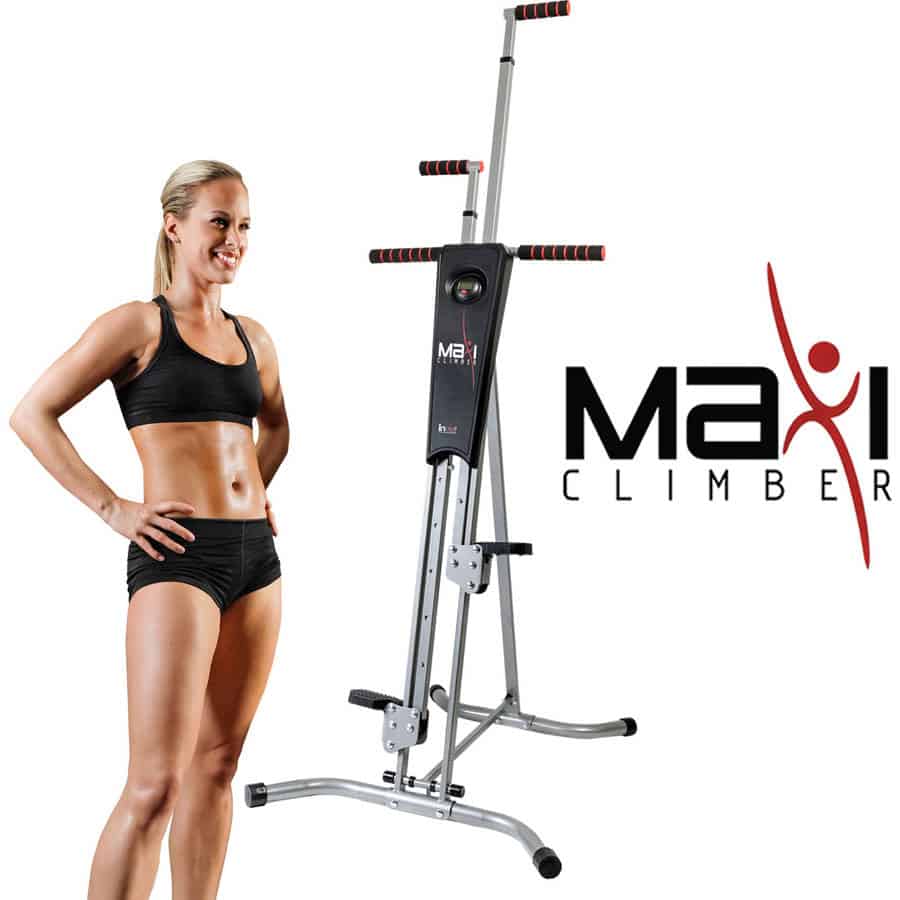 Size and Dimension
When fully assembled, the Maxi Climber Classic has a footprint of 28.3 x 35.82 in (71.88 x 90.98 cm), and the Maxi Climber XL-2000 has a footprint of 25.78 x 41.33 in (65.48 x 104.98 cm). 
I recommend a space of at least 3 x 3.5 ft with 8.5 ft height clearance for the Classic and the XL-2000 just to ensure you're not in danger of hitting any of your other fitness equipment. The Maxi Climber Classic only weighs about 33 pounds and supports users weighing up to 240 pounds and shorter than 6.2 feet tall. 
The Maxi Climber XL-2000 weighs 51.6 pounds and is ideal for people weighing up 300 pounds and as tall as 6.6 feet. You can adjust both the Classic and the XL-2000 to accommodate reaches as high as 8 feet. 
Quality and Durability
The Maxi Climber Classic and Maxi Climber XL-2000 vertical climbers feature a premium, high-grade aluminum frame for maximum durability and lightweight transport. You can also fold the vertical climber when they're not in use for easy storage in your in-home gym, garage, or shed.
Additionally, the Maxi Climber XL-2000 offers 12 levels of resistance through its bi-directional hydraulic system and its redesigned high-friction roller mechanism. Both vertical climbers also use rubber stoppers on the base to prevent any scratching or damage to your floors. 
Workouts and Exercises
The Maxi Climber Classic and the Maxi Climber XL-2000 provide you with a low-impact, total upper and lower body workout in one full-package vertical climber machine. 
A vertical climber mimics the movements of rock-climbing so you can get the aerobic and cardio benefits of high-intensity interval training, without the risk of climbing actual mountains and cliffs.
Consider this, in a study comparing the Maxi Climber to a traditional treadmill, participants burned 509 calories per hour of exercise on the patented vertical climber, as opposed to only 250 calories burned per hour on the treadmill. 
And, if that wasn't remarkable enough, those in the study who used the Maxi Climber achieved up to 45% more afterburn calories than those who used the treadmills. 
Furthermore, both Maxi Climbers come with free access to the MaxiClimber Companion Fitness App available in the Google Play Store and the Apple App Store.  The MaxiClimber Companion Fitness App lets you track your workouts and share your progress along the way. 
The app also gives you a 21 Day Maxi-Challenge Program and four customized exercise routines that you can use with over 80 recipes to maximize your weight loss. 
Additional Features
Digital step counter

Digital calorie counter

Workout timer

Foldable for easy storage

Adjustable height

Includes access to the MaxiClimber Companion Fitness App

Home delivery and quality guarantee

Isometric non-stick grips

The ergonomic design makes it suitable for all body types
Warranty
The Maxi Climber Classic and the Maxi Climber XL 2000 come with a one year warranty in case you experience any issues or defects with your vertical climber. 
Both Maxi Climbers also come with a 30-day Satisfaction Guarantee so that if you're not happy with your purchase, you can get an exchange or a full refund, risk-free. Just make sure you contact Maxi Climber's customer service within 30 calendar days of your purchase.
Who Is It Best For?
Although both Maxi Climber vertical climbers are suitable for use for any level athlete, they're best used by those in the beginner or intermediate ranges. While expert athletes can use vertical climbers and may benefit from them, beginners and intermediate level athletes tend to see better results more quickly.
What Do People Say About It?
At this point in the review, you already know that I'm a fan of the Maxi Climber. But you don't have to just take my word for it, here are some reviews from people who also have purchased and tried the Maxi Climber vertical climbers.
Amazon
William I. Dube, a Top 500 Reviewer and verified purchaser of the Maxi Climber Classic on Amazon writes, 
"Just put this in front of your TV and use your MaxiClimber while watching the tube… your upper body and lower body will get toned up in no time." William goes on to recommend that you "get at a minimum a vinyl carpet runner 28″ x 60″ to protect your floor or carpet from all the sweat that will be pouring off your body."
Another Amazon user and verified purchaser, Georgia L., had this to add, 
"When it says total body workout it means it! This thing is a beast of a machine for being as simple as it is. It places a lot of emphasis on your core, and remarkably works all parts of your upper body." 
YouTube
Review Nation, a creator on YouTube, says. 
"I live in a tiny house, so every inch counts and this climber folds up neatly and slides right into my closet.
It's only 57 inches tall and folds up to just about 4 inches wide" in his review. He goes on to say, 
I try to spin a wheel for my bike but dragging a bike into your house every time you want to workout kind of defeats the purpose of convenience. The Maxi is just an easy few seconds to pull it out of the closet and open it up." (10)
The previously mentioned Amazon user, William I. Dube, also posted a video review on YouTube using his handle, Bill Dube. In his video review of the Maxi Climber, he says, 
"It comes with a great user manual, the Maxi Climber 21-Day Challenge, and Climb Your Way to Fitness… There's a lot of good information in the manual. It's a quality product, great customer support… Oh, by the way, I've already lost 3 pounds on this thing and only been using it for five days." (11)
The Bottom Line
The Maxi Climber is the leading vertical climber for a reason. Maxi Climber's dedication to using top-tier materials makes this vertical climber stand out from the crowd of fitness equipment with unmatched durability and quality at a price anyone can afford. 
And, the small footprint and easy compact design, make Maxi Climbers perfect for virtually any size living space.
The Maxi Climber Classic and the Maxi Climber XL-2000 are worthy investments. I recommended choosing the Maxi Climber Classic if you're looking to improve your physique with a low-impact, low-maintenance daily workout machine. 
And I recommend the Maxi Climber XL-2000 if you're under 6.6 feet and 300 pounds but over 6.2 feet and 240 pounds, with the same goals. The question is, are you ready to embrace your inner rocker climber?
The Cheapeast place to get the MaxiClimber from is this seller on Amazon.
If you like this article, then you may be interested in this article on The Best Manual Treadmill. You can also check out our other reviews on Dumbbellsreview.com.
Similar Articles: