Disclosure: Dumbbellsreview.com is reader-supported. This means that if you should purchase something through my site, I may earn commissions. Learn more.
When it comes to strength training exercises, squats are the king. You can perform this exercise as both weighted and unweighted. However, doing this requires a power rack.
To make the most out of this movement when you're exercising at home, you better do it underneath a barbell. It's also important to remember that you must do squats safely and effectively. 
Understandably, squat racks can be costly, so the best option is to look for affordable alternatives. Luckily, many fitness brands produce and sell cheap but top-quality squat racks.
If you're interested to know more about the best budget power racks, keep on reading. 
Top 5 Best Budget Power Racks for the Budget Conscious Person
Price $399.95
Product Description
The TDS Power Rack is a squat cage that is considered the budget power rack for powerlifters. It has several excellent features, including a 2-inch adjustment spacing numbered at every hole. It also has a knurled chin-up bar, solid steel safety bars, and side bracing J hooks.
The best part about this power rack is that it has a weight capacity of 1000 lbs and an 11 gauge steel, which means it is thicker and super durable for overweight people. Its dimensions are 48.5″ x 48″ x 82.5″. It has a total of 31 holes with two inches apart and numbers for adjustments.
Pros
1000 lb weight capacity.

11 gauge steel and Solid steel safety bars.

It has adjustment holes 2 inches apart and numbered.
Cons
The J hooks are not very long.
Price  $89.99
Product Description
The Yaheetech Adjustable Squat Rack is another perfect option for those who love performing various workout routines aside from squats. You can make your home gym a safer place to lift and perform other exercises with this power rack, which is perfect if you lift alone without a spotter.
One thing to admire about the Yaheetech Squat Rack is that it is easy to assemble and a compact solution for casual lifters. If you're new to squat racks, this is also another good affordable option for you.
Pros
Can hold up to 480 pounds

Includes adjustable spotters, 5 centimeters between each adjustment

It has a barbell shelf on top

It offers rubber feet, which protect the floors in your home
Cons
J hooks are a little short

The stand must be completely level to be stable.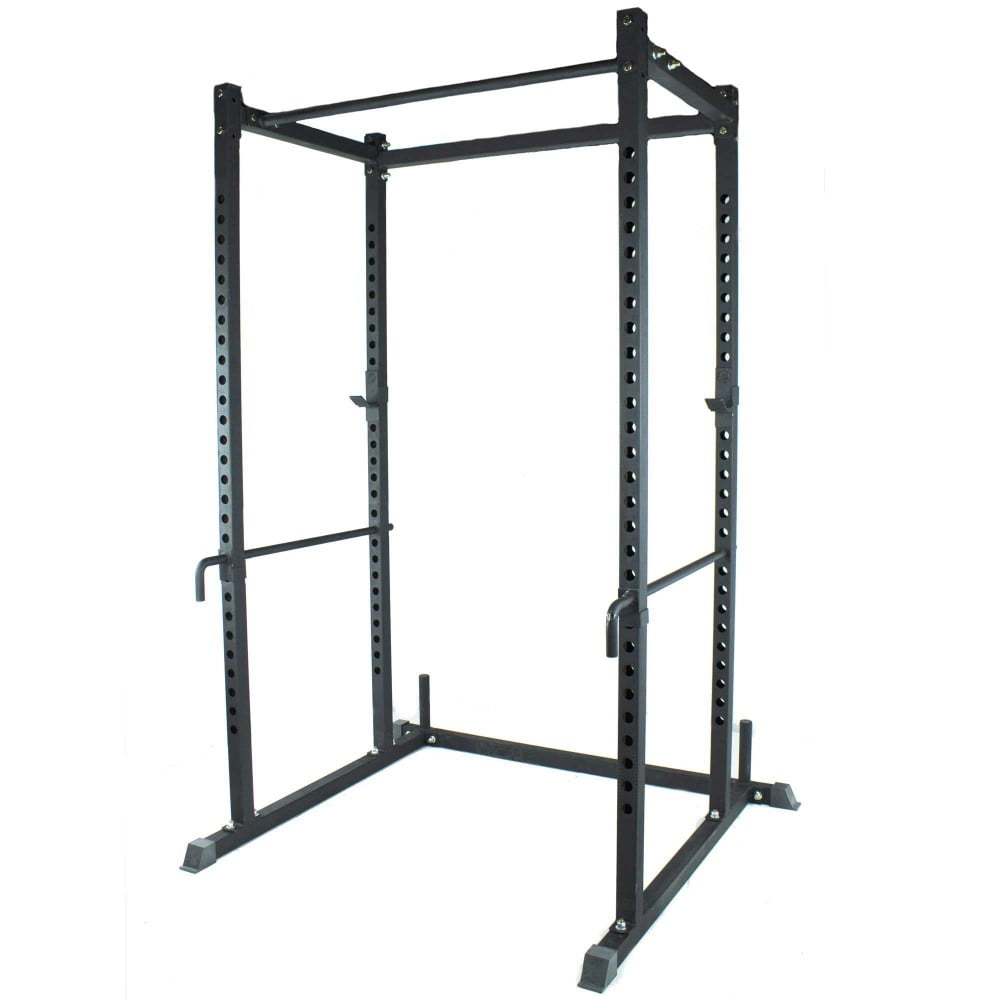 Price $599.95
Product Description
If you're looking for a squat rack with a useful improvement form, the TDS Power Rack Squat Cage is a great option. Working out is about strengthening your muscles, which is vital to practice good condition when lifting weights.
The TDS Power rack is designed to provide you safety and comfort. A vital feature of this squat rack is that it allows you to perform various exercises and workout routines. Aside from squats, you can also do curls, chin-ups, and deadlifts. You can again do bench presses by placing a bench underneath. With this power rack, you'll indeed be looking fit in no time!
This power rack's gauge steel is known for its ability to support loads without bowing or bending. It can withstand up to 700 pounds. That's right, which means this squat rack offers increased support, no matter how many weights you lift. So, if you're looking for a squat rack that provides you all the strength training that you need, the Titan Power Rack is what you might be looking for.
Pros
Provides safety and comfort

Allows you to perform various exercises and workout routines

Features durable construction

Shipping is included in the price.

Fast Shipping

It has a short (6ft) and tall (7ft) version

Has a solid construction

Can weigh down the power rack by putting 45s on back weight holding pins

Great add-on options

2 inch spacing between safety bar hole
Cons
Might wobble unless weighted down

Pull up bar doesn't extend high over the squat rack and so it can feel a bit short for tall people

Can handle 300 pounds less than the Rep Fitness power rack
Price $859.99
Product Description
The Merax Athletics Fitness Power Rack is a little more expensive than the other affordable racks. However, this power rack includes a few impressive features such as a weight capacity of 800 pounds on safety bars, a low row cable, a lat pull, and a bar. It offers enough room to accommodate you and a spotter.
This power rack offers 21 various positions for bar supports ranging in height from 17.5″ to 68″, a lifetime warranty on frame, and 2-warranty on parts.
Lastly, The pull-up bar and the lat bar are both knurled for a good grip. Other extras, such as padded utility bars and weight pegs, make this rack an excellent value for your money and a perfect addition to your home gym.
Pros
Has a weight capacity of 800 lbs

Includes a 2″ x 2″ sturdy steel gauge and four solid steel chrome adjustable weight bar supports

Features a built-in pull-up bar, safety spotter, lat pulldown, and a low row attachment.

Has twenty-one variable positions for bar supports ranging in height from 17.5″ to 68."

It has a Solid Steel Chrome pull up bar with knurled grips. The construction stands 85″ tall with an inside depth of 45."

Provides a lifetime warranty on frame and 2-year warranty on parts
Cons
The catches are uneven, which causes the barbell to roll forward a bit. 
Price $285.99
Product Description
If you're looking for a squat rack that will not take up too much room and is easy to move around, The Valor Squat Rack is an ideal option for you. 
This squat rack by Valor holds a weight capacity of up to 500 pounds. Its safety catch and good bar catch are height adjustable, making it suitable for individuals of different sizes. 
It also includes bottom pegs to secure the stands and can hold 6 to 7-foot barbells. This feature is also perfect for storing your weights when not in use or once you're done working out.
Pros
Includes adjustable bar supports, two hook catches, and two safety catches.

Each stand has one weight peg for both rack stabilization and weight storage

It is flexible to accommodate both short and tall users.
Cons
Adjusting the height of the stand is time-consuming.
What to Look for in a Cheap Squat Rack?
Squat racks come in different brands, types, and models. Before you rush to the mall and buy yourself a power rack, here is a list of features that you need to consider first when looking for cheap squat racks. This step is necessary to ensure that there is value in your money spent.
1. Weight capacity
Ideally, you'd want to buy one that will allow you to perform various exercises or workout routines despite your weight. This feature is essential for safety reasons, so it's best to look at the manufacturer's maximum load up to 500 to 1000 pounds.
However, if you're only starting, you can choose squat racks with low weights. But if you're more experienced, a high weight power rack is the best option.
2. Steel gauge
Another factor to consider is the gauge of steel that is used in the squat rack. The thickness of the squat rack is essential since this will depend on the amount of resistance, safety, and support it will provide you.
One way to look for a squat rack with a robust steel gauge is to look at its number. The rule of thumb is that the higher the steel gauge number, the thinner the squat rack is. If you find a squat rack with a steel gauge number of 14, it is lighter than the number 12.
3. Spacing of the Adjustment Holes
The spacing of the adjustment holes is another detail you need to consider when looking for inexpensive squat racks. This feature is essential since the possibilities of customizing the safety bars' height are broader when the holes are close to each other.
However, adjusting the height when placing the bars will be very uncomfortable if the holes are widely spaced from each other.
4. Space Consideration
Whether you live on your own or with housemates, it's essential to consider your space before buying a squat rack. When choosing an economical squat rack, you must also bear in mind its size.
If you've ever been to a neighborhood gym, you'll notice that you do not see these kinds of equipment. They only support a little weight because they are not suitable for those kinds of places. 
If you plan to build your home gym, it is suitable for you to invest in an affordable squat rack. However, you still need considerable space before buying a power rack. So, it's best to analyze the space you have at your place first.
So, Which One Should You Buy?
Squats are the best type of exercise when it comes to strength training. However, if you want to make the most out of this movement, it is best to invest in a squat rack for your home gym. However, squat racks can be expensive, so the best option is to look for affordable alternatives. 
We highly recommend the TDS Power Rack Squat Cage. It includes impressive features such as a weight capacity of 1000 pounds and an 11 gauge steel, making it thick and durable enough to use for fitness enthusiasts.
If you like this article, you might want to check out our other articles at Dumbbellsreviews.com.