Disclosure: Dumbbellsreview.com is reader-supported. This means that if you should purchase something through my site, I may earn commissions. As an Amazon Associate I earn from qualifying purchases. Learn more.
At DumbbellsReview.com, we're beyond passionate about dumbbells, so much so, we put them in the name. And though we cover a wide variety of topics in our blog and all types of fitness equipment in our reviews, we definitely have a soft spot when it comes to dumbbells.
If you've read our Bowflex Home Gym Review, then you're already well aware of the Bowflex home gyms' stellar reputation and signature lines of workout machines and weights. 
But, how do they compare to Soloflex, another long-standing brand with an equally strong history of high-performance gym equipment?
Keep reading to find out more about Soloflex vs Bowflex home gyms and see how their lines of adjustable dumbbells really stack up.
TLDR: Soloflex vs Bowflex
Prices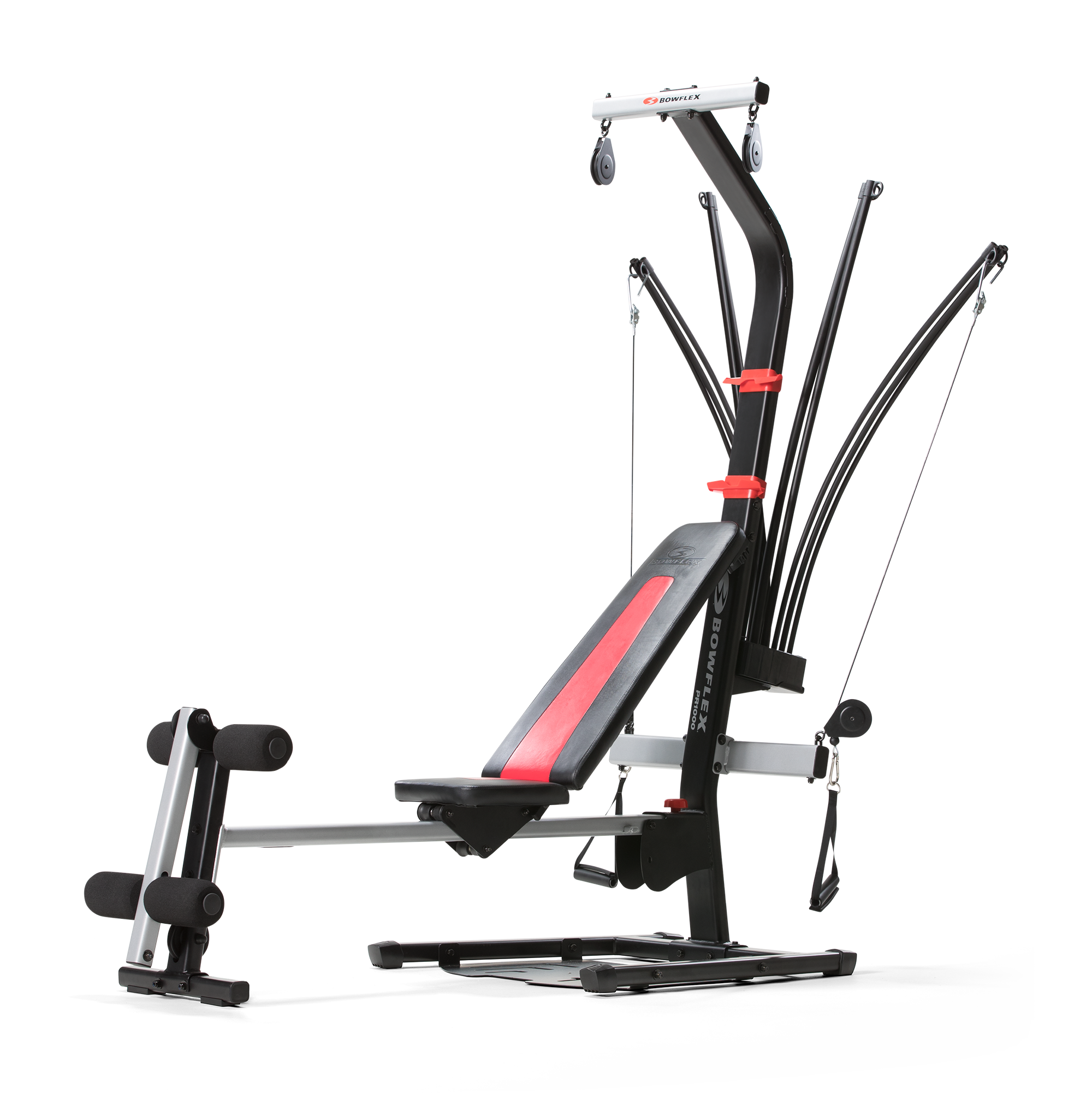 The Bowflex home gym is an affordable set. This is a great buy if you consider its potential and amazing features of this machine. 
Soloflex 
On the other hand, the Soloflex machines are more expensive. However, it provides good value for your money and has received excellent reviews from famous personalities. 
Product Descriptions
The Bowflex PR1000 Home Gym has a unique weights system and has the potential to perform more than thirty exercises at resistance levels of 5 to 210 lbs.
To increase weight, you have to slide a pin into a certain weight plate. The stack of plates would move up and down, and occasionally smack into each other with a sharp clang whenever you perform an exercise.  
Another thing to admire about this equipment is that it has durable, rubberized power rods bent as the cables pull, which provides you resistance.
Soloflex Muscle Machine
The Soloflex machines work out your limbs and core and can easily fit your place. This equipment may be more costly than the previous one, but it has garnered a lot of positive reviews from athletes and personalities like Mitch Gaylord or Arnold Schwarzenegger.
This might be of good value for your money since not all gym equipment can give an intense but satisfying workout. Its ergonomic design screams good quality that will make you want to try it out. 
Special Features
 84 inches long, 38 inches wide, and 81 inches tall

Seven feet in length

Order comes in parts, which requires you to assemble it

Includes a complete weight bench, with roller cushions for leg extension and curls

Bench also resides on sliders, allowing you to perform traditional rowing

Has a maximum user weight of 300 pounds

Includes a lateral pulldown bar and a horizontal bench press bar

Includes two workout routines (with videos) on their website

Seven trainer-designed exercises are included in the box

Amazon grants the option of ordering it fully-assembled
Soloflex Machines
Has a range of exercises to give you an intense full-body workout experience

Comes with a range of free weights from 2.5 lbs to 405 lbs

Solid build quality lasts a lifetime

Unique floating barbell

Comes with a variety of add-ons and attachment options

GIves you better power fitness routines through the floating barbell

A good squatting exercise machine

Flexibility comes with a full-size adjustable bench
Best Uses
Bowflex
The Bowflex PR1000 is an affordable equipment that allows you to try a variety of full-body workouts. The sliding bench aspect of the Bowflex is really attractive, which makes it a strong, reliable component for your home gym.
So, if you are on a budget while looking for a machine that still offers amazing features, the Bowflex PR1000 might be exactly what you're searching for.
Soloflex Muscle Machine 
The Soloflex machine provides a set of great features. Unlike other brands, the Soloflex is easy to assemble. Another thing to admire about this equipment is the stable build, which allows users to do vigorous exercises. 
Compared to the Bowflex, it is quite compact and can easily be set aside or fit in a corner when not in use. Therefore, you don't need too much space for this equipment. 
Bowflex vs Soloflex: Which One Is Better?
So, between the Soloflex vs Bowflex home gym, which one should you buy and why?
Before making a purchase, you need to consider what type of exercises you're planning to do. Another thing that you must consider is if you have enough room or space in the place you're living in.
If you have enough space, you can buy the Bowflex home gym since it benefits people who have it. This equipment also allows you to disassemble it so you can easily store it when not in use. It's another good option if you're on a budget.
On the other hand, if you're looking more into value rather than the price, the Soloflex is another option to look at. Soloflex allows you to perform various workouts and exercises. 
Soloflex vs Bowflex – What Do People Say?
Amazon Reviews
Bowflex
One customer named Rich S gave the product a high rating and calls it a "great product." He writes in the comments,
"I bought this a year and a half ago and it has been great. I'm a 30-year-old former athlete that has fallen out of shape. This unit helped me build a little muscle and get back into formidable shape."
He also adds, 
"I use it 2-3 times a week and it has held up well. However, I will probably have to replace the resistance rods in the next 6 months to a year. The reason I only gave it 4 stars is that the rods will need replacing and the weight limit."
He then sums up his review by saying, 
"Bottom line, if you don't like going to the gym, want something that doesn't take up a ton of space and your goal is not to enter a bodybuilding competition look no further."
Another customer with the username Solom01, 
"I've had this for about 2 years. During that time I've used it every other day and it works as well as it did when I first got it. This isn't going to turn you into a bodybuilder, but by using it for 1-hour workouts consistently it has done a great job of keeping me in decent shape." 
He also adds more insights by saying,
"Like any exercise equipment it's going to take discipline and effort (if you think 15 minutes twice a week is going to work, good luck), and the leg press simply doesn't have enough resistance for even a weak man, but outside of that it's well built, easy to use and has enough exercises to give your whole body a good overall body workout."
He also added one downside of the product by sharing, 
"There was one broken piece when I got it, but their customer service got me a replacement piece quickly when I called them."  
YouTube Reviews
Bowflex Home Gyms 
A YouTube channel named The Stones Unturned Podcast made a review on the Bowflex PR1000. Professor Thomas Henry Horan, who is one of the hosts of the show, shares that being someone who is in his mid-50s is one of his reasons to buy the product.
He shares that he needed a way to regain and keep some of his muscle tone that wouldn't put a strain on him. He then shares why he likes the Bowflex gyms by sharing, 
"It really is easy to connect the cable-pulley system to these resistance bars. You can do this by yourself, it is really smooth and quiet." 
He also shares that it took him about an hour to assemble the equipment, so you might want to seek assistance if necessary.
One of the features that he really specifically likes about the equipment is that it comes with a bench, which can be set in a 45-degree incline or just put off the way. You can either do a variety of exercises by standing or sitting.
Another feature that he likes aside from the bench is the leg extension. Not all Bowflex models come with it though. 
Another YouTube channel named FitBodyBuzz created a review on the Bowflex gyms. 
"The main feature of the PR1000 is that instead of using free weights to create resistance, the user can achieve the same using polymer rods that are far more flexible. They are known as power rods in this equipment"
They add, 
"Besides this, there is a combination of ankle cuffs, proper hand grips, and rollers that assist you in performing an appropriate upper body and lower body full workout to strengthen your muscles. The reason for using power rods instead of pulleys and free weights is that they are lightweight and are more compact, making them easier to use."
Soloflex Muscle Machine 
For the Soloflex, a YouTube channel named The Fat Ninja created an initial impression of the product after utilizing it 2 times. Unfortunately, he already found the equipment frustrating. One of them was the bench. 
"I bought this Soloflex because I needed a bench for my power blocks," he says. However, he immediately found it frustrating right off the bat. "This bench is tiny. I sit on the end of the bench, put my dumbbells on my hand, on my knees, drop down and I have to watch out. I don't bump my head on this bar."
He concludes that using it was not that great. Another feature that he pointed to is the bands. "The resistance at the beginning is like zero and then exponentially goes up and peaks swing it, ready to slingshot back."
The Verdict: Which One Should You Try?
Staying fit and healthy are some of the most important factors to maintain a healthy lifestyle. Investing in a gym membership isn't the only option to achieve that. One way is to start a home gym and invest in your own equipment.
We highly recommend the Bowflex PR1000 which is ideal for those who have enough space in their homes. You can perform over 30 exercises for a minimal cost. It can be ordered in parts or fully assembled. 
If you like this article, you might want to read our other reviews at Dumbbellsreviews.com.