Founded in 1984 by two guys named Hal and Ernie 1 which they sold in 2014 to Irish conglomerate Glanbia for $150 million, Isopure is best known for their zero to low carb, high-quality protein powders. And one of their more unknown products is their Isopure Infusions protein powder.
Luckily, I was able to get a hold of packet for testing. And, no this review is not sponsored in any way. Anyways, read on for my Isopure Infusions review.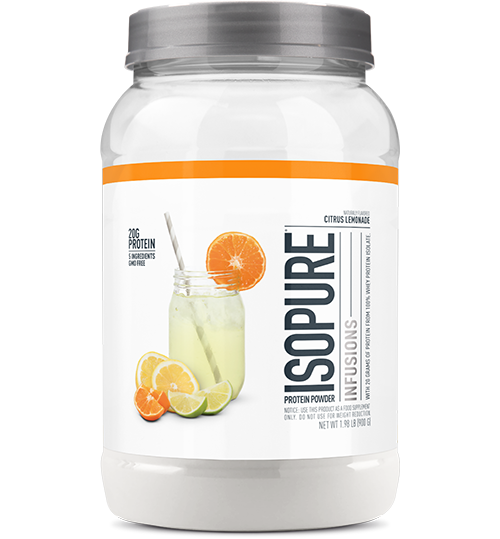 What's different about Infusion? Well, it's made to be a "refreshingly light fruit flavored experience" without any unnecessary ingredients. It's also made to be mixed in water – no milk! – which has some advantages if you're always on the go.
It's also a simplified product in that it only has 5 ingredients, no fat or added sugars, 20 gram of protein, and only 90 calories per 25g serving.
Protein 2 and by extension protein powder is the necessary component of muscle building. While food contributes (or should) the vast majority of your protein intake, sometimes you can't enough protein via your diet. That's where protein powders like Isopure Infusions come into the picture.
---
Packaging
As I mentioned in my ON Amino Energy Review, I don't really put a lot of stock in packaging. However, it is nice to be able to quickly, clearly, and easily see all relevant information about a product.
And, like most large companies, Isopure does a good job here. The packet (or container) itself is bright with a subtle splash of color, which help denotes the flavor profile of the protein. And the font is clear and (fairly) easy to read with all relevant information available.
Overall, it looks clean and professional and does a good job in keeping with their overall brand.
---
Nutrition Facts
Here's a quick view of the nutrition facts –
As you can see, it's technically not a zero carb or a zero sugar protein powder, but its pretty close as it only has 2g of total carbohydrates with zero fat and zero added sugar. So, if you're on a low-carb or Keto diet you should be able to use this powder.
---
Ingredients
Manufactured in the USA, Isopure wanted to strip out all the "unnecessary" ingredients. And to that end, the ingredients are simple as there's only 5 ingredients in Infusions protein. There's also 90 calories per scoop, almost all of which is from the 20 grams of protein in each serving.
Here's a quick picture and breakdown of the ingredients (again):
Whey Protein Isolate
Natural Flavor
Citric acid
Steviol Glycosides
Fruit & Vegetable juice (for color)
First off, whey protein isolate – for those that don't know – is a particular "clean" form of protein and has many advantages over some other types of protein. It's a good addition and in-line with some other Isopure products.
Citric acid is used to help preserve perishables and/or to add some taste (sourness). There is a study showing it can change the structure of protein, but I haven't read or seen anything showing any impacts to that. Citric acid occurs naturally in citrus fruits and is also classified by the FDA as GRAS (generally regarded as safe).
Now let's talk about Steviol glycosides, which are just the chemical compounds responsible for the taste of the Stevia leaf and other related species. There about 40 different ones, none of which generate a glycemic response as humans can't metabolize Stevia. That means the Stevia doesn't cause a blood glucose response after consuming them which could be beneficial to diabetic or pre-diabetic users.
In short, though, you can think of Steviol glycosides as a Stevia leaf extract in which the glycosides are extracted from the stevia plant in much the same way sugar is extracted from beets or cane.
Natural flavor can be used to hide some potential bad chemicals. However, according to the packaging, the natural flavor in Infusions are from "pineapple, watermelon, and mango" and used for taste.
Personally, while I avoid artificial sweeteners I don't really worry too much about natural flavors (or artificial flavors). But if you're worried or concerned about them, you're better off skipping this product and using a different protein powder.
While I don't see soy listed as an ingredient, the package does say it "may contain soy." Generally, soy is added in the form of soy lecithin but, again, I don't see that listed as an ingredient. My guess is that it's manufactured in a facility where they also have other soy products but, so far, I haven't been able to confirm that.
And, lastly, according to Isopure, all ingredients are non-GMO. Infusion protein is also gluten free, lactose free, and free of artificial flavors, artificial colors, and artificial sweeteners. So if you're looking to avoid "fillers", this is a (potentially) excellent choice.
---
How To Use / Dosage
Like basically any other protein powder, using the protein is straight forward. Simply get 10-16 oz of water in a shaker bottle, add a scoop (or packet) of Infusions protein, and then give it a pretty vigorous shake.
After that, wait out a minute for the natural foaming to settle down and then, according to Isopure, "watch as it gradually clarifies into a colorfully translucent refreshing and refreshing protein beverage."
While you could use this with juice (or, ugh, milk), Isopure Infusions is really designed to be used with water. Not only does this same you extra calories, it's definitely easier to take your protein with you wherever you go.
Mixability
So, in still with the recommendations, I grabbed about 12 oz. of water and dumped the packet into it. Now, the directions very clearly mention to shake the protein, don't stir.
So I gave it a pretty hard shake for about 20 seconds and then let it rest for about a minute. You can see what it looks like in the picture on the right.
As you can see, there was a LOT of foam even after a minute. Did I shake too hard? Maybe. I ended up waiting another 5 minutes and almost all the foam dissipated, as you can see below.
I didn't see much in the way of clumps – although there was one or two small ones – or even a milky color. Instead, it had a nice light pink color 3 I had tropical punch flavor consistent with the flavor of the protein.
Overall, mixability was good and better than expected.
---
Taste
Isopure Infusions comes in multiple flavors – Tropical Punch, Mango Lime, Mixed Berry, and Pineapple Orange Banana. While mango lime sounds the most unique to me, I was only able to snag the tropical punch.
After mixing with water, I gave it sip. And, well, it was decent albeit not great. I've certainly had worse and it's definitely drinkable. It does have a slight tropical punch flavor but it's more sour than expected. Now, I don't mind sour and I'd rather not have it overly sweet but it could use a little more sweetness.
On the plus side, it doesn't taste artificial to me, unlike a lot of other products. Maybe a better word is processed. The overall taste is similar to some of those flavored packets that are made to dump into your disposable water bottle.
While it's not a "refreshing drink" in the same way a Gatorade may be, it's not bad (although it's not amazing either). It's certainly drinkable and it's definitely different from your typical chocolate or vanilla flavored products. If nothing else, I give Isopure points for developing something novel and not just trotting out the same old product.
---
Value
A typical container contains about 16 servings, each one about 25 grams. There is a larger container with 36 servings. The smaller one typically sells in the $25-$27 range in Amazon, while the large goes for around ~$45.
If you do the math, that's about $1.25-$1.75 per serving, which is a little bit pricey but not out of the realm of other powders. Personally, around $1 a serving is what I'd consider a good value.
On the flip side, you are getting a higher quality whey protein isolate and you're also paying extra for the simplicity of the ingredients 4 and, let's face it, the marketing so the value here is decent.
---
Summary
Standing in contrast to the typical milkshake like protein drink, Isopure Infusions is – once mixed with water – a (somewhat) fruity, lightly flavored whey protein drink.
Isopure Protein Powder, Clear Whey Isolate Protein, Post Workout Recovery Drink Mix, Gluten Free...
Isopure Protein Powder, Clear Whey Isolate Protein, Post Workout Recovery Drink Mix, Gluten Free...
Made with whey protein isolate and a form of stevia leaf extract and containing only 5 ingredients, it's a somewhat unique protein powder in a world filled with knock-offs.
While not the cheapest protein powder, it is a good way to get additional protein in your diet without a bunch of unnecessary calories or fillers. While you should always try to get the majority of protein from high-quality food, Isopure Infusions is a good way incorporate additional protein in (a convenient and easy manner!) your daily diet.
I hope you enjoyed this Isopure Infusions review! Now for the final rating…
---
Isopure Infusions Review Final Rating