One of the most common reasons why people consult a doctor is because of back pain. Most of us have suffered from various tension and pain problems in our back, such as our shoulder blades, upper back, middle back, and lower back.
Poor posture is one common cause of why we suffer from lower, middle, and upper back pain. So, if you're guilty, then you might want to start properly sitting from now on. However, this can also be exacerbated by long runs and a heavy load of training.
There are many new ways for upper, lower, and middle back pain relief that does not require going to a doctor, such as stretching. However, you can also invest in a piece of gym equipment like the Chirp Wheel.
Originally seen on ABC's hit show Shark Tank, the wheel aims to ameliorate the all-too-commona back pain. While it may not be as versatile as the traditional foam roller, it does includes a lot of amazing features.
If you're interested to know more about the Chirp Wheel review, keep on reading. We've made an in-depth review including the price, product description, pros and cons, and even customer reviews to help you decide if you should buy one for your home or not. 
TLDR: Chirp Wheel Review
Product Description
The Chirp Wheel, formerly known as the Plexus Wheel, is a durable roller wheel that was designed to relieve back pain and tension. Coming in multiple wheel sizes, it is also the only wheel on the market that is FDA-registered as a Class 1 medical device.
It is simple and easy to use the Chirp Wheel. All you have to do is place the roller wheel on the ground – it can support up to 500 pounds – then lie on it. Your feet should be on the ground, while the wheel is sitting between your shoulder blades. Slowly roll up and down the wheel. Always keep in mind to keep your balance so it remains in the center of your back.
Each wheel has a measure of 5 inches wide to fit along your spine and in case you need the natural pressure right, Chirp Wheel offers you that as well. 
This roller wheel comes in three different sizes, namely in Gentle, Medium, and Deep Tissue. If you're seeking to reduce tension and kneading stiff necks, we recommend you to go for the smaller sizes.
One main feature to admire the Chirp Wheel is the Spinal Canal, which is the groove located in the center of the wheel. This feature stretches the muscles both width and lengthwise around the spine for the deepest possible stretch.
Pros and Cons
Here are the top-most pros of using Chirp Wheel for yourself:
Simple and easy to use

Recommended by doctors

The only wheel on the market that is FDA-registered as a Class 1 medical device.

Each wheel measures 5 inches wide

Provides durability

Has an injection-molded rigid core of 500 lbs

Features a Spinal Canal

Has a 100% Happy Body Guarantee
However, here are some cons that you should know to understand the commodity better:
Fragile

Poor quality control

Only available in limited colors and three sizes
Is it worth it?
Yes. If you're looking for an affordable solution for your upper, middle, and lower back pain, the Chirp Wheel is an absolute must-try. Besides, it is the only wheel on the market that is FDA-registered as a Class 1 medical device.
In-Depth Chirp Wheel Review
The Plexus Chirp Wheel is designed for tension and back pain relief. It is so simple and easy to use. The Chirp Wheel also comes in three sizes, which offers you personalized pressure to a specific muscle group.
Now, you no longer have to go to a doctor when you can purchase the Chirp Wheel to cure your back pain at the comfort of your own home. 
Specifications
Here are the different specifications of the Chirp Wheel:
Dimensions: 13 x 13 x 5 inches 

Weight: 2.75 lbs.

Manufacturer: Chirp

Date First Available: October 7, 2019

Foldable: No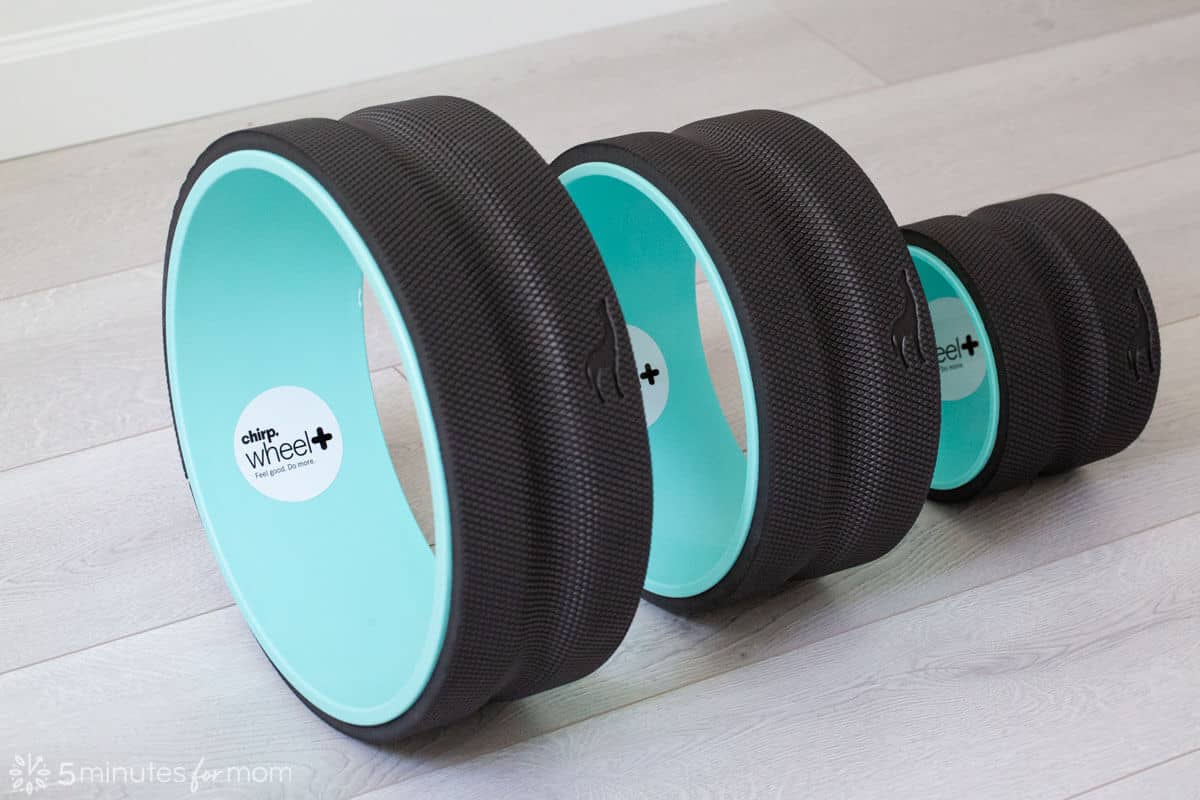 Quality and Durability
The Plexus Chirp Wheel has a weight capacity and an injection-molded rigid core of 500 lbs, which means it is suitable for overweight individuals who seek an alternative for back pain relief. 
One quality feature of the Plexus Chirp Wheel, aside from being budget-friendly, is that it improves your posture. This roller wheel also strengthens your muscles around the spine. It helps you relieve the pressure on your nerve roots and spinal cord.
The roller wheels correct your spine's curvature, which improves your posture and restores a healthy S-curve that results in reduced strain.
Chirp Wheels help you stretch and massage your thoracic and lumbar region muscles. This allows you to improve your flexibility, strength, and balance. Another quality feature is that it has a powerful preventative effect, which enables muscles to hold up better against your strain and reduces your chances of getting injured.
Workouts and Exercises
So, what can you do with the Chirp Wheel? Well, technically, the Chirp Wheel can be used for any movement. However, here are the most common workouts and exercises recommended with the Chirp Wheel:
Swan Dive (Superwoman or superman)

Crunches

Hip raises

Opposite arm and leg reach

Strength training

Bent-over lightweight row
Additional Features
The Chirp Wheel allows you to apply pressure on your muscles that surround the spine. By doing this, your muscles are strengthened and stretched. This is also known as Myofascial Release, a fancy word for muscle, while the release refers to the tension within the muscle.
If you have any inquiries, Chirp Wheels has a list of Frequently Asked Questions on their website. You can also find more information regarding the roller wheel and some video demonstrations. Another note worth mentioning is that if the Chirp Wheel doesn't satisfy you or isn't a match, they offer a 60-day Happy Body or satisfaction guarantee. You can return it, no questions asked.
Warranty
Fortunately, the Chirp Wheels include a 100% and 60-day Happy body Guarantee. If you are not satisfied with your purchase, you can send it back! No questions asked.
Who is it Best For?
The Chirp Wheel is best for people who are looking for an alternative and affordable solution to cure their back pain. It's also suitable for individuals seeking a piece of gym equipment to help strengthen their muscles and improve their posture.
What Do People Say About it?
An Amazon customer named Beverly left a positive review where she writes, "when you understand the physics of the problem, this product makes more sense. The way you get that deep tissue is by increasing the pressure. Specifically, I'm referring to pounds per square inch. Given that gravity is constant, the only way to do this is to distribute the same amount of weight across a smaller area."
She also praises the intensity of the product's deep stretch. However, she shares that the item's downside is it is smaller to increase the pounds per inch. This con makes it harder for her to balance, unlike the traditional foam roller. 
She adds, "But a traditional foam roller will never dig in this well. If you've got decent balance ability, give it a try. If your ability to balance is compromised this might not be for you."
YouTuber Antonio Samson published a video reviewing the item. He begins the video by unboxing the package, explains the roll wheels' specifications, and even makes a few demonstrations.
He then ends the video by sharing his thoughts.
"It can be an aggressive stretch for some people. So, just know that if you have a sensitive back, you might want to reconsider this. Some say that it can also feel wobbly when you're using it. So, if you don't have a good balance, just keep your butt on the floor."
The Verdict: Should You Try It?
The Chirp Wheel is perfect for those who want to find a budget-friendly solution to relieve their back pain and tension, knead stiff necks, strengthen muscles, and improve their posture. It may not be as versatile as the foam roller, but it still includes a few amazing features.
The Chirp Wheel is available in three sizes, including a 6 inch wheel (Gentle), a 10 inch wheel (Medium), and a 12 inch wheel (Deep Tissue). It also allows you to use it anywhere you want, making it a perfect addition to your home gym.
If you like this review, you might want to check out our other reviews at Dumbbellsreviews.com.